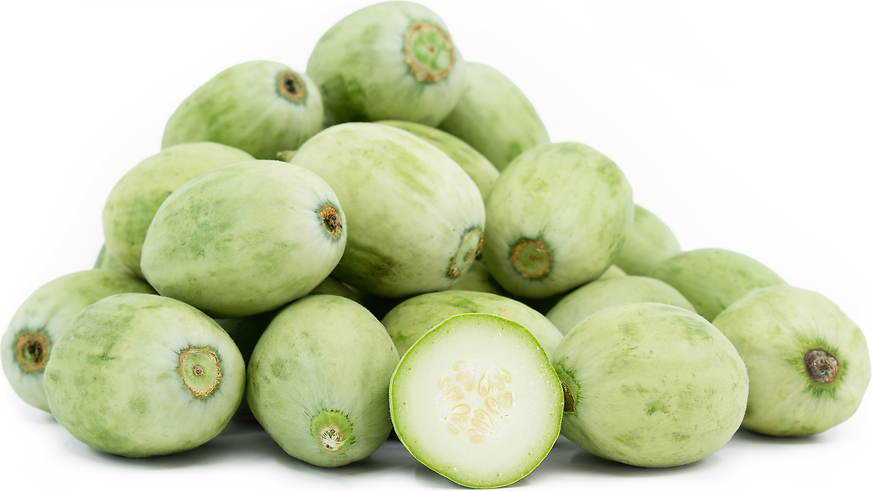 Tekka Melon
Inventory, lb : 0
Description/Taste

Tekka melons are small in size, averaging 5 to 6 centimeters in diameter and 500 grams in weight, and have a round to oval shape with blunt, curved ends. It is important to note that the melons will range in size, shape, coloring, and weight, depending on the variety and growing environment. Most Tekka melons will be around the same size as a kiwifruit. The melon's skin is thin, smooth, and taut, varying in pale green to dark green hues. Underneath the skin, the flesh showcases a dark green ring that transitions to white or pale green hues toward the center of the fruit. The flesh is firm, aqueous, and light with a crisp, succulent, and chewy consistency. The flesh also encases a central cavity filled with tiny, ivory to cream-colored seeds arranged in rows. Tekka melons are similar to cucumbers in texture but are generally crunchier and denser. The melons emit a subtle, fresh aroma and have a refreshing and mild green flavor with faint melon-like fruitiness.


Seasons/Availability

Tekka melons are available in the spring through early summer.


Current Facts

Tekka melons, botanically a part of the Cucumis genus, are young melons of multiple varieties belonging to the Cucurbitaceae family. The name Tekka roughly translates to mean "plucked melon," and are immature fruits harvested from the vine to concentrate the plant's nutrients into one melon. Melon plants typically produce 2 to 3 fruits per vine, and growers remove 2 of the 3 melons to allow the remaining melon to acquire optimum sugar levels and overall flavor. Tekka melons are known by many names, including Ko melons, meaning "child melon," Sho melons, Suguri melons, Thinning melons, Young melons, and Baby melons. The melons are also harvested from several muskmelon varieties, depending on the growing region and farm in Japan. Tekka melons are a seasonal ingredient only available in limited quantities in the spring and early summer. Despite being fruits, the melons are treated like vegetables in culinary preparations and are often sold in markets as a pickling ingredient. Tekka melons are an inexpensive specialty ingredient not commercially produced and are sold through select grocers and melon growers as a delicacy.


Nutritional Value

Tekka melons have not been studied for their nutritional properties. Young or baby melons are thought to contain some potassium to balance fluid levels within the body, vitamin C to strengthen the immune system, and calcium to build strong bones and teeth. The melons may also provide magnesium to regulate optimal nerve functioning, vitamin A to maintain healthy organs, and fiber to regulate the digestive tract. In Japan, Tekka melons are consumed as a seasonal, crunchy ingredient, and the fruit's water content is viewed as a refreshing reprieve on warm days.


Applications

Tekka melons have a refreshing, mild, and green taste suited for fresh, cooked, and pickled preparations. The small melons are typically peeled and sliced into smaller pieces, served as a crunchy addition in salads, stir-fried with miso, simmered in soups or curries, or battered and fried. It is important to note that Tekka melons are prepared like a vegetable and have qualities closer to cucumbers than full-grown melons. In Japan, Tekka melons are famously pickled and consumed as a tangy accompaniment to appetizers and main dishes. Pickled melons can be used as a substitute for pickled cucumbers in recipes, and the melons are peeled, sliced, and soaked in various liquids. Many pickling recipes are used throughout Japan, and the simplest method is shiozuke or salt pickles. Tekka melons can also be pickled in miso, known as misozuke, or left in a mixture of rice bran, konbu, and salt, known as nukazuke. Pickled Tekka melons can be added to bento boxes, served as a palate cleanser, or consumed with rice-based dishes for enhanced flavoring. Other popular pickling methods include soaking the melons in sake, beer, or sochu or pickling in soy sauce, called shoyuzuke. Try adding Tekka melons to meat-based dishes for a refreshing, crunchy reprieve from heavier ingredients. Tekka melons have a very mild, neutral flavor, allowing them to pair well with aromatics such as garlic, ginger, and chile peppers, salt, sugar, paprika, kelp, and perilla leaves. The melon should be immediately used for the best quality, texture, and flavor. Whole, unpeeled Tekka melons will keep for 3 to 5 days when stored in a plastic bag in the refrigerator. Once sliced, the melons will keep for 1 to 2 days wrapped in plastic in the fridge.


Ethnic/Cultural Info

Pickling fruits and vegetables in Japan is a traditional preservation method utilized and honored since ancient times. The practice of pickling is known as tsukemono in Japan, and pickled accompaniments are considered an integral part of a meal. Historically, fruits and vegetables were pickled to preserve crops when refrigeration was unavailable. Pickling was accepted among the nobility and the common, and children and adults would consume the preserved items. Over time, pickled items became viewed as palate and digestive cleansers, and it is believed that eating sweet, sour, and tangy fermented items assists in helping consumers taste their food. The custom of pickling also expanded beyond necessity into a culinary art form. Today Japanese households pickle a wide array of fruits and vegetables, including carrots, radishes, ginger, cucumbers, eggplants, melons, plums, and various roots. Pickled fruits and vegetables are customarily served as a side dish, garnish, or condiment, and it is common to see pickles with rice dishes and soups.


Geography/History

Tekka melons are native to Japan and have been present since the beginning of melon cultivation. Ancient melon varieties are believed by experts to have arisen out of Central to Southwest Asia and were spread over time to China and later Japan through trade routes such as the famous Silk Road. The young, harvested melons are a secondary crop to the melons left to mature on the vines, and growers used the baby melons as a food source and additional source of income. Tekka melons are not commercially produced and vary in quantity each year, depending on the melon crop. In Japan, Tekka melons are primarily grown in the Shizuoka, Yamagata, Kumamoto, Hokkaido, and Ibaraki Prefectures. The young melons are sold directly from growers in farmer's markets, roadside stands, select distributors, and through some stores. When in season, Tekka melons are sold individually or packaged in bags of 2 to 3 fruits, labeled with the descriptor "small melons for pickles." Young melons may also be found in fresh markets worldwide, but the moniker Tekka is mainly used in Japan and parts of Southeast Asia.