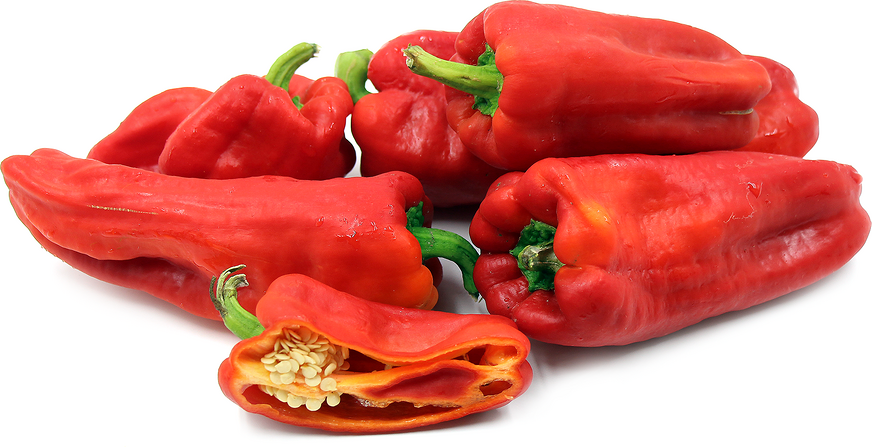 Urfa Biber Chile Peppers
Inventory, 5 lbs : 0
Description/Taste
Urfa Biber chile peppers are elongated pods, averaging 10 to 20 centimeters in length and 5 to 10 centimeters in diameter, and have a cylindrical shape, similar in appearance to a slender bell pepper. The skin is slightly wrinkled, taut, and smooth, forming multiple lobes with prominent creases, and the pod ripens from green, red, to a dark red-maroon when mature. Underneath the surface, the flesh is semi-thin, crisp, and pale red, encasing a central cavity filled with membranes and many round and flat, cream-colored seeds. Urfa Biber chile peppers, when fresh, have a subtly sweet, raisin-like flavor that deepens into a smoky, earthy, and chocolate-forward taste when dried. The peppers also contain a mild heat that intensifies with drying and develops a moderate, lingering heat.
Seasons/Availability
Urfa Biber chile peppers are available fresh in the summer through fall in eastern Europe.
Current Facts
Urfa Biber chile peppers, botanically classified as Capsicum annuum, are a rare variety that belongs to the Solanaceae or nightshade family. Also known as Isot peppers, the peppers are named after Urfa, which is a town in southern Turkey located along the Syrian-Turkey border, and the word biber is Turkish for "pepper." Urfa Biber chile peppers have a mild to moderate level of spice when fresh, averaging 7,500 SHU, but as they are cured and dried, the heat can increase to 30,000-50,000 SHU on the Scoville scale. The peppers are grown in terroir unique to Urfa, cultivated in rolling hills, sandy soil, and extreme temperatures, and the pods are only used fresh in their native region. Urfa Biber chile peppers are known globally for their use as a dried spice and are ground into earthy, tannic flakes. Since 2013, a civil war in Syria has increased the demand for Urfa Biber chile peppers worldwide due to the limited availability of the pepper's main competitor, the Aleppo chile pepper.
Nutritional Value
Urfa Biber chile peppers are an excellent source of vitamins A and C and are a good source of potassium, iron, and B-complex vitamins. The peppers also contain capsaicin, which is the chemical compound that triggers the brain to feel the sensation of heat or spice. Capsaicin has been shown to provide anti-inflammatory properties and stimulate the release of endorphins, which act as natural painkillers within the body.
Applications
Urfa Biber chile peppers are best suited for both raw and cooked applications such as grilling or roasting. When fresh, the peppers are primarily localized to eastern Europe and are commonly found skewered alongside chunks of lamb or other meats for kabobs. The peppers can also be sliced into salads, blended into dips, diced into sauces, or stuffed with meats, grains, and cheeses. In addition to fresh preparations, Urfa Biber chile peppers can be roasted for a smoky flavor or sautéed with vegetables for added flavor into pasta, flatbreads, egg-based dishes, and rice. The peppers are also popularly pickled for extended use as a condiment. Urfa Biber chile peppers pair well with eggplant, tomatoes, parsnips, squash, celeriac, fennel, pungent cheeses such as feta, spices such as paprika, sumac, and cumin, and meats such as lamb, poultry, roast beef, sausage, venison, and duck. The fresh peppers will keep up to one week when stored whole and unwashed in a paper or plastic bag in the crisper drawer of the refrigerator.
Ethnic/Cultural Info
Urfa Biber chile peppers are globally known for their complex flavoring as a spice. To create the seasoning that has gained popularity with chefs in Europe and North America, the peppers must be cured for at least a week after harvest. In Turkey, Urfa Biber chile peppers are left in the sun to dry during the day as the sunlight cooks the flesh and turns it into a deep purple-red hue. At night, the peppers are wrapped or covered, which causes the flesh to "sweat," creating a moisture barrier with the natural oils to retain a soft consistency. Once this process is complete, Urfa Biber chile peppers are ground with salt and a small amount of oil to create a flaky, chewy, and oily seasoning. Urfa Biber chile pepper seasoning has been described as salty, earthy, smoky, subtly sweet, and acidic with notes of coffee, chocolate, and tobacco. In a cuisine that uses chile peppers as flavoring over black pepper, Urfa Biber seasoning is highly utilized to flavor roasted meats, hummus, baba ghanoush, chickpeas, rice, and vegetables. The seasoning has also expanded into dessert pairings, and the flavor of the spice complements ginger, chocolate, vanilla, and cinnamon, suitable for use in hot chocolate and baked goods.
Geography/History
Urfa Biber chile peppers are native to the town of Urfa in the southern region of Turkey along the Turkey-Syrian border and have been cultivated since ancient times. While the exact origins of when Urfa Biber chile peppers were first cultivated is unknown, Urfa Biber chile peppers are descendants of original pepper varieties from South America that were introduced to Turkey by Spanish and Portuguese explorers in the 15th and 16th centuries. Today Urfa Biber chile peppers can be found fresh in southern Turkey and through small specialty farms in Europe and North America. The peppers can also be widely found in spice form through global online retailers.
Recipe Ideas
Recipes that include Urfa Biber Chile Peppers. One

is easiest, three is harder.