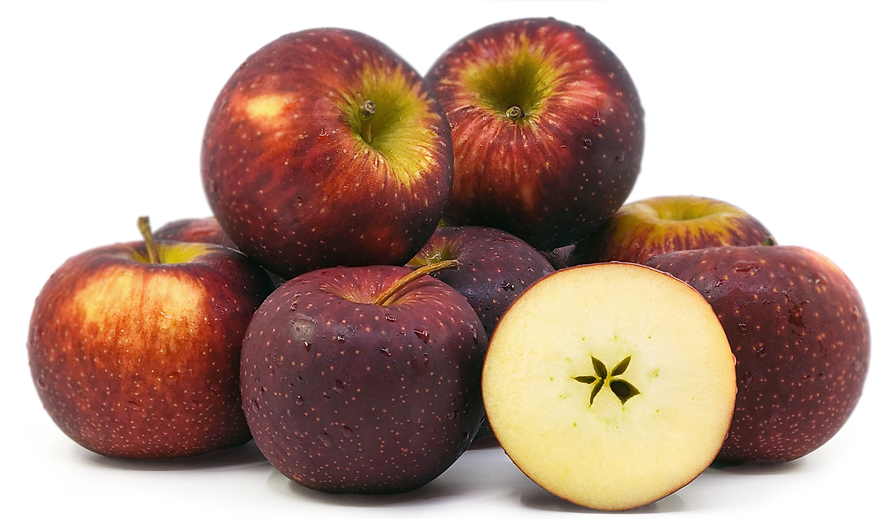 Bravo™ Apples
Inventory, lb : 0
Description/Taste

Bravo™ apples are a medium to large varietal, averaging 5 to 8 centimeters in diameter, and have a conical to somewhat squat, oval shape. The apples are topped with a long and slender, light brown stem and contain green-brown russeting in the stem cavity. The skin is smooth, matte, and slightly waxy with a yellow-green base hue, covered in a red, crimson, to dark purple blush. The skin also features prominent lenticels and is occasionally encased in a faint bloom. Underneath the surface, the ivory flesh is fine-grained, firm, dense, and aqueous, with a crisp and crunchy consistency. A small core is also found in the center of the flesh, containing tiny black-brown seeds. Bravo™ apples emit a faint fruity and earthy aroma and have a balanced sugar and acidity, creating a mild, sweet, and slightly tangy flavor with subtle spice-filled undertones.


Seasons/Availability

Bravo™ apples are available in the fall and winter of the southern hemisphere, typically spanning from February to June.


Current Facts

Bravo™ apples, botanically classified as Malus domestica, are a modern Australian variety belonging to the Rosaceae family. The apples were developed in the late 20th and early 21st centuries as an improved variety designed to be sold as a premium apple in Australia. Bravo™ apples were also bred to have extended storage capabilities, allowing them to be exported to markets worldwide. Since their release, Bravo™ apples are a multi-purpose variety utilized for fresh and cooked applications, holding their shape well, oxidizing slowly, and maintaining a sweet flavor.


Nutritional Value

Bravo™ apples are a source of fiber to regulate the digestive tract, potassium to balance fluid levels within the body, calcium to protect bones and teeth, and flavonoids, compounds that help reduce inflammation. The apples also provide vitamin C to strengthen the immune system, vitamin A to maintain healthy organ functioning, and other nutrients, including iron, vitamin E, magnesium, boron, zinc, copper, and vitamin K.


Applications

Bravo™ apples have a mild, sweet, and subtly acidic flavor suited for fresh and cooked preparations. The apples are typically consumed straight out of hand, but they can also be chopped and tossed into salads, shredded into slaws, shaved as a garnish, or mixed into fruit medleys. Bravo™ apples can also be displayed on charcuterie boards to showcase their unique pigmented skin, blended into smoothies, juices, and cocktails, or pureed into sauces. The apple's flesh is slow to oxidize, allowing it to stay fresh for lunches, sliced and layered on toast, or stuffed into sandwiches. In addition to serving raw, Bravo™ apples hold their shape well when cooked and are popularly baked into turnovers, cakes, pies, crisps, cobblers, and dumplings. The apples can also be poached as a sweet dessert, hollowed, stuffed, and baked, or cooked and served with roasted meats. Bravo™ apples pair well with fennel, kohlrabi, honey, Dijon mustard, spices such as cinnamon, cloves, ginger, and nutmeg, meats such as pork, poultry, beef, and turkey, and herbs including mint, basil, parsley, and rosemary. Whole, unwashed Bravo™ apples will keep for several weeks when stored in the refrigerator's crisper drawer.


Ethnic/Cultural Info

Bravo™ apples have strict cultivation requirements in Australia to maintain its brand image. Any apples sold under the Bravo™ name must pass all the standards implemented by the managing company, and one of the strictest qualifications was centered around the apple's skin coloring. Bravo™ apples are known for their dark pigmentation, and Australian farmers were having difficulties with a percentage of their crop being disqualified, preventing the fruits from selling at premium prices. In 2020, around sixty percent of the Bravo™ apple crop among Australian farmers passed the requirements, while forty percent of the fruit was downgraded. This cosmetic downgrade was causing farmers to struggle to generate profits, as a grower typically needs around seventy-five percent of the crop to pass the checks to survive financially on that specific variety. Despite the variety being held by strict qualifications, Bravo™ apples continue to increase in popularity throughout Australia and are also being shipped into Asia, where they are sold through specialty grocers and distributors. This encourages growers to continue cultivating the variety, and discussions are being held to evaluate the strict nature of the cosmetic qualifications. Beyond managing the brand's image, much of the apple's success can be attributed to the marketing campaigns released to promote the variety, including a QR code that allowed consumers to learn more about the apple. The QR code also once allowed users to enter a contest to win one hundred thousand dollars, generating excitement around the brand and the contest.


Geography/History

Bravo™ apples were developed at the Stoneville Research Station in Western Australia in 1992. The variety was created as a part of the Australian National Apple Breeding Program, also known as ANABP, and was obtained from traditional crossbreeding techniques between Royal Gale and Cripps Red apples. The cross was made in 1992 to create an apple that would showcase improved flavor and appearance. From 1993 to 2000, several seedlings were examined and studied until one was selected for trials and evaluation. The seedling was planted in Manjimup, Western Australia, at the Horticultural Research Institute in 1999 and began bearing fruit in 2008. In 2014, the variety was labeled ANABP 01 and was distributed to several Australian orchards for commercial production. Once the trees reached their fruit-bearing years, the apples were released to commercial markets across Australia in 2016. Bravo™ apples were also exported to other countries beginning in 2017. Today, the Western Australian Government owns the intellectual property rights of Bravo™ apples, and Fruit West was given the management of marketing and commercializing the variety. Bravo™ apples are produced in Victoria, Western Australia, Queensland, South Australia, and New South Wales and are sold domestically across Australia. The apples are also exported to Singapore, Indonesia, Hong Kong, Dubai, Thailand, and Malaysia. The apples featured in the photograph above were sourced from Cold Storage at the One World Center in Singapore.