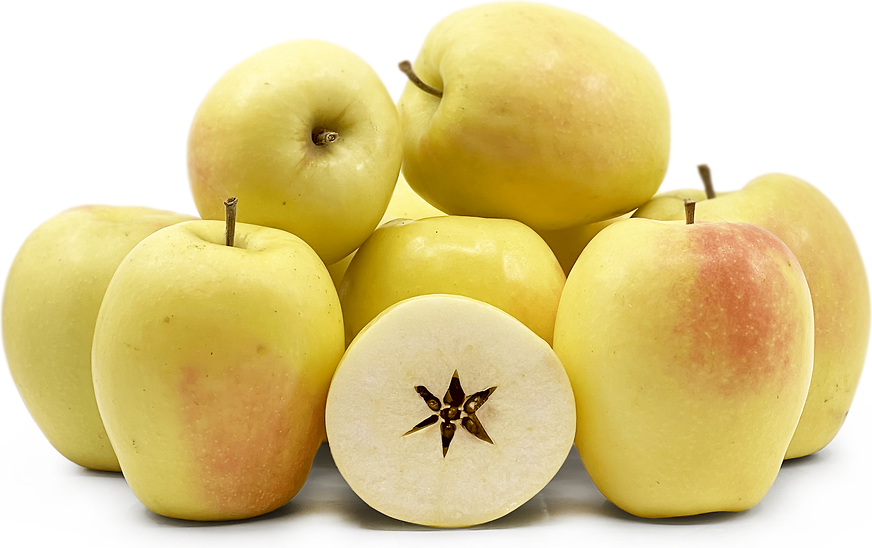 Candil Apples
Inventory, lb : 0
Description/Taste

Candil apples are elongated fruits with an oval to cylindrical shape connected to slender, dark brown stems. The skin is smooth, waxy, glossy, and yellow-green, covered in prominent white lenticels and dark red blush. Depending on the exposure to the sun, the red blush can appear partially on the skin or almost entirely cover the apple's surface. Underneath the thin skin, the flesh is ivory, crisp, fine-grained, and aqueous, encasing a central fibrous core filled with a few black-brown, oval seeds. There may also be some slight, pale green veining that extends through the flesh. Candil apples have a sugar-like aroma and a juicy, chewy, and crunchy consistency with a balanced sweet, sharp, acidic flavor.


Seasons/Availability

Candil apples are harvested in the late fall and can be stored through early spring.


Current Facts

Candil apples, botanically classified as Malus domestica, are a uniquely shaped, heirloom variety that belongs to the Rosaceae family. This late-season apple is known by many different names, with Candil being a predominately English term. It is also Candil Sinap, Kandil, and Kandil Sinap, with sinap sometimes spelled sinop. As with its history, the origins of the apple's name has varied references that roughly translates to mean the "lamp" or "apple of Sinop." Sinap is named after the Sinop Peninsula on the Black Sea. The word Kandil translates to mean lamp, symbolizing the most prized varieties in eastern Europe and central Asia, being highly exported into Moscow and St. Petersburg in Russia. The fruits were favored for their unique shape and exceptional flavor, and oftentimes, the apples would be regarded as valuable as gold. Though the apples were revered, the variety's downfall quickly came during the 18th century due to political unrest, post-war fruit tree taxes, and newer, modern European varieties being introduced that produced faster crops for sale in the market. With their slow-growing nature, Candil apples became reserved as a specialty variety that was cultivated on a much smaller scale. In the modern-day, Candil apples have found a new home in the Pacific Northwest of the United States, where they are cultivated as a rare variety and are primarily consumed fresh, out of hand.


Nutritional Value

Candil apples are a good source of vitamin C, which is an antioxidant that can help boost the immune system. The apples are also a good source of fiber, which can help stimulate the digestive tract, and contain some vitamin A, calcium, iron, and potassium.


Applications

Candil apples are best suited for raw applications as their crisp, sweet, and acidic flesh are showcased when consumed fresh, out-of-hand. The apples can be sliced and served as a snack with dips, sliced and tossed into green salads, chopped into fruit salads, sliced over ice cream, or pressed into juices and ciders. Candil apples can also be utilized in cooked applications such as making jams, jellies, and sauces, or they can be baked into pies, tarts, muffins, bread, and cobblers. Candil apples pair well with meats such as pork, beef, and poultry, cinnamon, nutmeg, lemon, vanilla, mint, pears, plums, and cranberries. The fresh apples will keep up to four months when stored in the refrigerator.


Ethnic/Cultural Info

In the United States, the U.S. Department of Agriculture (USDA) commissioned 7,584 watercolor paintings and drawings between 1886 and 1942 to document fruit varieties introduced to the U.S. market by the USDA. Held in a collection known as the USDA Pomological Watercolors, these images depicted accurate colors, textures, and shapes of fruit varieties and were created for use on seed advertisements to market the cultivars for gardening. Among the 7,584 varieties, 3,807 of those images were of apples, including the Candil Sinap. The first Candil watercolor was created in 1900 by Deborah Griscom Passmore, and another was later painted by Mary Daisy Arnold in 1925. Today the originally commissioned watercolors can be found at the National Agricultural Library in Beltsville, Maryland.


Geography/History

Candil apples were believed to have been created from a natural mutation before the 18th century, but the exact history is unknown as two centers of origin have been heavily debated. One theory is the variety came from Turkey, while the other theory points to Crimea, now modern-day Ukraine, with both locations bordering the Black Sea. Regardless of the variety's exact origins, the apples were heavily cultivated by Crimean Tatars, who began exporting the apples into Russia in the 18th century. Today Candil apples are produced on a small scale for local markets in Asia and Europe. They are also a specialty variety cultivated in the Pacific Northwest of the United States.