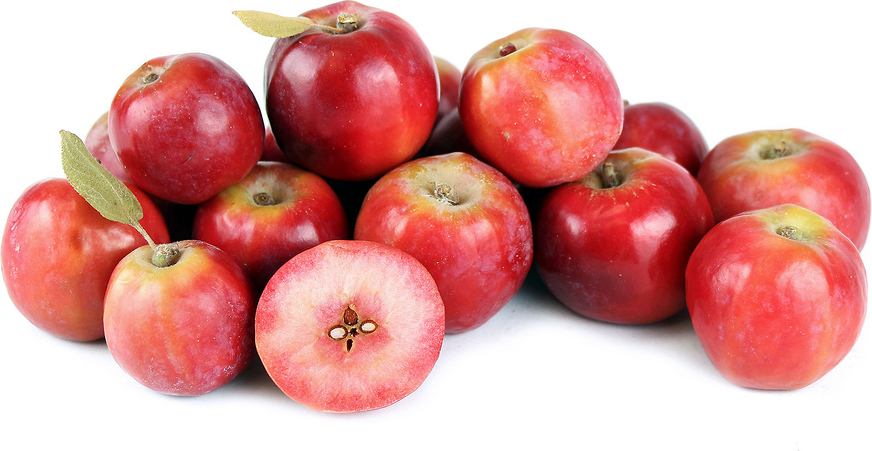 Siberian Crabapples
Inventory, lb : 0
Description/Taste

Siberian crabapples are small in size, averaging 8 to 10 millimeters in diameter, and have a round to oblate shape with curved lines and long, woody stems. Some varieties may have the dried calyx attached to the non-stem end, while other cultivars do not. The crabapple's skin is smooth, semi-thin, taut, and glossy, appearing in shades of yellow, red, or variegated hues, depending on the variety. A few cultivars also showcase a blue-grey, dusty bloom on the surface, which is natural and can be wiped away. Underneath the surface, the solid, fine-grained, aqueous flesh is crisp and has a slightly softer texture than other species. The flesh also encases a tiny central core filled with dark brown seeds. These seeds are toxic, inedible, and should not be eaten. Depending on the variety, some Siberian crabapples have red-pigmented flesh, while others are flushed with red and pink hues mixed with white. Siberian crabapples have an acidic, tart, sour, and astringent taste with subtly sweet, floral nuances. Each variety will vary in flavor from more bitter to tangy, and the fruits can be eaten raw, but most consumers prefer to cook crabapples to develop a sweeter taste.


Seasons/Availability

Siberian crabapples are available in the late summer through fall, with a peak season in September through October.


Current Facts

Siberian crabapples, botanically classified as Malus baccata, are a species of small pome fruits belonging to the Rosaceae family. The Asian crabapples grow on spreading, deciduous trees reaching 10 to 14 meters in height, and the fruits grow in dense clusters, giving them an appearance similar to cherry trees when fruiting. Siberian crabapple, also known as Flowering crabapples, is a general descriptor used for many varieties native to Asia. Popular varieties include Red Siberian, Yellow Siberian, and hybrid varieties such as Midwest, Manchurian, Columnar Siberian, and Dolgo crabapples. Breeders and growers favor Siberian crabapples for their hardiness, and it is said the species is considered the coldest and most drought-tolerant of crabapples. Throughout history, Siberian crabapples have been utilized in breeding and grafting to develop improved crabapple varieties, and the trees are planted in home gardens and planned landscapes for their ornamental nature. Siberian crabapples produce fragrant, pink, or white blooms in the spring, providing color between the blooms and the fruits in multiple seasons. The trees are also planted as windbreaks on farms, a decorative addition to highway landscapes, and a natural food source for wildlife. The fruits are a secondary element of the species behind the flowers and are traditionally foraged from trees for use in various cooked preparations.


Nutritional Value

Siberian crabapples are a source of vitamin C to boost the immune system, fiber to regulate the digestive tract, and potassium to balance fluid levels within the body. The fruits also provide some calcium to build strong bones and teeth, magnesium to control nerve functioning, iron to develop the protein hemoglobin for oxygen transport through the bloodstream, and other nutrients, including phosphorus, B vitamins, manganese, and copper. It is important to note that the nutritional content of crabapples is low as the fruits are small in size, and many crabapples would have to be ingested to acquire substantial nutrients. In Traditional Chinese Medicine, crabapples are valued for their anti-inflammatory properties and are believed to assist in treating sore throats and digestive ailments such as diarrhea.


Applications

Siberian crabapples have an astringent, sour, and tart taste generally suited for cooked preparations. Crabapples can be eaten raw, but most consumers find their fresh taste to be overpowering and unpalatable. Some varieties may develop a sweeter taste if left on the tree until the first frost. These pomes can be eaten fresh or shredded in salads and slaws. When cooked with sugar, Siberian crabapples develop a balanced flavor, making their subtle, apple-like undertones more pronounced. The variety can be dipped in toffee or caramel as a miniature-sized treat, stewed in sugar, lemon juice, and brandy as a decadent dessert, or poached in wine. Siberian crabapples can also be simmered into jams, jellies, and preserves or cooked into sauces, including barbeque, and served over meats such as pork or turkey. Try cooking crabapples into apple butter or chutney and spreading them over toast and sandwiches. The crabapples can also be incorporated into baked goods, similarly to apples, in crumbles, crisps, tarts, strudles, muffins, bread, cakes, and pies. Beyond culinary preparations, Siberian crabapples are pressed into juice and added to cider blends. The crabapples can also be infused into wine and liqueur or dried into fruit leather. For extended use, Siberian crabapples can be pickled in spices and vinegar and served as a tangy condiment or element on charcuterie boards. Siberian crabapples pair well with cheeses such as blue, parmesan, and gouda, spices including cinnamon, cloves, cardamom, nutmeg, and ginger, and meats such as pork, poultry, turkey, and beef. Whole, unwashed Siberian crabapples will keep up to one month, depending on the variety and growing conditions, when stored in a cool, dry, and dark location such as a cellar or refrigerator's crisper drawer.


Ethnic/Cultural Info

Crabapple trees are treasured in Japan for their colorful blossoms, and the flowering branches are incorporated into Ikebana, or traditional flower arranging. The history of Ikebana is unknown, but historians estimate the practice was seen as early as the 6th century when Buddhist monks used flower arranging as a floral offering to Buddha. Floral arrangements were placed on altars at temples, and three stems were gathered together to form a bond, symbolizing the communion between heaven, earth, and humanity. Over time, artists known as doboshu were hired to create flower arrangements for religious and secular events throughout Japan. Floral arrangements began to be regarded as living art, and it was fashionable to have thoughtfully arranged blooms around houses as a status symbol. Tea houses contributed to the modernization of Ikebana, simplifying the large and complex rikka arrangements into simpler displays known as chabana. In the Meiji period, it was also decreed by the government that every woman should be educated in Ikebana to learn the skills necessary to be a good wife and mother. Ikebana became a catch-all term for floral arranging in Japan by the 19th century, but many value traditions and practices surrounding the art form are continually honored throughout the country. In addition to floral arrangements, crabapple trees are grown as bonsai trees in Japan, and the tree's wood is used for carving.


Geography/History

Siberian crabapples are native to northern Asia, specifically regions of Siberia in Russia, Northern China, and Mongolia, and have been growing wild since ancient times. The species has hybridized with other crabapples over time as it spread throughout Asia, creating many new varieties found in China, Russia, Korea, Japan, Mongolia, India, and Nepal. Siberian crabapples thrive in temperate forests, slopes, parks, fields, and meadows, and the trees have been domesticated in commercial production as an ornamental addition to curated landscapes in gardens. Historically, Siberian crabapples were treasured for their showy flowers. The fruits were also valued for their colorful nature on the tree and were eventually utilized by scientists for breeding to create improved apple cultivars. Siberian crabapples were introduced to Europe in the 18th century and the United States in the 19th century as ornamental trees. Today, Siberian crabapples are grown in Asia, Europe, and North America and are valued as an ornamental and culinary species. The crabapples are not as widely cultivated as Malus domestica, but they are favored for their hardiness and are a seasonal delicacy in select growing regions. In North America, Siberian crabapples are found in Newfoundland, Quebec, and Ontario in Canada and in the Great Lakes region and northeastern region of the United States, extending south to Florida. When in season, Siberian crabapples are typically sold directly through growers and farmer's markets.