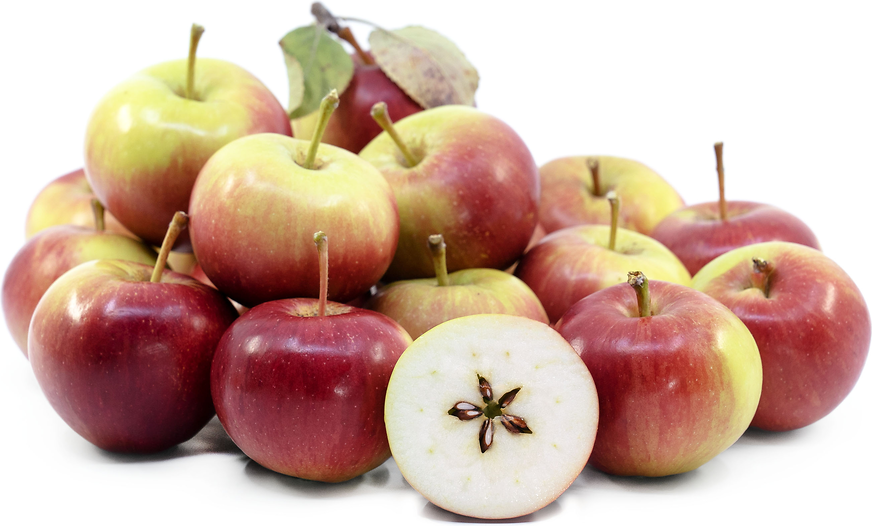 Fiesta Apples
Inventory, lb : 0
Description/Taste

Fiesta apples are a small to medium-sized varietal, averaging 5 to 6 centimeters in diameter, sometimes growing larger, depending on climate and cultivation. The apples have a round to conical shape with flat shoulders, light ribbing, and a narrow base, and the stems are characteristically long and slender. Fiesta apples have a yellow-green to golden yellow coloring, covered in solid to translucent patches of crimson to orange-red blushing and striping. The skin is also smooth, taut, semi-glossy, and tough, showcasing brown russet in the stem cavity and pale lenticels scattered across the surface. Underneath the skin, the fine-grained white flesh is firm, aqueous, and crisp, notably crisper than its parent variety Cox's Orange Pippin. The flesh also encases a central fibrous core filled with tiny, tapered, black-brown seeds. Fiesta apples release a faint grassy and cider-like aroma. The flesh has balanced sugar and acidity levels, creating a mild, sweet-tart flavor. Fiesta apples will vary in taste each season. In ideal conditions, the variety is said to have aromatic undertones of oranges, pears, vanilla, and nuts.


Seasons/Availability

Fiesta apples are harvested in the fall and can be stored through mid-winter.


Current Facts

Fiesta apples, botanically classified as Malus domestica, are an English variety belonging to the Rosaceae family. The apples are considered a modern cultivar, traditionally bred using natural techniques in the late 20th century, and were developed to be an improved variety of Cox's Orange Pippin. Fiesta apples grow on trees extending 2.5 to 8 meters in height, depending on the rootstock, and are a favored home garden variety for their high yields, disease resistance, partially self-fertile nature, and extended storage capabilities. The apples showcase the characteristic orange-red blush of heirloom English apples, and Fiesta is a beloved late-season home garden variety throughout England. It is worth noting that Fiesta apples may be sold under the name Red Pippin, a moniker given in 1996. The variety was renamed in an effort to highlight the apple's Cox's Orange Pippin parentage. Fiesta apples are not commercially cultivated but are found through private growers and home gardens, utilized as a dessert, cooking, and cider apple.


Nutritional Value

Fiesta apples are a source of potassium to balance fluid levels within the body, fiber to regulate the digestive tract, and vitamin C to strengthen the immune system while boosting collagen production. The apples also provide some copper to develop connective tissues, vitamin K to assist in faster wound healing, polyphenols, which are a type of antioxidant that reduces inflammation and protects the body against free radical damage, and other nutrients, including vitamin E, magnesium, vitamin A, calcium, and folate.


Applications

Fiesta apples have a balanced, sweet, and tart flavor suited for fresh, cooked, and juiced preparations. The apples are traditionally viewed as a dessert cultivar and are consumed straight out of hand, peeled or unpeeled, depending on preference. Fiesta apples can also be shredded into slaws, tossed into salads, mixed into fruit bowls, or sliced and used as a vessel in dips, chocolate, nut butter, and caramel. The fine-grained, crisp nature of the variety can add texture to sandwiches, crunch to open-face toasts, or flavor to oatmeal, porridge, and other breakfast dishes. In addition to fresh preparations, Fiesta apples hold their shape well when baked and are sometimes used in pies, tarts, crisps, crumbles, dumplings, and fritters. In England, apples are popularly wrapped in pastry and baked or stuffed with dried fruits, nuts, and spices as a savory-sweet dessert. Fiesta apples can also be roasted or sauteed, served with savory main dishes, or simmered into jams, jellies, sauces, and preserves. Beyond culinary dishes, Fiesta apples are pressed into juice and incorporated into cider blends, smoothies, and sparkling beverages. Fiesta apples pair well with spices such as cinnamon, cloves, nutmeg, and ginger, fruits including apricots, oranges, mangoes, cranberries, and dates, nuts such as pecans, walnuts, and hazelnuts, chocolate, vanilla, brown sugar, and maple syrup. Whole, unwashed Fiesta apples will keep for 1 to 3 months when stored in a cool, dry, and dark location.


Ethnic/Cultural Info

Apple trees have been essential to English gardens since the Middle Ages. Gardens were symbolically viewed as a way to recover pieces of the Garden of Eden, and the act of gardening was thought to assist humanity in acquiring knowledge and dominion over nature. Gardens continued to be an integral part of the English lifestyle, and designs of the floral landscape shifted throughout the ages, oscillating between natural styles and rigid, planned linear layouts. Despite the aesthetic changes, gardens remained a symbol of stability, life, and familiarity. Two of the most famous English gardeners who spearheaded the natural English garden movement were William Kent, alive from 1685 through 1748, and Lancelot 'Capability' Brown, present from 1716 through 1783. William Kent was initially a painter who was encouraged to venture into architecture and garden design by acquaintances in the English aristocracy. Kent designed several properties using more natural-looking techniques, incorporating clusters of trees, curved paths, and including the house into the landscape. Kent's natural aesthetic was later passed onto Lancelot 'Capability' Brown, one of the most well-known English landscape artists. Lancelot Brown completed over 250 projects, 18 of which are still preserved through England's National Trust. The gardens carry on Kent's traditions of implementing a natural-looking design in a restrained, simple, and clean format. Throughout his career, Lancelot Brown eventually earned the nickname of Lancelot 'Capability' Brown, often shortened to just Capability Brown. This moniker was given to the artist as he was often recorded as describing "the great capabilities of his client's landscape" and the potential of creating a masterpiece using his skillset.


Geography/History

Fiesta apples are native to England and were developed in the late 20th century through the East Malling Research Station in Kent. The East Malling Research Station is a famous breeding site established in 1913 near Maidstone, a region once renowned for fruit and hops production. Fiesta apples were created from a cross between the American Idared and English Cox's Orange Pippin apples, performed by Dr. Frank Alston in 1972. The parent varieties were selected for their flavor, and the variety was meant to be an improved version of the two, as Cox's Orange Pippin apples were notorious for being susceptible to the disease while Idared lacked extended storage properties. Fiesta apples were selected from the trials for their improved characteristics, and the variety received an Award of Merit in 1987 and an Award of Garden Merit in 1993, reconfirmed in 2013. Awards of Garden Merits are given by the Royal Horticultural Society in recognition of varieties with exemplary cultivation traits and flavor for home gardens. Today Fiesta apples are primarily promoted as a garden cultivar. They are sold under the names of Red Pippin and Fiesta in England, continental Europe, specifically Italy and Holland, New Zealand, and in the United States. The Fiesta apples featured in the photograph above were sourced from Brogdale Farm in Faversham, Kent, England.