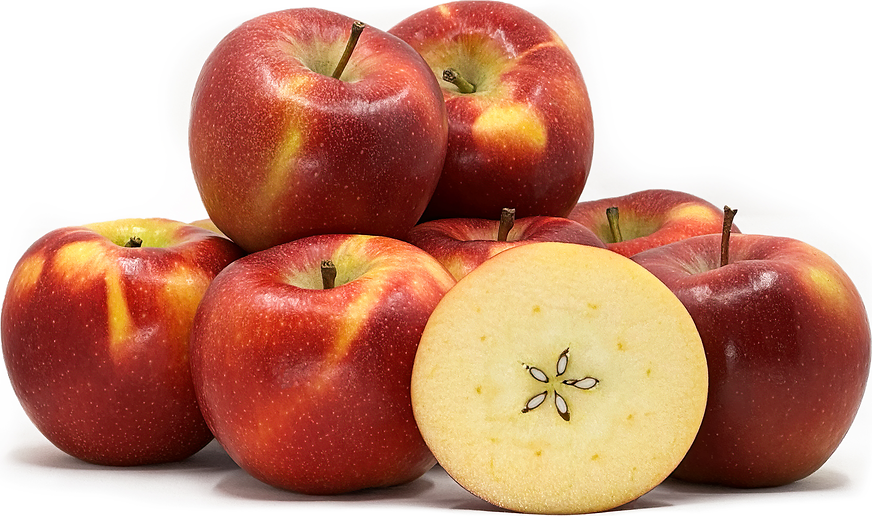 Giga® Apples
Inventory, lb : 0
Description/Taste

Giga® apples are a medium to large varietal, averaging 7 to 10 centimeters in diameter, and have a conical, round, to somewhat square shape with broad, curved shoulders tapering to a flat base. Some of the apples may exhibit a slightly angled or sloped appearance, depending on cultivation, and the skin is thick and chewy with a smooth, taut, and semi-glossy nature. The apples have a vibrant golden yellow base and are almost entirely covered in a dark red to crimson blush. The blush is primarily solid, but it may be more translucent in some spots allowing the yellow hues to shine through. There are also many prominent grey-brown lenticels scattered across the surface, giving the fruits a speckled look. Giga® apples are known for their tough skin, making the fruits durable for shipping and export. Underneath the surface, the yellow flesh is solid, firm, dense, and crisp with a textured, aqueous crunch. The flesh also encases a small central core filled with tiny, black-brown seeds. Giga® apples should feel heavy for their size and have a robust, fruity bouquet filled with notes of rose, mango, cinnamon, bananas, and pear. The apples have a rich but balanced, sweet-tart flavor with honeyed, tangy, and slightly sour nuances that improve with storage.


Seasons/Availability

Giga® apples are harvested in the late fall and can be kept in professional cold storage through the summer.


Current Facts

Giga® apples, botanically classified as Malus domestica, are a modern European variety belonging to the Rosaceae family. The apples were developed in Belgium in the early 21st century and were selected for commercial cultivation for their scab resistance and extended storage capabilities. Giga® apples were created for the global market, and though they are currently only grown in a few regions of Europe, production is expanding with the intention of marketing the apples worldwide. Since their release to commercial markets in 2021, Giga® apples have been favored by consumers for their large size, firm, crisp nature, robust aroma, and balanced, sweet-tart flavor. The variety is versatile and can be utilized in both fresh and cooked culinary preparations.


Nutritional Value

Giga® apples, like other modern varieties, are a source of vitamin C to strengthen the immune system while reducing inflammation. The apples also provide fiber to regulate the digestive tract, potassium to balance fluid levels, calcium to build strong bones and teeth, and other nutrients, including vitamin A, vitamin E, copper, manganese, zinc, phosphorus, and magnesium. The vibrant red hues within the skin indicate the presence of anthocyanins, pigmented compounds with antioxidant-like properties to protect the cells against the damage and oxidative stress caused by free radicals.


Applications

Giga® apples have a balanced, sweet-tart flavor suited for fresh and cooked preparations. The variety's dense, firm, and crisp nature is showcased when consumed straight out of hand, and the apples are often marketed as a sharing apple. Giga® apples can also be sliced and served on appetizer platters with cheeses, dried fruits, and nuts, chopped and tossed into salads and slaws, or cut and used as a dipping vessel. Try slicing Giga® apples and layering them into sandwiches, melts, and burgers or dipping the fruits in caramel, nut butter, or chocolate as a sweet treat. The apples can also be blended into smoothies, pressed into juices, or combined into fruit-based beverages. In addition to fresh preparations, Giga® apples can be simmered into sauces, jams, and jellies, roasted and served as a side dish, or cooked and sprinkled over main dishes as a garnish. The variety can also be incorporated into desserts such as cakes, crisps, crumbles, tarts, galettes, and pies. A popular cooking method involves stuffing and baking the apples whole or sautéing the apples in browned butter and spices to drizzle over ice cream as a decadent topping. Giga® apples pair well with spices such as cinnamon, ginger, cloves, cardamom, and nutmeg, vanilla, maple syrup, cream, nuts including almonds, pecans, and hazelnuts, and herbs such as parsley, rosemary, thyme, and mint. Whole, unwashed Giga® apples will keep for several months when stored in a cool, dry, and dark place, such as the refrigerator's crisper drawer. In professional cold storage, the variety can be stored for over seven months.


Ethnic/Cultural Info

The brand name Giga® was chosen for the variety to reflect its "giant" personality. It is said that Giga® was taken from gigabyte, a term created by Werner Buchholz in 1956 to describe a large unit of data measurement for computers. Gigabyte was derived from the Greek word ghigas or gigas, meaning "giant." In Greek mythology, gigas was also used in reference to gigantes, a tribe of giant warriors created by the earth-goddess Gaia. Giga® apples embody a "giant" personality by being large in size, releasing a robust aroma, and having a distinct flavor. Everything about Giga® apples is said to be big, amplified, and larger than life, and this idea is further exemplified in the brand's power-filled slogan of "mighty good."


Geography/History

Giga® apples were developed by Better3Fruit NV, a breeding institute in Rillaar, Belgium. The variety was created from a cross in 2002 between GoldRush apples and Nicoter apples, a cultivar commonly marketed under the Kanzi® brand name. After several years of development, breeders Annemarie Auwerkerken and Inge De Wit selected the first fruits from the cross in 2008 and chose apples that exhibited flavor, scab resistance, and extended storage properties. The variety was evaluated and further developed for additional years until it was determined fit for commercial release under the variety name Ipador. Today the International Pome Fruit Alliance Ltd., also known as IPA, owns the global master license for cultivation, and Vog, a shareholder of IPA and one of Europe's largest apple exporters, partners to produce Ipador apples under the brand name Giga®. Vog is also known as The Consortium of South Tyrolean Fruit Growers' Co-operatives, and the apples are grown in South Tyrol in Italy, a unique region with an Alpine and Mediterranean climate to produce flavorful apples. Giga® apples were introduced to commercial markets in 2021 and 2022 and are distributed under the Marlene® brand throughout Europe. The Giga® apples featured in the photograph above were sourced from the Sudtirol booth at the 2023 Fruit Logistica in Berlin, Germany.