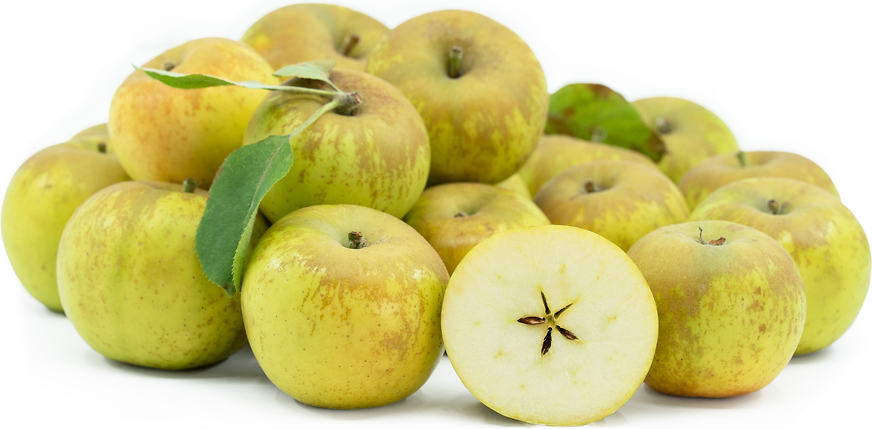 Golden Russet Apples
Inventory, lb : 0
Grower
| | |
| --- | --- |
| See Canyon Apple Orchards | |
Description/Taste
Golden Russet apples are generally small to medium in size and have a round to ovate shape with slanted shoulders, sometimes creating a lopsided appearance. The variety is often wider than it is tall, giving the apples a flattened nature. Golden Russet apples are known for their russeted skin, a type of natural scarring that occurs on the fruit's surface, giving the skin a raised, sandy, dull, and semi-rough texture. Russeted skin has a chewy consistency, and this distinct mouthfeel is prized among apple enthusiasts. The apple's skin also has a golden yellow-green base hue and can be enveloped in a copper-bronze russet or only partially covered, depending on the growing environment. Extended sun exposure may create a muted and faint orange blush, and prominent white and grey lenticels are scattered across the surface. Underneath the skin, the ivory to pale yellow flesh is firm, dense, fine-grained, and aqueous with a crisp, crunchy consistency. Golden Russet apples are said to burst with juice when bitten, creating a pleasant and dynamic eating experience. The flesh also encases a central core filled with tiny black-brown seeds. Ripe Golden Russet apples initially have a high sugar and acid content, creating a sugary, sweet, sharp, and tart taste. With storage, the flavor mellows, becoming extremely sweet, honeyed, and tangy with pear, lemon, spice, cane sugar, and nutty nuances.
Seasons/Availability
Golden Russet apples are available in the mid to late fall, with a peak season in October.
Current Facts
Golden Russet apples, botanically classified as Malus domestica, are an heirloom variety belonging to the Rosaceae family. The late-season apples are most commonly associated with the Eastern United States, specifically New York state, and are known for their textured skin, sugary-sweet flavor, and extended storage capabilities. Golden Russet apples are challenging to categorize as the name was used as a general descriptor for several russet apples throughout Europe and the United States. At one time, pomologists linked the name Golden Russet to over twenty different apple cultivars. Golden Russet apples reached the height of their popularity in the 18th and 19th centuries throughout the Eastern United States and were grown as fresh-eating, cooking, and cider apple. Growers once favored Golden Russet apple trees for their semi-dwarf stature, disease resistance, long shelf life, productive, vigorous nature, and reliable annual crops. Despite their presence in New England orchards, Golden Russet apples faded from commercial production in the late 19th and early 20th centuries in favor of modern, smooth-skinned apple cultivars, but the heirloom variety is still grown on a small scale as a specialty cider apple.
Nutritional Value
Golden Russet apples are a source of fiber to regulate the digestive tract, vitamin C to strengthen the immune system, vitamin E to protect the cells against free radical damage, and calcium to build strong bones and teeth. The apples also provide vitamin K to assist in faster wound healing, iron to develop the protein hemoglobin for oxygen transport through the bloodstream, B vitamins to maintain overall health, potassium to balance fluid levels within the body, and other nutrients, including copper, manganese, phosphorus, zinc, and magnesium.
Applications
Golden Russet apples have a complex, sweet, nutty, and spice-filled taste suited for fresh and cooked preparations. The variety can be washed and consumed straight out of hand or sprinkled with cinnamon for enhanced flavoring. The textured, rough skin is edible, but it is largely dependent on consumer preference if it is eaten in raw applications. Many apple enthusiasts appreciate the variety's sandy skin for its nutty flavor. Golden Russet apples can also be sliced and served on charcuterie boards, chopped into salads, or served with dips as a snack. It is important to note that the flesh oxidizes quickly once exposed to air, developing a brown coloring. In addition to fresh preparations, Golden Russet apples are popularly baked into pies, tarts, crumbles, and crisps, or they are fried into apple rings, grilled for a smokey flavor, or simmered into sauces, jams, and jellies. The variety is said to hold its shape well, but it may become slightly mushy in some preparations. Try incorporating Golden Russet apples into smoothies and fresh juices. The apples can also be used in cocktails and sweet and hard ciders, as they are high in sugar and acidity, contributing a complex flavor profile to beverages. Golden Russet apples pair well with spices such as cloves, nutmeg, ginger, cardamom, and cinnamon, nuts including walnuts, pecans, pistachios, and almonds, vanilla, maple syrup, bourbon, and chocolate. Whole, unwashed Golden Russet apples will keep for several months when stored in a cool, dry, and dark place. In professional cold storage, the variety is kept for up to five months. Golden Russet apples can also be dried, frozen, or canned for extended use.
Ethnic/Cultural Info
Golden Russets were once famous for their use in sweet and hard ciders in the United States. Sweet cider refers to raw apple juice that has been left unfiltered, and hard cider is fermented apple juice that develops a low alcohol content. Both sweet and hard ciders have been produced throughout the United States since the country's establishment, and cider was at one time considered safer to drink than water. Golden Russets were used by cider-makers throughout New England to create complex flavorings, and the variety was said to develop ciders with such a dynamic taste that the beverages were named the "Champagne of ciders." Like the rise and fall of cider-making, Golden Russets reached peak popularity in the 18th and early 19th centuries but faded from cultivation in the mid to late 19th century. The industrial revolution caused orchards to be abandoned, and cider-makers traded their apple-focused professions for life in more urban settings. Beer also began to replace cider as the drink of choice among the working class, lessening the need for apple cultivation. In the 1830s and 1840s, the Temperance Movement, one of the first anti-alcohol movements in the United States, caused cider-making to decrease rapidly, forcing apple orchard owners to grow varieties with fresh-eating appeal rather than cidermaking appeal. Golden Russet apples almost disappeared entirely as consumer preferences changed from russet apples to varieties with glossy, smooth, and colorful skin.
Geography/History
The history of Golden Russet apples is complex and challenging to categorize. Historically, the term Golden Russet was used throughout the Eastern United States and England as a general descriptor for apple cultivars that exhibited russeted skin and a golden hue. Many apples were recorded as Golden Russet, and even after years of research, genetic testing, and studies conducted among historians and pomologists, the true Golden Russet apples are heavily debated. The most commonly cited theory in research connects Golden Russet apples of Western New York and American Golden Russets with English Golden Russet apples. It is thought that the English apples were renamed as they were extensively grown in New York. Another theory states that the English Golden Russet apple tree fruited a chance seedling, propagated, and sold under the Golden Russet of Western New York name sometime in the 18th and 19th centuries. Regardless of the Golden Russet's exact origins, the sugary-sweet apples were revered among cider-makers in New England in the 18th and 19th centuries. Over time, Golden Russet apples dwindled in production as growers began ripping them out of their orchards when consumer preferences shifted towards non-russeted apples. Today Golden Russet apples are a rare heirloom variety primarily grown in the Eastern United States. When in season, the apples are found through select fresh markets and direct through heirloom apple growers.