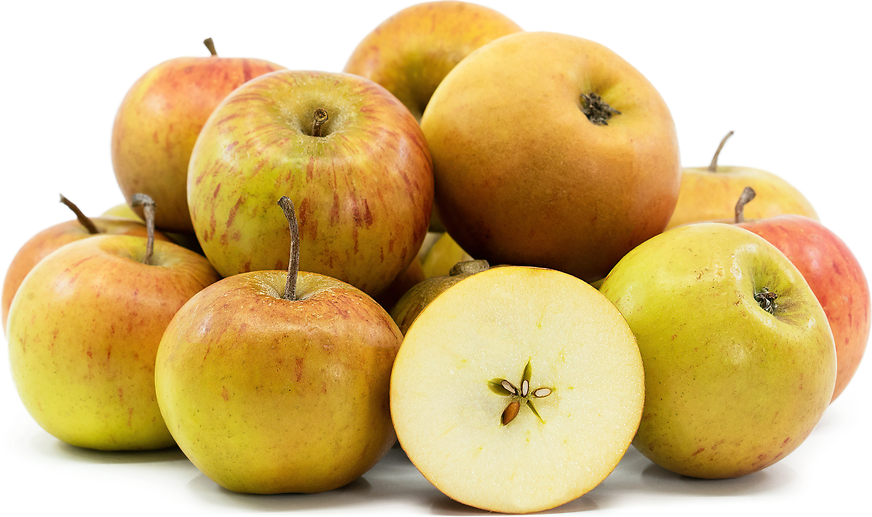 Grimes Golden Apples
Inventory, lb : 0
Description/Taste
Grimes Golden apples are a small to medium-sized varietal, averaging 6 to 6.5 centimeters in diameter, and have a round to oblong shape with square, blocky shoulders tapering to a flat base. The apple's skin is smooth, thick, somewhat matte, and lightly textured, showcasing a yellow-green hue with faint patches of pale red to orange blush. The skin is also covered in prominent white lenticels, some russet dots, and russet within the stem cavity, contributing to the lightly sandy surface texture. Underneath the skin, the white, fine-grained flesh is aqueous, firm, and dense with a crisp, snappy consistency. The flesh also encases a small central core filled with tiny black-brown seeds. Grimes Golden apples release a subtly sweet and grassy aroma. The apples contain high sugar content, reaching around 18 Brix, contributing to a sweet, tart, bright, and dry flavor with rich nuances of nutmeg, coriander, and citrus.
Seasons/Availability
Grimes Golden apples are harvested in the fall and can be stored through the winter.
Current Facts
Grimes Golden apples, botanically classified as Malus domestica, are an American heirloom variety belonging to the Rosaceae family. The variety was discovered growing as a chance seedling in the early 19th century and was selected for its rich depth of flavor. Grimes Golden apples are named after their founder, Thomas Grimes, and the variety quickly spread across the United States after its discovery as a multi-purpose apple. Grimes Golden apples grow on trees that can reach 4 to 5 meters in height and are a self-fertile variety with fruit that ripens in the mid to late season. The trees are disease resistant and capable of producing large crops, but they have a somewhat unreliable nature and tend to bear fruit every other year. Grimes Golden apples reached the peak of their fame in the mid to late 19th century, and one of the variety's most notable achievements is its parentage to the Golden Delicious apple. Despite their initial popularity, Grimes Golden apples were eventually replaced by their offspring as Golden Delicious apples were consistent bearers, producing a more reliable crop for commercial success. Presently, Grimes Golden apples are a rare variety grown as a novelty for use in fresh and cooked preparations and cider making.
Nutritional Value
Grimes Golden apples have not been studied for their nutritional properties. Like other apple varieties, the fruits are a source of potassium to balance fluid levels within the body, fiber to regulate the digestive tract, and vitamin C to strengthen the immune system while reducing inflammation. The apples also provide small amounts of copper to develop connective tissues, magnesium to control optimal nerve functioning, and other nutrients, including iron, vitamin K, vitamin E, calcium, and zinc.
Applications
Grimes Golden apples have a rich, sweet, and tart flavor suited for fresh and cooked preparations. The apples can be consumed straight out of hand and are valued for their spice-filled taste. Grimes Golden apples can also be chopped into salads, shredded into slaws, used as a fresh topping over oatmeal, porridge, and grain bowls, or blended into smoothies. The apple's crisp, snappy flesh adds texture to sandwiches and burgers, and they can also be served with robust cheeses on appetizer platters. In addition to fresh preparations, Grimes Golden apples have a flesh that breaks down fairly quickly, lending their flavor and texture to applesauce, apple butter, chutney, and preserves. The apples can also be baked with denser apples to make a pie filling, cooked into muffins, or baked into bread. Beyond culinary dishes, Grimes Golden apples contain ample amounts of juice, selected as an apple for cidermaking, especially in the Blue Ridge Mountains of Virginia. The variety can also be dried, frozen, or canned for extended use, developing a concentrated flavor with processing. Grimes Golden apples pair well with nuts such as pecans, walnuts, hazelnuts, and almonds, vanilla, maple syrup, brown sugar, and spices including cinnamon, allspice, nutmeg, ginger, and cloves. Whole, unwashed Grimes Golden apples will keep for 1 to 4 months when stored in a cool, dark, and dry location.
Ethnic/Cultural Info
Grimes Golden apples are deeply intertwined with the story of Johnny Appleseed, an orchardist once known as John Chapman. When Chapman was just eighteen years old, he began acquiring apple seeds from cider mills to plant orchards out west. During this time in the early 19th century, businessmen and companies were scrambling to purchase available land throughout the northwest territory in hopes of turning profits when they later sold the land to future settlers. Organizations such as the Ohio Company of Associates also encouraged potential settlers to create their own homesteads outside of Ohio. Homesteaders were required to plant at least 50 apple trees and 20 peach trees in three years or less to become an official settlement, and if passed, the homesteader would receive 100 acres of land. John Chapman was inspired by these newly constructed settlements and began venturing further west to get ahead of the businesses. Chapman carried a bag filled with apple seeds and strategically planted apple orchards in locations where he guessed future settlements would want to become established. The orchard locations were carefully chosen, and Chapman would construct fences, walls, and wind barriers from available materials such as trees, bushes, or plants to protect the apple trees. Chapman traveled throughout the land for over fifty years and created thousands of orchards. Once the orchards were mature, he would sell the land to incoming settlers, and the apples were valued for their use in cider, a beverage safer to drink than water. Chapman developed friendships with many of the towns he traveled through, and he was eventually given the nickname "Apple Seed Man," later transforming into "Johnny Appleseed." In modern-day West Virginia, the original Grimes Golden tree is rumored to have sprouted from a seed planted by Johnny Appleseed. John Chapman once tended to a nursery near Wellsburg, West Virginia. Wellsburg has commemorated Chapman's life and career achievements in their annual Applefest, an apple-centric celebration established in 1979. The multi-day festival celebrates the history of Grimes Golden apples and features gourmet meals, apple-theme snacks, games, music, and live entertainment.
Geography/History
Grimes Golden apples were discovered growing as a wild seedling around 1802 by Thomas Grimes. The apple tree was growing on Grimes' farm in Fowlerville, a town in Brook County, West Virginia. Grimes began propagating the variety on his property, encouraging neighboring orchardists to do the same to increase the apple's visibility. By 1804, Grimes Golden apples were being sold across the southern United States, especially by New Orleans traders, according to author Spencer A. Beach in his book "The Apples of New York." The variety quickly spread in popularity in the United States for its sweet and sharp, spice-filled flavor, and throughout the 19th century, it was a heavily planted cultivar in commercial and home orchards. In the late 19th century, Grimes Golden apples became a parent variety to the Golden Delicious apple, a variety that would eventually overshadow and replace the Grimes Golden in commercial orchards. Grimes Golden apples faded from production in the 1930s and were ultimately localized to private orchards and home gardens. Legend has it that old Grimes Golden trees are still found producing fruit in abandoned orchards across Virginia, and some of these trees are thought to be over fifty years old. The original Grimes Golden tree also survived for many years until it fell in a windstorm in 1905. The site was marked by a trough and a sign in 1922, and the location became a public park, appropriately named Grimes Golden Park. The wood from the fallen tree was also used to carve gavels for officials of the West Virginia Horticultural Society, and a portion of the tree's trunk was sent for preservation at West Virginia University. Today Grimes Golden apples are a rare variety mostly planted in home gardens, preservation orchards, and through specialty growers in the United States and Europe.
Recipe Ideas
Recipes that include Grimes Golden Apples. One

is easiest, three is harder.