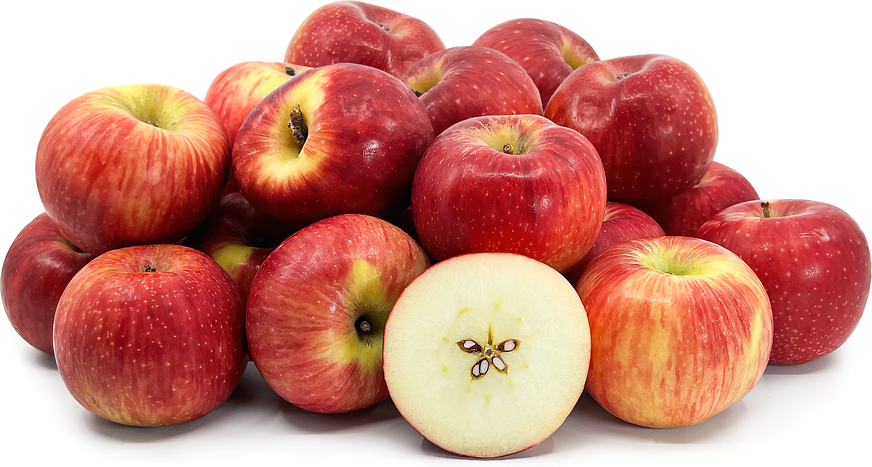 Juliet® Apples
Inventory, lb : 0
Description/Taste
Juliet® apples are a medium-sized varietal, averaging 6 to 8 centimeters in diameter, and have a round to oblate shape with broad, flat shoulders, angular faces, and a narrow base. The skin is semi-thick, chewy, smooth, and taut with a waxy, lightly glossy sheen, and tiny, pale russet lenticels are scattered across the surface, giving a slightly raised texture. The apple's skin has a golden yellow-green base when ripe, almost entirely covered in a cherry red, dark red, to burgundy blush. The saturation and depth of blush coloring will vary for each apple, determined by sun exposure, and some apples showcase distinct red striping. Underneath the surface, the ivory to pale yellow flesh is dense, aqueous, and fine-grained with a firm and crisp consistency, breaking and snapping cleanly in large chunks. The flesh also encases a small central core filled with tiny dark brown, oval seeds. Juliet® apples have balanced sugar and acidity levels, creating a rich, sweet, and tart flavor with a fragrant, honeyed aroma.
Seasons/Availability
Juliet® apples are harvested in France from mid-fall through early winter. Once harvested, the apples are sold in markets through mid-spring or until supplies last.
Current Facts
Juliet® apples, botanically classified as Malus domestica, are a modern club variety belonging to the Rosaceae family. The late-season, bi-colored apples ripen approximately two weeks after Red Delicious and were developed in the late 20th century as a variety with improved disease resistance. Juliet® apples were created in the United States, once known as Co-op 43 apples, but the variety saw the most success as a club apple exclusively grown in France under the name Juliet®. The variety was one of the first apples in the world to be produced only using organic farming practices, and each grower is held by strict standards to ensure that no pesticides, herbicides, synthetic fertilizers, preservatives, or GMO-based seeds are used in cultivation. Growers favor Juliet® apples for their productive nature, capable of producing over 20 kilograms of fruit per tree, and the variety is resistant to scab and powdery mildew. Juliet® apples also hold well on the tree after ripening and produce low ethylene, making them less likely to oxidize and brown. In the modern day, Juliet® apples are popular in France and have achieved commercial success in export markets, including Asia, the Middle East, Europe, and North America. The apples are valued as a specialty variety and can be utilized in a wide array of fresh and cooked culinary preparations.
Nutritional Value
Juliet® apples are a source of potassium to balance fluid levels within the body, vitamin C to strengthen the immune system, and vitamin E to reduce inflammation. The apples also provide vitamin A to maintain healthy organ functioning, fiber to regulate the digestive tract, and other nutrients, including zinc, copper, calcium, phosphorus, and manganese. The variety's saturated red hue indicates the presence of anthocyanins, naturally occurring pigments in the skin that have antioxidant-like properties to protect the cells against the damage caused by free radicals.
Applications
Juliet® apples have a mild, balanced, sweet-tart taste for fresh and cooked preparations. The variety can be consumed straight out of hand and is encouraged to be eaten with the skin on. The skin holds beneficial nutrients, and since the apples were grown organically, they are considered by the grower's association to be safe to eat after cleaning. Juliet® apples can also be sliced and tossed into salads, served with dips, or shredded into side dishes and fruit mixes. The variety can also be used as an edible topping over overnight oats, porridge, pancakes, parfaits, and other breakfast dishes. Try layering slices of the apples into sandwiches for added crunch or dipping pieces into chocolate, nut butter, or caramel for a sweet snack. In addition to fresh preparations, Juliet® apples can be incorporated into cooked dishes and are popularly simmered into jams, jellies, compotes, and sauces. The fruits can also be roasted with root vegetables as a savory side or pureed into apple sauce for pork recipes. Juliet® apples shine in baked preparations such as tarts, pies, and crumbles, and their balanced flavor creates a pleasant eating experience when infused into crème brulee or apple rosettes in phyllo pastry. The variety can also be pan-fried with browned butter and spices and used as a decadent topping over ice cream. Juliet® apples pair well with spices such as cinnamon, cardamom, cloves, nutmeg, and ginger, herbs including mint, parsley, basil, and rosemary, and nuts such as walnuts, hazelnuts, and almonds. Whole, unwashed Juliet® apples will keep for several months when stored in the refrigerator's crisper drawer. In a cellar or professional cold storage facility, the variety can be stored for 7 to 9 months.
Ethnic/Cultural Info
Juliet® apples are sold and marketed through the association "Les Amis de Juliet®," translating to the "Friends of Juliet®." This apple association was established in the late spring of 2005 and is comprised of over 130 commercial apple growers in France. Les Amis de Juliet® promotes the club apple variety to the public, ensures quality is being met in organic cultivation, and that the orchards growing the variety are only found in France. The association strives to make Juliet® apples a household name in France, and each year on August 4th, the group promotes Juliet® apples in a nationwide celebration for the variety's birthday. Juliet® is a famous French name derived from Juliette or Giulietta, a name meaning "youthful." It is said that the shortened spelling, Juliet, was first used in Shakespeare's play Romeo and Juliet.
Geography/History
Juliet® apples were developed through the PRI cooperative scab-resistant apple breeding program led by Purdue University, Rutgers University, and Illinois University in the United States. The variety was the 15th apple cultivar created by the breeding program, and the original cross was conducted in 1970 at the University of Illinois, Pomology Research Farm in the city of Urbana in Illinois. The cross was made between Viking apples as the pollen parent and PRI 1018-101 apples, an experimental cultivar, as the seed parent. After breeding, the seedling of the cross was screened for scab, a destructive disease caused by a fungus in apple orchards. The PRI breeding program sought to create new varieties resistant to scab, and once the cultivar was cleared at Purdue University, it was planted in a field in 1971 at the Pomology Research Farm under the name PAR14T238. In 1977, scientist D.F. Dayton at the University of Illinois selected the variety and began testing it for potential commercial propagation. The variety was labeled Co-op 43 in 1995 and underwent years of trials and testing before it reached markets worldwide. One day on a visit to the experimental apple orchards at Rutgers University in New Jersey, a nurseryman named Jean-Louis Escande encountered Co-op 43 apples and planted them in his nursery in Saint-Vite, France. It is rumored Escande always loved these apple trees, and when his grandson Benoit took over the nursery, Benoit partnered with arboriculturist Jean-Noel Carles, product launch specialist Jean-Pail Touchard, and technician Guilhelm Severac to launch Co-op 43 apples in France. Co-op 43 apples were first planted in Provence, France, in 2001, and in 2004, they were registered with the French patent office. In 2005, Co-op 43 apples were rebranded under the name Juliet® for increased consumer appeal, and Les Amis de Juliet® was created in 2005 to market, protect, and expand the Juliet® brand. Today Juliet® apples are grown across France, with concentrated populations in Rhone-Alpes, Provence, and Midi-Pyrenees. When in season, Juliet® apples are sold domestically in France and are also exported to regions of Asia, specifically Southeast Asia, North America, Europe, and the Middle East. Juliet® apples are primarily found through specialty grocers and retailers.
Recipe Ideas
Recipes that include Juliet® Apples. One

is easiest, three is harder.