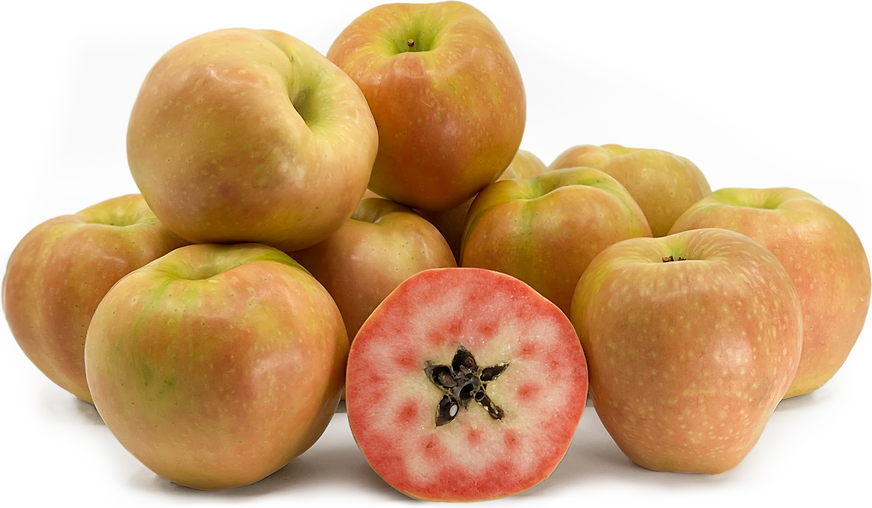 Kissabel® Jaune Apples
Inventory, lb : 0
Description/Taste

Kissabel® Jaune apples are a small to medium-sized varietal, averaging 6 to 8 centimeters in diameter, and have a round to conical shape with an asymmetrical appearance. The apples typically bear flat, broad shoulders tapering to a narrow base and weigh around 194 grams on average. The apple's thin skin showcases faint tan lenticels, some ribbing, and a smooth surface with a soft sheen and waxy consistency. The skin also has a variegated yellow-green to golden-yellow hue and is translucent, often revealing tones of the pigmented flesh. Underneath the surface, the flesh features shades of pale pink and white, and each apple will have varying degrees of pigment, mostly white around the core and the darkest coloring beneath the skin. The flesh also has an aqueous, fine-grained, firm, and dense nature with a crisp texture, encasing a central core filled with black-brown seeds. Kissabel® Jaune apples are aromatic and have a high sugar content, around 14.5 Brix, combined with acidity, creating a balanced, sweet-tart flavor with refreshing, sharp, sugary, and fruity nuances reminiscent of berries.


Seasons/Availability

Kissabel® Jaune apples are harvested in the mid-fall to early winter.


Current Facts

Kissabel® Jaune apples, botanically classified as Malus domestica, are a European variety belonging to the Rosaceae. The pink-pigmented cultivar was released in the 21st century as a part of a new category of apples developed by Ifored, an international consortium of apple growers. Kissabel® Jaune was created in France through breeders in Seiches sur le Loir in 2006 and was one of three apples that were the first varieties promoted through Ifored. Kissabel® Jaune apples are a mid-season variety also known under the name Y102. Other Kissabel® apples include Kissabel® Rouge or R201 and Kissabel® Orange, Y101. All three apple varieties were bred for their pigmented flesh coloring, and Kissbael® Jaune apples are the first to arrive in markets before the other two, approximately 5 to 10 days after Golden Delicious apples. Kissabel® Jaune apples are favored for their contrasting skin and flesh coloring and grow on small, vigorous trees reaching 2 to 3 meters in height. The variety is primarily promoted for fresh eating and the fruits are favored for their sweet-tart taste and storage capabilities.


Nutritional Value

Kissabel® Jaune apples are a source of antioxidants to protect the cells against the damage caused by free radicals, fiber to regulate the digestive tract, iron to develop the protein hemoglobin for oxygen transport through the bloodstream, and potassium to balance fluid levels within the body. The variety also provides vitamin A to maintain healthy organ functioning, vitamin C to boost the immune system, calcium to build strong bones and teeth, magnesium to control nerve functions, vitamin E to reduce inflammation, and other nutrients, including phosphorus, copper, vitamin K, and boron.


Applications

Kissabel® Jaune apples have a sweet, tangy, and berry-like taste suited for fresh preparations. The variety is primarily consumed straight out of hand as a snack and is heavily promoted for its pigmented flesh, best showcased when raw. Kissabel® Jaune apples can be sliced and tossed into salads, served on top of parfaits, oatmeal, and smoothie bowls, or placed on toast and sandwiches for a vibrant addition. The apples can also be served with dips, displayed on cheese boards, or chopped and used as a colorful garnish over grain bowls, poke bowls, and fruit medleys. In Europe, specifically Germany, Italy, and France, Kissabel® apples are pressed into juices and sold in markets. The apples are also incorporated into some cooked preparations, such as baking into bread, cakes, and tarts or serving in risotto. Try cooking Kissabel® Jaune apples into a pink applesauce. The variety can also be simmered into jams, jellies, and preserves. Kissabel® apples pair well with nuts, including pecans, almonds, and walnuts, spices such as walnuts, pecans, almonds, and pistachios, herbs such as cilantro, mint, basil, and parsley, and other fruits, including strawberries, blueberries, grapes, and pineapple. Whole, unwashed Kissabel® Jaune apples will keep for 1 to 2 months when stored in a cool, dry, and dark location, such as a cellar or refrigerator's crisper drawer.


Ethnic/Cultural Info

Kissabel® apples earned their unusual name from a marketing strategy to create an entirely new category of apples. Kissabel® is a brand created by Ifored to market red and pink-fleshed apples. The name Kissabel® is derived from a play on nature's kiss. It is said the moniker is derived from the rediscovery, coined as "red-discovery" for the marketing campaign, of apples with red and pink hearts, and biting into the pigmented apples is like experiencing a taste of nature's zest and happiness. In regard to Kissabel® Jaune apples, the name Jaune translates from French to mean "yellow," a descriptor for the apple's golden-hued skin. The three current apples offered under the Kissabel® line- Rouge, Orange, and Jaune, are just the beginning of this new category of pigmented fruits, and Ifored plans to expand the line to include many other red and pink-fleshed apples. The varieties will range from 30% pink or red tone to 100% saturated red hues in the flesh, and the skin colors will include variegated, yellow, red, and orange shades.


Geography/History

Kissabel® Jaune apples are native to France and were developed in the Seiches sur le Loir commune in the early 21st century. The variety was created from a cross between Golden Delicious apples and SJ109 apples and was planted and propagated in 2006 under the name Y102. Several years later, in 2011, Y102 was successfully grafted, and in 2012, it was planted in pilot orchards to evaluate the new variety as a potential commercial cultivar. Y102 was commercially released under the name Kissabel® Jaune apples in 2017 by Ifored, a consortium of over 14 international partners who collaborate to breed new red and pink-fleshed apple varieties. Ifored was established in 2004 by IFO, or International Fruit Obtention, a French-based company formed by two French nurseries that combined assets into one company. Kissabel® Jaune apples were launched at Fruit Attraction Madrid in 2017 and were planted through European partners. The variety was later planted in Australia in 2020 and introduced to the United States through Stemilt Growers in 2023. Kissabel® Jaune apples were also exported to China in 2020 through Blue Whale Produce. Today, Kissabel® Jaune apples are expanding in production worldwide and are being cultivated by Ifored partners in Europe, South Africa, Australia, New Zealand, South America, Canada, and the United States.