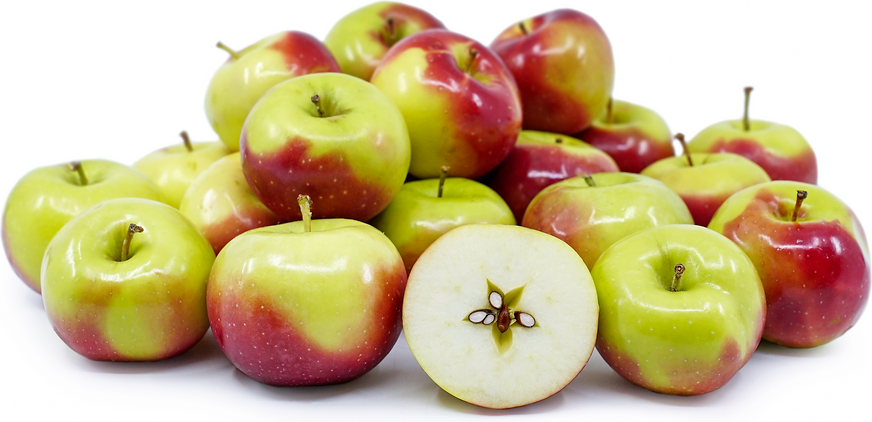 Lady Apples
Inventory, 12 lbs : 0
Description/Taste
Lady apples are a small varietal, averaging 3 to 5 centimeters in diameter, and have a round to oblate shape with flat, ribbed shoulders, a broad center, and a narrow base. The apple's stem is typically elongated, slender, green to brown, and fibrous, connecting to the fruit in a small cavity. This cavity is occasionally filled with green-brown, textured russet. The skin is semi-thick, smooth, taut, glossy, and firm, covered in white lenticels and some russeting. The surface also ripens from green to yellow-green or yellow, and depending on sun exposure, the fruits may develop a dark red to crimson blush. Lady apples are often dappled in coloring due to their tightly clustered growth patterns on the tree. The red blush ranges from striped, streaky, translucent to saturated. Underneath the surface, the white to ivory flesh is tender, fine-grained, and aqueous with a soft, crisp consistency. Lady apples release a honeyed, fruity aroma and are edible raw when ripe. The variety has a sweet-tart, subtly nutty taste with citrus, dried fruits, and mint undertones.
Seasons/Availability
Lady apples are harvested in the fall to early winter, depending on the growing region. Once picked, the fruits can be stored through the spring.
Current Facts
Lady apples, botanically classified as Malus domestica, are a European variety belonging to the Rosaceae family. The mid to late-season fruits grow in thick clusters along the branches of upright, spreading trees and are an ancient variety, dating back to at least the 17th century, if not earlier. Lady apples are an ornamental and culinary cultivar that has spread throughout Europe and the United States. Lady was once a common moniker for several apple cultivars, but the variety was rumored to have been given its name from its size. The apple's petite nature was favored as an on-the-go snack for ladies in France. The apples could be placed in a purse without causing a bump, a trait that was especially important among the fashion-conscious nobility and upper class. Lady apples are also known as Api apples, an older name for the variety in Europe. The name represents a category of several closely related apples, including Api Noir, Api Gros, Api Etoile, and Api Panache. In the modern day, Lady apples are a rare heirloom variety grown in limited quantities as a specialty fruit. The variety is not commercially produced and is seasonally found in markets for culinary and ornamental use.
Nutritional Value
Lady apples have not been extensively studied for their nutritional properties. Like other apples, the variety may be a source of fiber to regulate the digestive tract, potassium to balance fluid levels within the body, and calcium to build strong bones and teeth. The apples also provide vitamin C to boost the immune system and reduce inflammation, magnesium to control nerves, vitamin A to maintain healthy organ functioning and other nutrients, copper to develop connective tissues, and other nutrients, including zinc, iron, vitamins K and E, and boron. The apple's pigmented skin contains antioxidants to protect the cells against the damage caused by free radicals.
Applications
Lady apples have a sweet-tart taste suited for fresh and cooked preparations. The variety is mainly known as a culinary cultivar, but some consumers choose to eat the small fruits out of hand. The fruits may have a more tart or flat taste depending on where the apple was grown. The apples also oxidize quickly, giving sliced flesh a brown tinge. Lady apples can be sliced and served on appetizer platters, tossed into salads, or served with dips such as hazelnut spreads, almond butter, caramel, and yogurt. The variety can also be layered into parfaits, used as a fresh topping over grain bowls, pancakes, or herbed side dishes, or cut into thin slices over toast and crostini. In addition to fresh preparations, Lady apples are popularly cooked in Europe to enhance their flavoring. The apples are simmered into compotes, jams, and chutney, pickled as a tangy condiment, or cooked into applesauce and apple butter. The variety can also be incorporated into baked goods such as pies, tarts, crisps, and dumplings, but keep in mind their small size may require them to be mixed with other apples to complete a recipe. Lady apples pair well with herbs such as mint, parsley, cilantro, and rosemary, nuts including pine, walnuts, and almonds, cheeses such as parmesan, cheddar, feta, and goat, and spices including ginger, cinnamon, cardamom, and cloves. Whole, unwashed Lady apples will last up to four months when stored in a cool, dry, dark location such as a cellar or refrigerator crisper drawer.
Ethnic/Cultural Info
Lady apples are famously known as Christmas apples, named for their use in decorative holiday wreaths, garlands, and arrangements. The small fruits were valued for their rich coloring, petite size, high yields, and long-lasting nature, allowing them to be woven into greenery for extended periods. Decorators were also inspired by the fruit's clustered nature when naturally growing along the tree's branches, leading the apples to be woven into holiday garlands. Christmas apples provide shine, color, and fragrance to ornamental decorations and resemble ornament balls hanging on Christmas trees. In addition to wreaths and garlands, Lady apples were occasionally used to make pomanders, a natural room freshener thought to protect against infection. Traditionally, pomanders made from apples are pierced with cloves and can be hung or placed in a container with other herbs and spices.
Geography/History
Lady apples are native to Europe and are an heirloom variety, dating back to at least the 17th century. There are two main theories surrounding the origins of these apples, and the most accepted story connects the variety to the Api Forest in Brittany, France, around 1628. It is thought the apples were discovered as a chance seedling and were eventually selected and grown in the royal orchard of King Louis XIII in France. It is worth noting that some pomologists believe Lady or Api apples may be descendants of the Appian apple from ancient Rome, but this is heavily debated among historians. Lady apples were first described under their Api descriptor by agronomist Olivier de Serres in his work "Le Theater d'agriculture et menage des champs." The variety was also introduced to Great Britain in the late 1600s, and in the 19th century, Api apples were recorded in the catalog of the London Horticultural Society. They were also carried by European colonists and planted in the United States. Today, Lady apples are a rare variety that is challenging to find in modern markets. The variety has disappeared over time and has been replaced in orchards by modern cultivars. Lady apples are localized to specialty and home orchards that grow the apples as a novelty. When in season, Lady apples are sold through select growers, distributors, and fresh markets in Europe and the United States.
Recipe Ideas
Recipes that include Lady Apples. One

is easiest, three is harder.