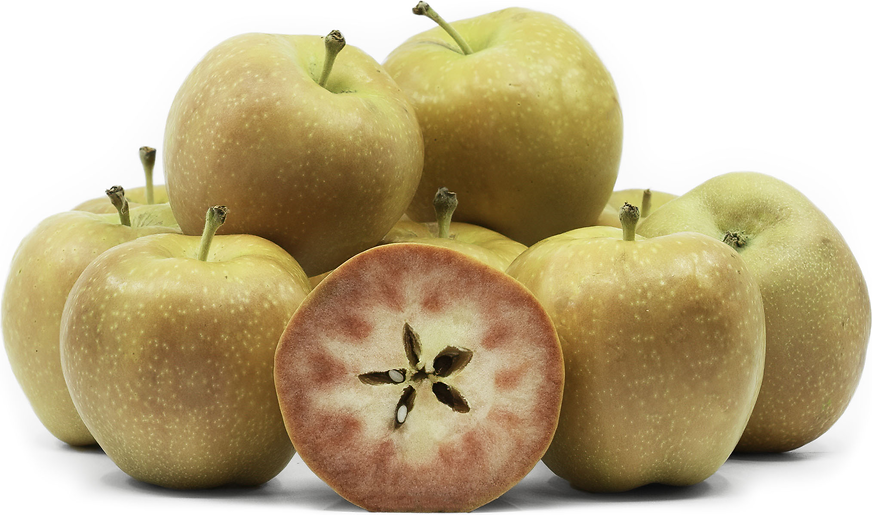 Pink Pearl Apples
Inventory, lb : 0
Description/Taste
Pink Pearl apples are small to medium in size, averaging 2 to 5 centimeters in diameter, and have a conical, tapered shape with flat, broad, and ribbed shoulders and a narrow, sometimes slanted base. The fruit's thin, translucent skin is smooth, taut, chewy, and glossy, ripening from green, yellow-green, to golden yellow with maturity. The skin also exhibits tan russeting on the shoulders and faint white lenticels, giving the surface a slightly speckled appearance. Underneath the skin, the flesh is fine-grained, delicate, and semi-firm, with a crisp consistency. The flesh also bears some juice and has variegated, pink, red, and white streaking and mottling. The amount of pigment in the flesh varies depending on the growing environment, and some Pink Pearl apples can be dark red-pink and saturated, while others will be lighter in coloring. Pink Pearl apples are aromatic and have even levels of sugar and acidity. This balanced nature creates a sweet-tart taste with tangy, berry nuances mixed with subtle notes of grapefruit.
Seasons/Availability
Pink Pearl apples are harvested in the late summer through fall. The picking times will vary, depending on the region where the fruits are grown, and in some areas, the variety ripens as early as mid-summer.
Current Facts
Pink Pearl apples, botanically classified as Malus domestica, are a rare variety belonging to the Rosaceae family. The small fruits grow on trees extending 3 to 4 meters in height and are one of the few apples created in California. Pink Pearl apples were released in the 20th century and are named for their marbled, red-pink, and white flesh. Each apple is distinct in its coloring and pattern, and Pink Pearl apples are typically one of the earliest red-fleshed apples to be harvested in the season. Pink Pearl apples are not commercially produced and are relatively unknown outside apple-growing communities. The variety is favored for its sweet-tart taste and is versatile, consumed fresh or cooked in culinary preparations.
Nutritional Value
Pink Pearl apples are a source of fiber to regulate the digestive tract, vitamin A to maintain healthy organ functioning, and vitamin C to strengthen the immune system and reduce inflammation. The apples also provide potassium to balance fluid levels within the body, iron to develop the protein hemoglobin for oxygen transport through the bloodstream, calcium to build strong bones and teeth, and other nutrients, including manganese, zinc, copper, B vitamins, magnesium, and vitamin E. The apple's red flesh contains anthocyanins, colored pigments that have antioxidant-like properties to protect the cells against the damage caused by free radicals.
Applications
Pink Pearl apples have a sweet-tart taste suited for fresh and cooked preparations. The variety is typically consumed straight out of hand and is favored as an afternoon snack or healthy dessert. Pink Pearl apples are also sliced and displayed on cheese plates to showcase their marbled flesh, chopped into salads, or served with dips such as nut butter, caramel, and chocolate. Try adding Pink Pearl apple slices to parfaits, ice cream, or other breakfast dishes as a crisp topping. In addition to fresh preparations, Pink Pearl apples hold their shape well when heated and are incorporated into tarts, galettes, dumplings, and scones. The variety can also be baked into crisps, cobblers, cakes, and pies or shaped into edible roses. Pink Pearl apples retain a pink coloring when cooked, creating colorful sauces for roasted meats, jams, and jellies. The apples can also be blended into apple sauce, developing a salmon orange-pink hue, or fried as a savory-sweet side dish. Beyond sweet dishes, Pink Pearl apples can be minced into stuffing, cooked into sauerkraut, served as a side dish to meats, or blended into smoothies, cocktails, and cider. Pink Pearl apples pair well with fruits such as mangoes, cherries, oranges, and grapes, herbs including mint, cilantro, and rosemary, nuts such as almonds, walnuts, and hazelnuts, vanilla, maple syrup, and chocolate. Whole, unwashed Pink Pearl apples will keep for several weeks when stored in the refrigerator's crisper drawer. The apples will also keep for 3 to 6 months when sliced and frozen or dried and stored in a sealed container at room temperature for six months.
Ethnic/Cultural Info
Albert Etter, the creator of Pink Pearl apples, was a famed apple breeder in California. Etter was fascinated with plant breeding, and when he was just twelve years old, he would spend time on his family's farm near Ferndale, California, growing dahlias and strawberries. When he was in his early twenties in 1893, Etter discovered a piece of land on a hike in the Mattole River Valley and decided it would be his future home. Etter obtained the land in 1894 through the Homestead Act, a government-approved act where an American citizen could own land after spending at least five years improving and living on the property. Etter called his property Ettersburg and worked with his brothers to clear the land for orchards and homes. Etter planted many types of apples and obtained new varieties through the University of California Extension Service, performing thousands of crosses. By the early 20th century, Etter had over 5,000 trees and around 500 to 600 varieties of apples. Etter also spent his time writing for the Pacific Rural Press and the Humbolt Times, discussing topics related to fruit cultivation. Etter is most well-known for his work in strawberry breeding, having created cultivars grown commercially in the United States, Australia, New Zealand, and England. In regards to apple breeding, Etter partnered with the California Nursery Company and sent around 40 of his favorite creations to be evaluated and commercially released. 7 of the 40 apples were selected for distribution and were offered in the 1945 catalog of the nursery, including Pink Pearl apples. After Etter's passing in the 1950s, apple enthusiasts, including Greenmantle Nursery, began documenting and sorting through Etter's apple creations to preserve his legacy and breeding achievements.
Geography/History
Pink Pearl apples were developed in the 1940s in Northern California by breeder Albert Etter. The variety was created from a lineage involving the Surprise apple, a pigmented cultivar native to Turkey that is a descendant of the Niedzwetzkyana crab apple. Surprise apples were planted in California in the 1920s, and after its introduction, Etter used the variety to breed and evaluate over thirty pink and red-fleshed apples. Etter developed his apple varieties on his property in Humboldt County and eventually partnered with George Roeding Jr. from the California Nursery Company, CNC, to sell selections from his orchard commercially. Pink Pearl apples, known as #39 before their debut, were chosen by the CNC as a new commercial cultivar. #39 apples were named Pink Pearl in 1945 and were patented under the United States Plant Patent #723. After their release to commercial markets, Pink Pearl apples never achieved widespread success and remained a unique cultivar primarily grown by apple enthusiasts. Today Pink Pearl apples are cultivated by apple growers in the United States and Canada and are mainly found through farmer's markets and direct from growers in California, Washington, and Oregon.
Recipe Ideas
Recipes that include Pink Pearl Apples. One

is easiest, three is harder.