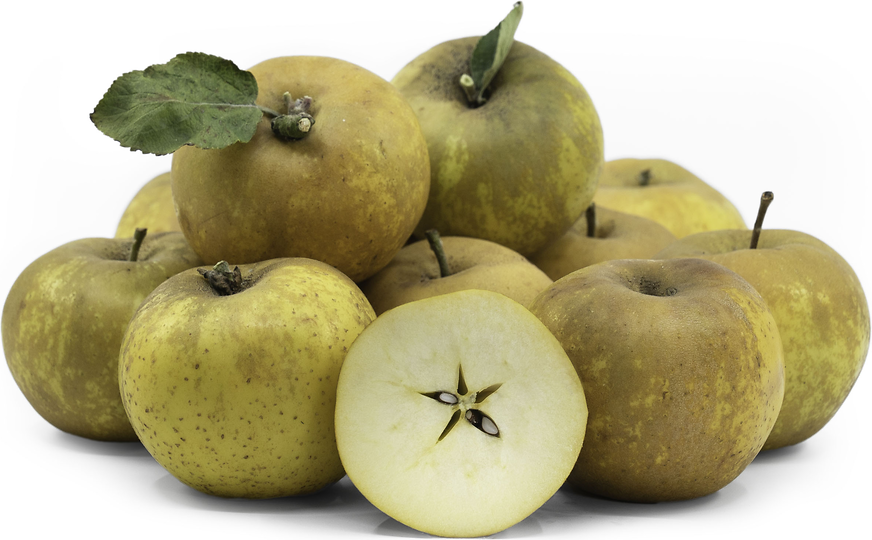 Saint Edmund's Pippin Apples
Inventory, lb : 0
Description/Taste

St. Edmund's Pippin apples are a small to medium-sized varietal, averaging 6 to 7 centimeters in diameter, and have an ovate to conical shape with shallow, flattened shoulders and a slender, brown stem. The thin skin has a yellow-green base hue and is sometimes blushed with muted, orange-red hues. The skin is also almost entirely covered in a tan to golden russet, giving the apple's surface a sandy, rough, and textured feel. Underneath the surface, the ivory to pale yellow flesh is aqueous, firm, and fine-textured with a crisp consistency, softening slightly when left on the tree for prolonged harvest. The flesh also encases a small fibrous core filled with brown tear-drop-shaped seeds. St. Edmund's Pippin apples are aromatic and have a fruity, somewhat tropical scent when sliced. The flesh has a complex, sweet, and slightly acidic flavoring with notes of stone fruit, pears, and vanilla mixed with nutty, tangy nuances and a honeyed aftertaste.


Seasons/Availability

St. Edmund's Pippin apples are available for a short season in the fall.


Current Facts

St. Edmund's Pippin apples, botanically classified as Malus domestica, are an English heirloom variety belonging to the Rosaceae family. The aromatic apples are one of the earliest season russet varieties to appear in English markets, about one month before other well-known russets, and the apples are highly favored for their sweet and tangy, rich flavor, and crisp, fine-grained consistency. St. Edmund's Pippin apples are also known as Saint Edmund's Russet, Early Golden Russet, and Saint Edmund's Pippin apples, and the dessert variety was once a prominent home garden apple tree in England, cultivated for its compact growth habit, flavorful fruits, and disease resistance. St. Edmund's Pippin apples are also a type of russet apple, a term used to describe apples that have a rough, bumpy, or leathery skin texture. Russet apples were a popular style of apple during the Victorian Era in England, as the apples were believed to have complex flavorings and were generally associated as a traditional English apple. Today russeting is considered by many growers to be an undesirable trait as the modern-day market has switched to desiring smooth, shiny, and uniform varieties. English apple markets still appreciate some russet in the modern-day, and St. Edmund's Pippin apples have remained a prominent russet variety at markets in England for fresh eating, ciders, and cooking.


Nutritional Value

Like other apple varieties, St. Edmund's Pippin apples are a source of vitamin C to strengthen the immune system and fiber to regulate the digestive tract. The apples contain other vitamins, including vitamin K to assist in faster wound healing, vitamin E to protect cells against free radical damage, and B vitamins to maintain overall health. In addition to vitamins, St. Edmund's Pippin apples provide minerals such as potassium to balance fluid levels within the body, copper and manganese to develop connective tissues, and lower amounts of calcium, phosphorus, zinc, and iron.


Applications

St. Edmund's Pippin apples have a sweet, tangy, and rich flavor profile well suited for fresh preparations. The apples can be consumed with or without the skin, depending on preference, but many apple enthusiasts appreciate the russet-textured skin and believe it should be eaten in conjunction with the flesh. St. Edmund's Pippin apples can be sliced and tossed into green salads, chopped into slaws, sliced and served with soft cheeses on appetizer platters, or used as a topping over breakfast dishes such as porridge, chia pudding, and pancakes. The apples can also be pressed into a rich juice or cider. In addition to fresh preparations, St. Edmund's Pippin apples hold their shape in cooked dishes, developing a concentrated, deeper flavor. The apples can be sauteed with butter and spices to create a sweet topping for ice cream, baked into pies, cakes, and tarts, cooked into jams, jellies, and marmalade, or pureed into a sauce. St. Edmund's Pippin apples pair well with cheeses such as blue, cheddar, and brie, spices including cinnamon, nutmeg, cloves, ginger, and allspice, vanilla, caramel, cream, and meats such as pork, poultry, turkey, and duck. Whole, unwashed St. Edmund's Pippin apples will keep 2 to 3 weeks when stored in a cool and dark place such as the refrigerator. The apples should be immediately consumed for the best quality and flavor as their skin bruises easily and softens with time.


Ethnic/Cultural Info

St. Edmund's Pippin apples were named after Edmund the Martyr, a famous English ruler during the 9th century CE. Also known as Edmund King of the East Angles, much of the early history of the ruler's life is unknown due to records being destroyed by land invasion. Edmund the Martyr is most famous for his interactions with the Vikings. Sometime before 869 CE, Viking invaders infiltrated East Anglia and defeated the English, capturing Edmund. The Vikings ordered Edmund to renounce his Christian faith, but Edmund refused, resulting in an excruciating death. Legend has it that Edmund was tied to a tree and shot with arrows before he was decapitated. After his death, the church venerated Edmund as a saint and martyr and buried his body in a shrine at Bury St. Edmunds. The surrounding town was also named after the saint. In the present day, English Christians still travel to Bury St. Edmunds to visit Edmund's shrine, and the shrine has remained an important pilgrimage site since its creation.


Geography/History

St. Edmund's Pippin apples were discovered growing as a chance seedling in Bury St. Edmunds, a town in Suffolk, England. The apple's history and parentage are unknown, but experts believe the variety was found around 1870 in the orchard of Mr. R. Harvey. St. Edmund's Pippin apples received a First Class Certificate in 1875 from the Royal Horticultural Society, a prestigious acknowledgment, and the apples were later promoted for home garden cultivation in the early 1900s through Bunyard's Nursery, located in Kent. The variety remained popular throughout the 20th century, but as russet types began to wane in favor of modern, smoother varieties, St. Edmund's Pippin apples became a challenging heirloom to find. Today St. Edmund's Pippin apples are a specialty variety cultivated on a small scale through heritage and private orchards throughout the United Kingdom. When in season, the apples are available for a short time and are sold through local markets, farm stands, and select grocers in the United Kingdom.