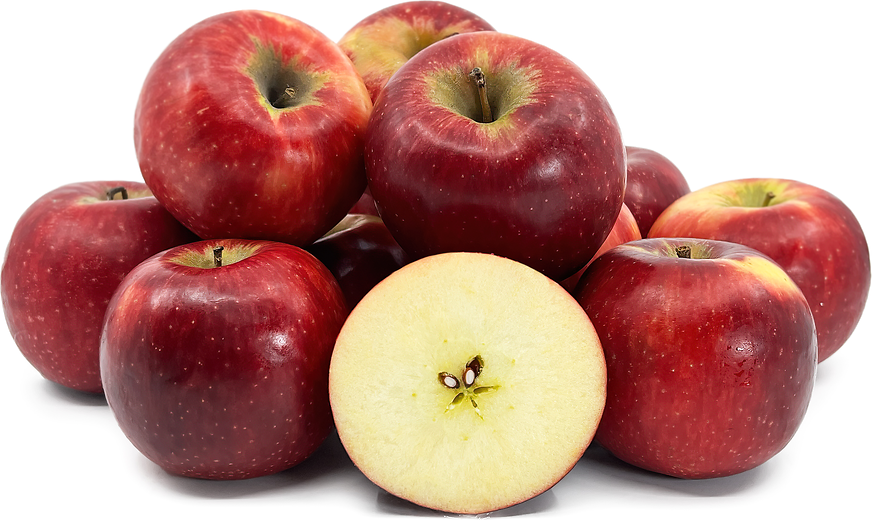 Red Chief Apples
Inventory, 1 Lb : 0
Description/Taste

Red Chief apples are a medium to large varietal, averaging 200 to 400 grams in weight, and have an oblong to conical, bell-like shape. The apple's appearance is highly variable, from elongated to slightly flattened, depending on growing conditions, but they generally exhibit broad shoulders that taper towards the base of the fruit. The skin is semi-thick, ribbed, smooth, and glossy, showcasing a bright red to crimson blush over a yellow-green base. The surface is also covered in many pale lenticels and a waxy coating. Underneath the skin, the flesh ranges in color from pale green to white and has a dense, aqueous, and fine-grained, crunchy consistency. The flesh oxidizes quickly once exposed to air and releases a pleasant aroma. In the center of the flesh, there is a small core encasing a few dark brown seeds. Red Chief apples have a very sweet and mild flavor. Some consumers also note that the variety has a neutral, sometimes bland quality.


Seasons/Availability

Red Chief apples are available in the early fall.


Current Facts

Red Chief apples, botanically classified as Malus domestica, are a sweet apple variety belonging to the Rosaceae family. The large fruits grow on trees that can reach 6 to 7 meters in height and are an early-maturing variety, bearing fruits 2 to 3 years after planting. Red Chief apples were created in the United States in the early 20th century, but despite their American roots, the variety has achieved much of its commercial success in Europe and Central Asia. The cultivar is popular among home gardeners for its fast-growing nature, high yields, and resistance to some diseases, and the apples are hardy, able to be transported long distances, and stored for extended periods. Red Chief apples are primarily consumed fresh, but variety's mild and neutral flavor is also utilized by some chefs in both sweet and savory preparations.


Nutritional Value

Red Chief apples are a source of vitamin C to strengthen the immune system, potassium to balance fluid levels within the body, and fiber to regulate the digestive tract. The apples also provide some vitamin K to assist in faster wound healing, vitamin E to protect the cells against free radical damage, and other nutrients such as niacin, vitamin B6, thiamine, copper, phosphorus, and iron.


Applications

Red Chief apples have a mild, sweet flavor well suited for a variety of fresh and cooked preparations. The fruits can be consumed with their skin intact or peeled, depending on preference, and eaten straight, out of hand as a healthy snack. Red Chief apples can also be sliced and tossed into green salads and fruit bowls, used as a topping over yogurt, pancakes, and waffles, or blended into smoothies and juices. It is important to note that the flesh oxidizes quickly once sliced, so the variety is not recommended for appetizer platters or dishes for parties where the fruit may sit out for extended periods. Red Chief apples can also be pureed into applesauce, simmered into jams, jellies, and compotes, or served with roasted meats as a sweet component. In addition to sauces, Red Chief apples are sometimes utilized in baked preparations, but they can often lose their shape once cooked. The apples can be incorporated into cakes, tarts, pies, turnovers, cobblers, and doughnuts. Slices of the flesh can also be baked, roasted, poached, or caramelized with spices as a dessert. Red Chief apples pair well with nuts such as walnuts, pecans, and almonds, browned butter, sugar, vanilla, caramel, meats including pork, beef, and poultry, potatoes, squash, and spices such as cinnamon, rosemary, ginger, and cardamom. Whole, unwashed Red Chief apples will keep for a couple of weeks when stored in the refrigerator's crisper drawer. In professional cold storage, the apples can keep up to seven months.


Ethnic/Cultural Info

Red Chief apples are a common commercial variety in Poland, cultivated for domestic use and export. The cultivar is favored in retail markets for its dark red, vivid coloring, large size, and sweet, mild flavor. Red Chief apples are utilized interchangeably with red delicious apples in Poland, primarily consumed as a fresh eating cultivar. In some regions, Red Chief apples can be stewed with other apple varieties, sugar, and cinnamon into a traditional dish known as apple-cheese. Once the fruits are stewed, the mixture is dried for 30 to 45 days, creating a chewy dessert or snack that can be stored for extended periods. Apple-cheese was once used to preserve excess apples gathered in harvest, but it is a snack popularly consumed with tea in the present day. Poland is the leading apple exporter in Europe, and apples account for 80% of the total fruits grown in the country. Apples have been cultivated in orchards and home gardens in Poland since the 12th century, and some of the first orchards were tended to by Cistercian monks. Over time, many apple varieties have been introduced into the country, and today Poland exports over fourteen apple varieties into other countries in Europe, Russia, Kazakhstan, India, China, and Southeast Asia. The Red Chief apples featured in the photograph above were sourced from an apple vendor at the Green Central Market of Almaty, Kazakhstan. The vendor imported the apples from a grower in Poland.


Geography/History

Red Chief apples were first discovered in the United States in the early 20th century. While the apple's exact history is unknown, as there are several origin theories, the primary belief is that the cultivar was found in an orchard in Clay County, West Virginia, created from a cross between grimes golden and golden reinet apples. Red Chief apples were commercially introduced in 1914, and over time, the hybrid was brought to Europe and Asia, where it became a popular apple for retail markets. In 2016, Red Chief apples were recorded in the State Register of Breeding Achievements in Russia and were approved for production in the North Caucasus and Central Black Earth District. Today Red Chief apples are grown in home gardens and cultivated in commercial orchards throughout the United States, Russia, and Europe, especially in Poland and Ukraine. While the variety is not one of the most popular apples, Red Chief apples can still be found through local markets, distributors, and select growers.