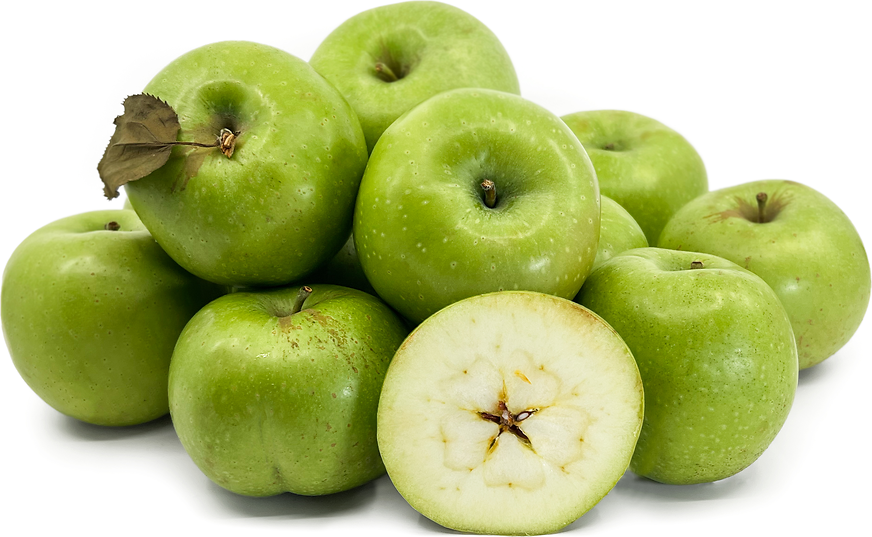 Rhode Island Greening Apples
Inventory, lb : 0
Description/Taste
Rhode Island Greening apples are a medium to large varietal and generally have a uniform, round to oblate shape with a flattened top and bottom. Depending on the growing environment, the fruits may showcase a slightly ribbed nature and conic shape, but in most commercial markets, the apples are large and flat. The fruit's skin is semi-thick, tough, smooth, and taut, becoming waxy with maturity. Rhode Island Greening apples showcase a bright green hue when young, eventually maturing to shades of yellow-green. The apple's shoulders and stem cavity may exhibit light brown, textured russeting, and the skin develops a muted, brown-tan blush. Occasionally, the faintly colored blush will sometimes turn bright red with increased sun exposure. There are also prominent pale lenticels scattered across the surface. Underneath the skin, the white, pale green, to yellow flesh, depending on maturity, is firm, dense, aqueous, and fine-grained with a crisp, crunchy consistency. The flesh also encases a small to moderately sized fibrous core filled with tiny, black-brown narrow seeds. Rhode Island Greening apples are acidic, sharp, tart, and refreshingly sprightly. When left in extended storage, the apple's sharpness will mellow and become subtly sweeter.
Seasons/Availability
Rhode Island Greening apples are harvested in the late fall through spring. The apples will keep in professional cold storage and are sold through the spring.
Current Facts
Rhode Island Greening apples, botanically classified as Malus domestica, are an American heirloom variety belonging to the Rosaceae family. The mid to late-season apples date back to the 17th century and are one of the oldest American apples still in cultivation. Rhode Island Greening apples develop on large, slow-growing trees reaching 3 to 6 meters in height, and the trees are long-lasting, sometimes living for hundreds of years. After their discovery, the variety quickly became commercially popular throughout the northeastern United States. 18th and 19th-century apple growers favored the variety for its disease resistance, reliable cropping, and the fruit's ability to hold well on the tree until ripe. Rhode Island Greening apples were the most widespread green apple in the United States until the introduction of the Granny Smith apple in the 1970s. Since then, the variety has faded from commercial production, but it is still grown as an heirloom specialty apple in the United States, Europe, and Canada. Despite their decline in commercial production, Rhode Island Greening apples have remained a famous cooking variety, and the cultivar's success earned it the title of the official state fruit of Rhode Island in 1991.
Nutritional Value
Rhode Island Greening apples are a source of vitamin C to boost the immune system, potassium to balance fluid levels within the body, and vitamin A to maintain healthy organ functioning. The variety also provides fiber to regulate the digestive tract, calcium to build strong bones and teeth, iron to develop the protein hemoglobin for oxygen transport through the bloodstream, and other nutrients, including zinc, copper, magnesium, and phosphorus.
Applications
Rhode Island Greening apples have a sharp, tart, and acidic flavor suited for fresh and cooked preparations. When the apples are ripe and have been kept in extended storage, their flavor will mellow slightly, allowing them to be dipped in caramel, nut butter, or chocolate as a sweet and tangy snack. Rhode Island Greening apples can also be shredded into slaws, chopped into salads, or layered onto sandwiches for added crunch and tartness. In addition to fresh preparations, Rhode Island Greening apples are most famously known for their use in cooked dishes. The variety was a choice selection for apple pies in the 19th century, as the fruit holds its shape when heated and produces a chunky, soft, but tender consistency. Rhode Island Greening apples are also used to make sauces, jams, and jellies and are incorporated into baked goods such as cakes, muffins, bread, scones, and tarts. Try adding Rhode Island Greening apples to apple crumbles and crisps, frying the fruits in bacon fat for a savory and tangy taste, or serving with roasted meats as a main dish. The apples can also be sliced into rings and dried for extended use. Rhode Island Greening apples pair well with spices such as cinnamon, cloves, nutmeg, ginger, and allspice, vanilla, maple syrup, brown sugar, other fruits, including grapes, oranges, bananas, and stone fruit, and herbs such as mint, basil, and rosemary. Whole, unwashed Rhode Island Greening apples will keep for several months when stored in a cool, dry, and dark location. In cold storage, the variety may keep for 3 to 6 months.
Ethnic/Cultural Info
Rhode Island Greening apples have acquired several names throughout history. The variety was initially known as the Green's Inn apple, named after tavern owner Mr. Green. The tavern was located near Newport, Rhode Island, and Mr. Green raised the apple seedling near the tavern, offering scions of the tree to visitors. Over time, several travelers planted the scions, and word spread throughout the northeastern United States about the apples. In conversations, the variety was later referred to as the "Green's Inn apple from Rhode Island" and "apple from Green's Inn." The name was also given to the land where the tavern was located, now known as Green's End. Mr. Green's apple variety was loved by commercial and home garden growers throughout the northeastern United States, and so many scions were requested that the mother tree perished after being excessively cut without time to heal in the late 19th century. Despite the mother tree's unfortunate demise, Green's Inn apples expanded in cultivation, becoming known as Rhode Island Greening or simply Greening apples, and several "daughter trees" growing nearby the original mother tree were reported to have lived for several hundred years.
Geography/History
Rhode Island Greening apples were discovered near Newport, Rhode Island, through tavern owner and apple-breeding enthusiast Mr. Green. The variety's exact parentage and history are unknown, but it is said that Mr. Green may have planted seeds or found the apples as a chance seedling growing near the tavern that he owned around 1650. After the variety's discovery, Mr. Green shared scions of the mother tree with travelers, spreading the new cultivar throughout the northeastern United States. Rhode Island Greening apples became one of the most popular apples within Rhode Island, and the variety's fame spread into New York, Southern Canada, New England, and Northern Pennsylvania. The cultivar achieved peak commercial production in the late 18th and early 19th centuries and was introduced into Ohio in 1796. Rhode Island Greening apples were also planted in Europe in the early 19th century, where it was renamed several times to fit emerging European markets. In the late 19th century, Rhode Island Greening apples faded from commercial production but never disappeared entirely as they remained a staple cultivar in home and specialty gardens. Today Rhode Island Greening apples are an heirloom variety still cultivated on a small scale in the northeastern United States, Canada, and Europe. The apples are seasonally available direct from growers or through select farmer's markets.
Recipe Ideas
Recipes that include Rhode Island Greening Apples. One

is easiest, three is harder.