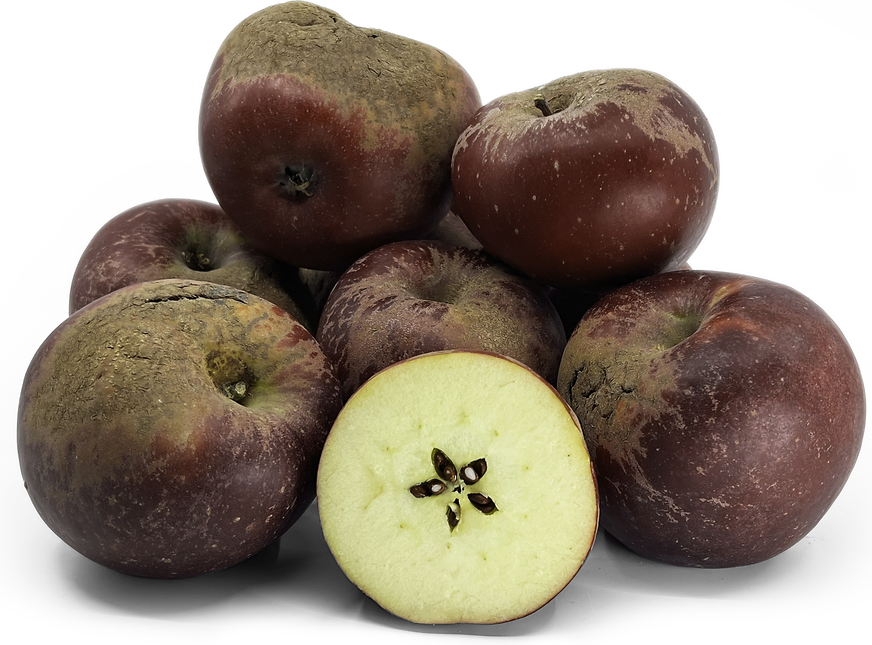 Stayman Winesap Apples
Inventory, lb : 0
Description/Taste

Stayman Winesap apples are a medium to large varietal, averaging 8 to 9 centimeters in diameter, and vary in appearance, typically found in round, conical, to oblate shapes with slanted or flattened shoulders. The variety is slightly elongated and larger than its parent variety, Winesap apples, and is distinguishable by its pigmented nature and dark brown russet. The russet begins in the apple's stem cavity and cascades over the fruit's shoulders, sometimes extending across the apple in scattered dots and patches. Russeting gives the apple's surface a raised, rough, and sandy texture, and the skin is also covered in pale lenticels. Stayman Winesap apples have thick, chewy, and semi-smooth skin with a faint sheen, showcasing a yellow-green base almost entirely enveloped in a dark red, maroon, to crimson blush. The blush appears in solid, saturated patches, and some striping and speckling may also occur. Underneath the surface, the ivory to pale yellow flesh is firm, dense, fine-grained, and aqueous with a crisp consistency. The flesh also encases a moderately-sized central fibrous core filled with dark brown-black tapered seeds. Stayman Winesap apples release a subtle aroma with cinnamon undertones and have a sweet, tart, and vinous flavor with savory, fruity, tangy, sprightly, and spice-filled nuances.


Seasons/Availability

Stayman Winesap apples are available in the late fall through early spring.


Current Facts

Stayman Winesap apples, botanically classified as Malus domestica, are an American variety belonging to the Rosaceae family. The late-season apples were discovered growing as a chance seedling in the mid to late 19th century and were selected for small-scale commercial production for their favorable characteristics. Stayman Winesap apples are named after their founder, Joseph Stayman, and their one known parent variety, Winesap apples. The apples traditionally grow on large, wide-spreading trees reaching up to 7.6 meters in height, but commercial production has created smaller dwarf and semi-dwarf versions through grafting, allowing for smaller trees around 3 to 4 meters in height. Historically, Stayman Winesap apples were a valued variety for their firm flesh, sweet-tart flavor, and thick skin, allowing for extended storage capabilities. The trees are also vigorous, producing large crops on alternate years, and the apples have some resistance to rust and fire blight. Stayman Winesap apples are sometimes known as Stayman apples and are a multi-purpose variety consumed as a fresh eating, cooking, and cider apple. While the variety was once popular in garden catalogs and commercial orchards throughout the late 19th and early 20th centuries in the United States, Stayman Winesap apples have faded from production, presently grown as a specialty apple.


Nutritional Value

Stayman Winesap apples have not been studied for their nutritional properties. Like other apple varieties, the fruits are a source of fiber to regulate the digestive tract, vitamin A to maintain healthy organ functioning, and vitamin C to strengthen the immune system while reducing inflammation. Apples also provide antioxidants to protect the cells against free radical damage, potassium to balance fluid levels, copper to develop connective tissues, and other nutrients, including phosphorus, vitamin K, manganese, zinc, boron, vitamin E, and magnesium.


Applications

Stayman Winesap apples have a sweet, tart, and tangy flavor suited for fresh and cooked preparations. The apples are most notably used as a culinary apple, but apple enthusiasts throughout the United States also enjoy the variety as a complexly flavored dessert cultivar. Stayman Winesap apples can be consumed straight, out of hand, or dipped whole in caramel as a sweet and sour snack. It is important to note that Stayman Winesap apples can be chopped into salads, shredded into slaws, and mixed into fruit medleys, adding a crisp and dense nature, but the flesh does oxidize when exposed to the air, discoloring it with time. Stayman Winesap apples can also be used as a fresh topping over breakfast dishes such as pancakes, oatmeal, parfaits, and chia seed pudding, or the variety can be sliced and layered into sandwiches and burgers. In addition to raw dishes, Stayman Winesap apples hold their shape well and are cooked into tarts, cookies, bread, crisps, cakes, and pies. They can also be wrapped in pastry and baked whole, sauteed in brown butter and sugar, or added to puddings. Pureed Stayman Winesap apples can be used in apple butter, kept chunkier and added to chutney, or mixed into apple sauce. Stayman Winesap apples can also be stuffed into pork chops, incorporated into rice dishes, roasted and served with root vegetables as a side dish to meats, or dried into chips and strips as a snack food. Beyond culinary use, Stayman Winesap apples are popularly pressed into juice and stirred into cider blends, contributing a layer of sharp and spice-filled flavors. The apples can also be canned for extended use. Stayman Winesap apples pair well with spices such as cinnamon, cloves, nutmeg, and ginger, ground mustard, brown sugar, vanilla, maple syrup, meats including poultry, pork, and turkey, and nuts such as pecans, walnuts, and almonds. Whole, unwashed Stayman Winesap apples will keep for 3 to 6 months when stored in a cool, dry, and dark place. In the refrigerator, the variety typically keeps closer to three months before it starts to become mealy and soft. In cold storage and cellars designed for apples, the variety lasts closer to six months. Stayman Winesap apples can also be frozen whole or sliced and later used for baking, sauces, or purees.


Ethnic/Cultural Info

Dr. Joseph Stayman was a well-known American horticulturist of the 19th century. In his early career, Dr. Stayman practiced medicine in Illinois and also studied psychology, but in 1858, he decided to pursue a profession in horticulture. He moved from Illinois to Kansas and eventually purchased a nursery, where he began extensively breeding and researching apples, grapes, raspberries, and strawberries to create varieties suited for the Kansas climate. Throughout his career, Dr. Stayman oversaw approximately 3,000 trees in his two orchards and developed several varieties of fruits, including Stayman Winesap apples, Clyde strawberries, and Black Imperial grapes. In addition to his advancements in research, Dr. Stayman was known for establishing the Kansas State Horticultural Society in 1866 in partnership with his neighbor William Tanner. He was also close friends with grape breeder John Burr, sharing similar breeding practices known to produce quality fruits.


Geography/History

Stayman Winesap apples were discovered growing as a chance seedling in 1866 in Kansas in the United States. Dr. Joseph Stayman first noticed the variety in his orchard in Leavenworth County, a region just outside Kansas city in the midwestern state. Stayman Winesap apples are believed to be a natural mutation of the Winesap apple, an heirloom American variety prevalent in the early 19th century. In 1895, Stayman Winesap apples were chosen as a new commercial cultivar by the Stark Brothers and were heavily promoted as a cooking apple in their catalogs through Stark Brothers Nurseries. This marketing led the variety to be widely planted in the southeastern, northern, and central United States, especially in Kentucky and Virginia. Today Stayman Winesap apples are a specialty variety produced on a small scale in the United States. The apple is mainly found in its growing regions and is sold through local markets, select distributors, and directly from the orchards. Stayman Winesap apples are also grown in home gardens, thriving in areas with hot summers, humidity, and cold winters.