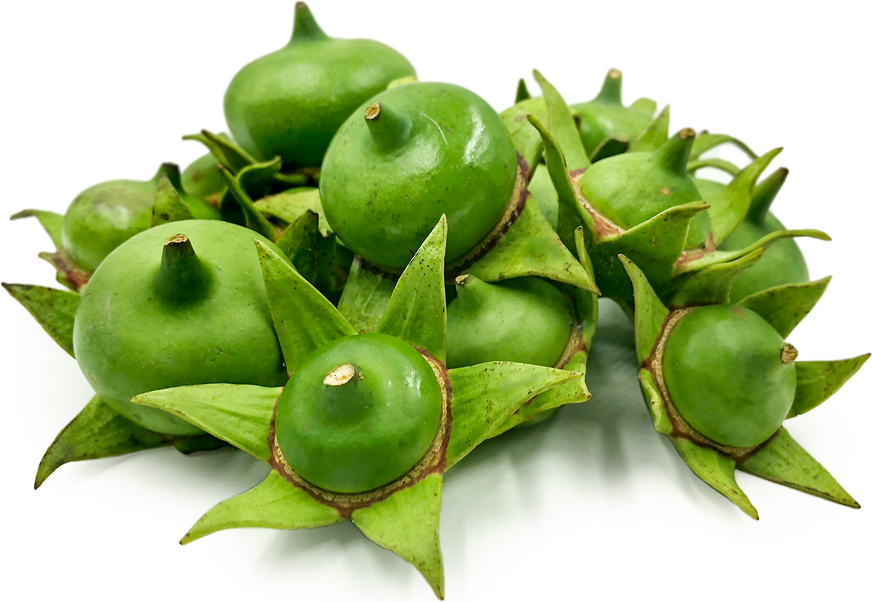 Mangrove Apples
Inventory, lb : 0
Description/Taste

Mangrove Apples are small fruits, averaging 5 to 8 centimeters in diameter, and have an ovate to slightly flattened shape. The fruit's stem end is enveloped in a green cup-shaped calyx with six tapered points, and the other end showcases a short protruding trip. The fruit's semi-thin skin is green, leathery, smooth, and dull with a firm texture. Underneath the surface, the cream-colored flesh is tinged with green and is dense, somewhat crisp, and fleshy. The flesh also encases 800 to 1,200 tiny ivory seeds giving the fruit a crunchy, aqueous mouthfeel. Mangrove Apples release a distinct, fruity, and vegetal aroma and have a sour, tangy, and subtly acidic taste with cheese-like nuances and faint berry undertones.


Seasons/Availability

Mangrove Apples generally appear twice a year, sometime from April to July and again from October through January.


Current Facts

Mangrove Apples, botanically classified as Sonneratia caseolaris, are rare tropical fruits belonging to the Lythraceae family. The small fruits grow on evergreen trees reaching 6 to 20 meters in height, dangling from the branches, and are native to tropical regions of the Indo-West Pacific. Mangrove Apples trees are primarily found along the edge of swampy coastal mud flats and are a vital member of this ecosystem, mainly preventing soil erosion. The fruits are not commercially cultivated but have been foraged from wild trees for centuries as a food source and natural medicine. There are several different types of Mangrove Apples found throughout its native habitat, and the fruits have acquired various regional names. Mangrove Apples are prominently known as Buah Pedada in Malaysia and Indonesia, roughly translating to "chestnut fruit." The fruits are also known as Crabapple Mangrove, Kirala gedi in Sri Lanka, Palapat, Berembang, Lamphu, Tapoo, Thuy Lieu, Water Willow, Baanchua, Tamoo, and Tamarind of the Sea. Mangrove Apples fall from the tree when ripe and are a specialty foraged ingredient utilized in fresh and cooked preparations among the communities in its native region. Despite their traditional medicinal and culinary uses, Mangrove Apples are declining in availability due to habitat loss. The fruits are considered rare and are occasionally sold through fresh markets, picked by foragers as a delicacy.


Nutritional Value

Mangrove Apples are a source of vitamin C to strengthen the immune system while reducing inflammation and fiber to regulate the digestive tract. The fruits also provide vitamin A to maintain healthy organ functioning, vitamin K to assist in faster wound healing, calcium to build strong bones and teeth, and contains B vitamins, antioxidants, and vitamin K. In Southeast Asia, Mangrove Apples are used in folk medicines to soothe coughs and treat digestive issues. The fruits are also made into a poultice and are used topically on skin irritations, insect bites, and bruises. In India, the fruits are fermented to create a natural medicine used to slow bleeding.


Applications

Mangrove Apples have a sour to subtle cheese-like flavor, depending on the degree of ripeness, suited for fresh and cooked preparations. The fruits have a versatile nature and are typically consumed as a fruit when raw or prepared like a vegetable when cooked. Raw Mangrove Apples are popularly eaten with salt, sugar, or scraped coconut and can be used unripe in curries. The fruits can also be consumed as a crunchy snack, dipped into shrimp paste to balance its sour taste, or chopped and mixed with the paste, shallots, chile peppers, and limes to create a side salad. One popular method of eating Mangrove Apples is consuming the fruits with salted fish, especially Gourami. Mangrove Apples can also be processed into juices, drinks, and milkshakes, typically blended with coconut milk to lessen their sour flavor. In addition to raw preparations, Mangrove Apples can be simmered into curries and soups, cooked into chutney, braised with fish, or cooked and served with other vegetables in stir-fries. They can also be boiled into syrups, simmered into jams and jellies, or preserved with salt and sugar. In Southeast Asia, Mangrove Apples are sometimes used as a flour substitute by drying and processing into a light powder. The flour has more protein than tapioca and sweet potato flour and can be used in any recipe calling for flour substitutes. Beyond the fruits, young Mangrove Apple leaves are edible and are added to salads, stir-fries, and soups. Mangrove Apples pair well with seafood such as fish, shrimp, and clams, fruits including coconut, pineapple, and passion fruit, aromatics such as chile peppers, ginger, onion, turmeric, garlic, and shallots, tomatoes, sweet potatoes, and sprouts. Whole, unwashed Mangrove Apples will keep for a couple of days after harvest when stored in a cool, dry, and dark location.


Ethnic/Cultural Info

Mangrove Apples are nicknamed the Star of The Sea as the trees often border rivers, oceans, and swamps, dropping the buoyant fruits into the water. Legend has it that the fruits were first discovered floating in the water. Another unique characteristic of the species is its vibrant ruby-red flowers. The showy blooms open at dusk and only survive for one night. The flowers attract nocturnal pollinators such as moths and bats and are also visited by fireflies. In Malaysia, the glowing insects are a popular tourist attraction, and eco-tourism boat trips have been created around the fireflies. These boat trips generate a source of income for the villagers, and the fireflies breed year-round, allowing for a sustainable attraction. These trips also allow visitors to learn about mangrove conservation and education, stressing the importance of preserving these forests from destruction by new housing and industrial construction.


Geography/History

Mangrove Apples are native to the Indo-West Pacific and have been growing wild since ancient times. The trees thrive in tropical regions and are widely found in coastal, brackish mud flats where river mouths meet the ocean. Mangrove Apple trees are also found alongside rivers and are an ancient species only found in the wild. The fruits are not commercially cultivated and are a foraged item, becoming rarer as the trees are being cut down to construct cities and urban developments. Today Mangrove Apple trees are endangered in some regions of Southeast Asia, including Singapore. The fruits are sold in local markets throughout Southeast Asia, East Asia, Northern Australia, the South Pacific, and Eastern Africa.