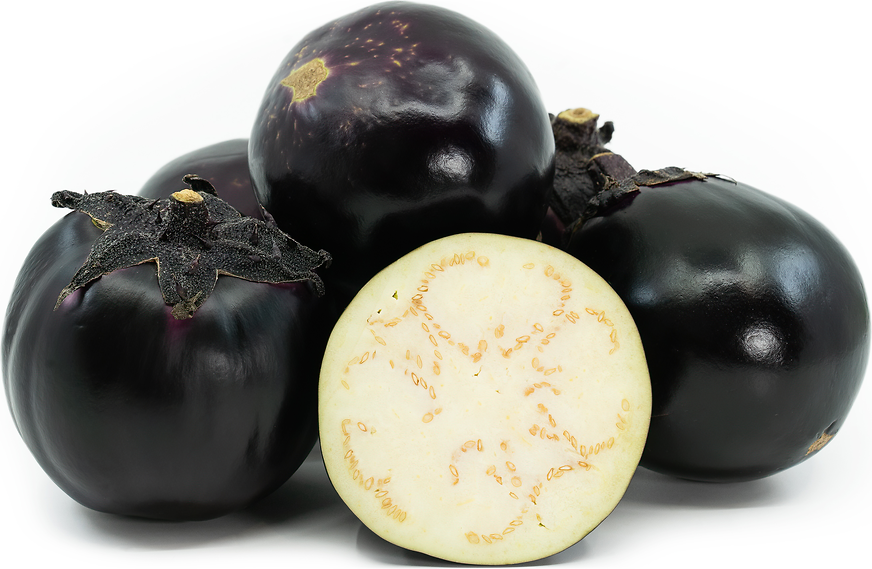 Yoshikawa Nasu Eggplants
Inventory, lb : 0
Description/Taste

Yoshikawa Nasu is a medium to large Japanese eggplant, averaging 10 to 13 centimeters in length and 7 to 10 centimeters in diameter, and has a round to oval shape with a curved base tapering slightly toward the calyx. The bulbous eggplants are typically around 300 grams in weight and are capped with a thick, fibrous, and textured, dark purple-brown stem. The stem is covered in a few soft purple spines and extends into a pointed calyx. The eggplant's dark purple, almost black skin is thin, taut, smooth, and glossy, being easily bruised or scratched. Underneath the surface, the ivory to cream-colored flesh is dense, firm, and moisture-filled, encasing many tiny light brown seeds. The flesh is distinct as it is solid and does not break apart in cooking. When heated, the flesh becomes tender, soft, and melting while still holding its shape. Yoshikawa Nasu should feel heavy for its size, and the eggplant's skin should be relatively blemish free. The variety must be cooked and has a mild, sweet, and neutral flavor, allowing it to absorb and showcase accompanying flavors within a culinary dish.


Seasons/Availability

Yoshikawa Nasu is available in the summer through early winter in Japan.


Current Facts

Yoshikawa Nasu, botanically classified as Solanum melongena, is a rare Japanese eggplant belonging to the Solanaceae or nightshade family. The variety is native to the Yoshikawa Village in the Fukui Prefecture and has been cultivated for several centuries as a high-end culinary ingredient. Yoshikawa Nasu grows on plants reaching 76 centimeters in height and is a low-yielding cultivar. Each plant produces around 40 eggplants per season, a quantity less than half of the output of modern commercial eggplant varieties. Historically, the variety was one of the most popular eggplants in Japan in the early 1940s, but with the introduction of high-yield eggplant cultivars in the late 20th century, Yoshikawa Nasu almost went extinct. In the modern day, Yoshikawa Nasu is grown on a small scale among farmers in the Fukui Prefecture, and the plants are meticulously pruned and monitored during the season. It is customary for the grower to trim the plant to only allow 3 to 4 branches to produce eggplants to increase the eggplant's size. Yoshikawa Nasu is a specialty eggplant sold in Japan as a cooked culinary delicacy. The variety is also said to be to ancestor to the famous Kamo eggplant.


Nutritional Value

Yoshikawa Nasu has not been studied for its nutritional properties. Like other eggplants, the variety is a source of phosphorus to improve bone health, potassium to balance fluid levels within the body, and fiber to regulate the digestive tract. The eggplants also provide magnesium to regulate nerve functioning, manganese to develop connective tissues, vitamin K to assist in healing wounds, and other nutrients, including folate, copper niacin, and thiamine. The eggplant's dark purple flesh indicates the presence of anthocyanins, natural pigments within the skin with antioxidant-like properties to protect the cells against the damage caused by free radicals.


Applications

Yoshikawa Nasu has a mild, sweet, and neutral flavor suited for cooked preparations. The eggplants must be washed and cooked before consumption, and the dense flesh is valued for its ability to hold its shape in boiled or simmered dishes. Yoshikawa Nasu can be used in any recipe calling for Japanese eggplant, and it is most popularly utilized in dengaku, a dish comprised of grilled eggplant coated in sweet miso. Yoshikawa Nasu is also simmered and served in dashi, fried as a side dish, served with pickled items and meat as a savory main, or cooked in sauces and served with rice or noodles. In Japan, it is common to see Yoshikawa Nasu on seasonal menus at Ryotei, a high-end restaurant where guests have private rooms to dine and conduct business. These restaurants often serve traditional recipes using hyper-seasonal ingredients and attract businessmen, celebrities, politicians, and wealthy households. Beyond the eggplant's typical use, it can also be used in Western-style recipes for a modern twist. Yoshikawa Nasu is often baked with cheese and bacon, stirred into pasta, layered in ratatouille, or added to burgers. Yoshikawa Nasu pairs well with aromatics such as garlic, ginger, onions, and chile peppers, flavorings including soy sauce, miso, sesame oil, and mirin, and spices such as sansho pepper, wasabi, mustard, and shiso leaf. Whole, unwashed Yoshikawa Nasu should be kept in a cool, dark place at room temperature. It is recommended to immediately consume the eggplants for the best quality and flavor. Once cooked, Yoshikawa Nasu should be stored in a sealed container in the refrigerator and consumed within a few days.


Ethnic/Cultural Info

Yoshikawa Nasu was once valued in Japan for its symbolic shape. The oval-to-round eggplants were believed to have a similar shape to historical purses and bags that contained money, known as saifus. These bags were traditionally purple and represented prosperity and wealth. When Yoshikawa Nasu was first grown commercially, they were also initially reserved for high-end restaurants, adding to their prestigious nature. Yoshikawa Nasu was the first traditional vegetable in Japan to receive a National Geographical Indication or GI. The Geographical Indication Protection System seeks to register, preserve, and promote specific crops unique to geographical regions worldwide. Protected varieties are typically grown using specific traditions that have been passed down for generations and are deemed important to the country's agricultural history. In Japan, Yoshikawa Nasu was registered on July 12th, 2016, and each eggplant chosen for retail markets is labeled with a GI sticker as a mark of quality and status.


Geography/History

Yoshikawa Nasu is native to Japan and was first cultivated in Yoshikawa Village, now known as Yoshikawa District in the Sabae City of the Fukui Prefecture. The eggplant variety is thought to have been grown as early as the mid-17th century, and Yoshikawa Village is located in the Tenno River valley near another local river, the Hino River, providing a unique climate and rich, fertile soil for the plants. The region is also known for its river flooding, bringing nutrient-dense soil to the land, and for its high rainfall, naturally watering the plants. Yoshikawa Nasu peaked in commercial cultivation in 1942 and 1943 and was grown and shipped across the country, especially to the Kansai region, known as Japan's cultural and historical center. Over time, Yoshikawa Nasu faded from cultivation due to its low yields and challenging nature. The variety almost disappeared entirely in the early 21st century. At one point, only one grower was producing the variety, and it is said that when he passed away in 2009, the last three eggplants of the variety were sent to select contacts and friends. Approximately ten farmers and volunteers extracted the seeds from the three eggplants and formed the Sabae City Traditional Vegetable Cultivation Study Group to protect, preserve, and promote Yoshikawa Nasu. This group produced about 300 Yoshikawa Nasu eggplants in their first year in 2010, and since its establishment, the group has expanded to over 21 members, producing over 40,000 eggplants per season, reviving Yoshikawa Nasu as a commercial variety. Today Yoshikawa Nasu is still a rare eggplant, but it is now a protected and cultivated variety in Sabae City. The cultivar received a National Geographical Indication, or GI, in 2016, which has also helped promote and preserve the historical crop. Yoshikawa Nasu is commercially cultivated in the Fukui Prefecture and is sold through select markets in almost all of the prefectures in Japan. The variety is also grown in home gardens in Japan. The Yoshikawa eggplants featured in the photograph above were sourced through Isetan Shinjuku in Tokyo, Japan.