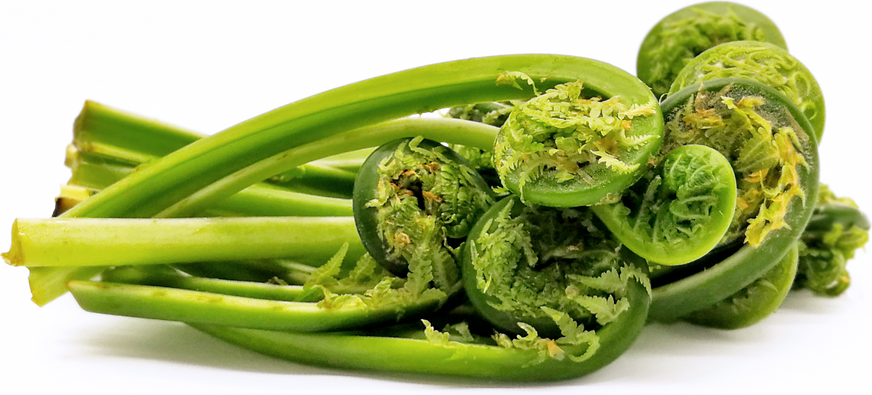 Kogomi Ferns
Inventory, lb : 0
Description/Taste
Kogomi is a small, uncoiled fern, averaging 2 to 4 centimeters in diameter, comprised of a slender stem that transitions into a tight, circular coil at one end. In the wild, the ferns may be covered with brown, scaly patches or sheaths. These flaky layers can be easily removed prior to consumption and act as a protective coating for the developing fern. The stems are bright green, smooth, straight to slightly curled, and crisp with a succulent and slightly chewy consistency. The stems also feature a distinct groove that extends the length of the fern and is hollow in the center. The tightly coiled heads consist of light green, frond-like leaves with a tender, delicate, and whimsical nature. Kogomi has a fresh, green, and grassy flavor mixed with earthy, nutty, and slightly bitter undertones that lessen with cooking. Once the ferns are cooked, they develop a light mucilaginous, soft, and tender texture with mild, sweet, and savory flavor.
Seasons/Availability
Fresh Kogomi is available for a very short season in the early spring.
Current Facts
Kogomi, botanically classified as Matteuccia struthiopteris, are small, immature, coiled fronds of a leafy fern belonging to the Onocleaceae family. The tender greens are very rare, appearing only for 2 to 4 weeks in the spring, and are a delicacy highly prized in Japanese cuisine. Kogomi is a variety of ostrich fern found in the shady, damp forests of Japan. The ferns are also known as Kogomu, Kagamu, Kakuma, Kusasotetsu, and Fiddlehead fern, and the greens must be cooked, prepared simply with a few ins to showcase the fern's bright, nutty, grassy, and slightly bitter taste. In the modern-day, Kogomi is a luxury ingredient purchased through local markets and grocers as a specialty green, viewed as a reprieve from the repetitive flavors of the winter season. Consuming Kogomi is believed to awaken the soul and taste buds from their winter dormancy and prepare the body for the refreshing flavors of spring.
Nutritional Value
Kogomi is an excellent source of vitamin C to strengthen the immune system while reducing inflammation, potassium to balance fluid levels within the body, and fiber to regulate the digestive tract. The ferns are also a good source of omega-3 and omega-6 fatty acids, niacin, iron, phosphorus, calcium, magnesium, and antioxidants to protect the cells against free radical damage. In Japanese natural medicines, Kogomi is believed to boost immunity and maintain healthy digestion.
Applications
Kogomi has a mild, green, and subtly bitter flavoring well suited for lightly cooked preparations, including steaming, braising, boiling, sautéing, or roasting. The ferns must be cooked, and it is essential to note that the ferns are not recommended to be consumed raw as they can sometimes contain foodborne bacteria that may cause illness or indigestion. The ferns develop a subtly sweet, earthy flavor that mirrors springtime's freshness when lightly cooked. Kogomi should be rinsed several times to remove any dirt or debris that may have become stuck in the coils, and the bottom of the ferns should be trimmed to improve texture. The ferns can be boiled and tossed into salads, served over toast, or stirred into noodle dishes. Kogomi can also be blanched, tly sautéed, and served with soy sauce, steamed and mixed in vegetable bowls with rice, or simmered in dashi and served with soba or udon noodles. In Japan, Kogomi is popularly fried into tempura, blanched and sprinkled with bonito flakes for a smokey flavor, or cooked and coated in miso and sesame for added depth of flavor. Beyond lightly cooked preparations, Kogomi can be pickled for extended use and served as a savory snack, flavoring, or topping. Kogomi pairs well with mushrooms, artichokes, tomatoes, new potatoes, tofu, cheeses including goat, parmesan, and chevre, sauces such as sesame, miso, hollandaise, and soy, aromatics including garlic, spring onions, lemongrass, and ginger, seafood such as scallops, shrimp, and fish, and herbs including tarragon, basil, rosemary, marjoram, basil, and oregano. Whole, unwashed Kogomi should be used immediately for the best quality and flavor. Kogomi does not store well and quickly loses its color, flavor, crisp texture, and elasticity, developing a gummy film. The ferns can be wrapped in plastic and stored in the coldest part of the refrigerator for a day or two. Kogomi can also be blanched and frozen for up to nine months, but the flavor and texture will not be the same as fresh ferns.
Ethnic/Cultural Info
In Japan, Kogomi is a popular sansai vegetable, wild springtime plants foraged from the mountains. The name sansai translates to mean "mountain vegetables," and historically, these vegetables were foraged from the wild to nourish the body with bright flavors and additional nutrients. Uesugi Yozan, also known as Uesugi Harunori, is credited with discovering sansai. Uesugi was commissioned by the emperor to forage for wild plants that could be consumed during times of famine. Sansai vegetables were important as they were harvested from the mountains, believed to contain more qi or energy than plants foraged from sea level regions. Mountains were thought to be closer to the heavens, increasing the available power within the plants. Sansai is anticipated each spring, and the slightly bitter greens awaken the taste buds to the bright, refreshing, and bold flavors of the coming season. In the modern-day, Kogomi can be found in home gardens, grown sustainably for the fronds, but it is still foraged from the wild for a few short weeks and sold in small quantities at local markets for a high price. The tightly wound fronds are commonly used in shojin ryori, the traditional diet of Buddhist monks consisting of soy-based food and mountain vegetables. This diet is believed to help balance the body and mind using the rule of five, which is incorporating five flavors and five different colors into the dish.
Geography/History
Kogomi is a young, unfurled ostrich fern found in the wet forests of Japan and has been growing wild since ancient times. Ostrich ferns are native to temperate forests of the northern hemisphere and can be seen growing in nutrient-rich soils in Europe, North America, and other parts of Northeastern Asia. The rare springtime greens are only available for a few weeks each year, and for thousands of years, the ferns were only foraged from the wild. Over time, home gardeners began to plant ostrich ferns in their gardens in an effort to preserve wild ferns from being overharvested. Today Kogomi is still primarily foraged from the wild for sale at local retailers, specialty grocers, and distributors. The greens are also harvested on a small scale through gardens and are sold at roadside stands and fresh markets. In Japan, Kogomi is mainly foraged from forests in the Shinshu area.
Recipe Ideas
Recipes that include Kogomi Ferns. One

is easiest, three is harder.
the other 1...