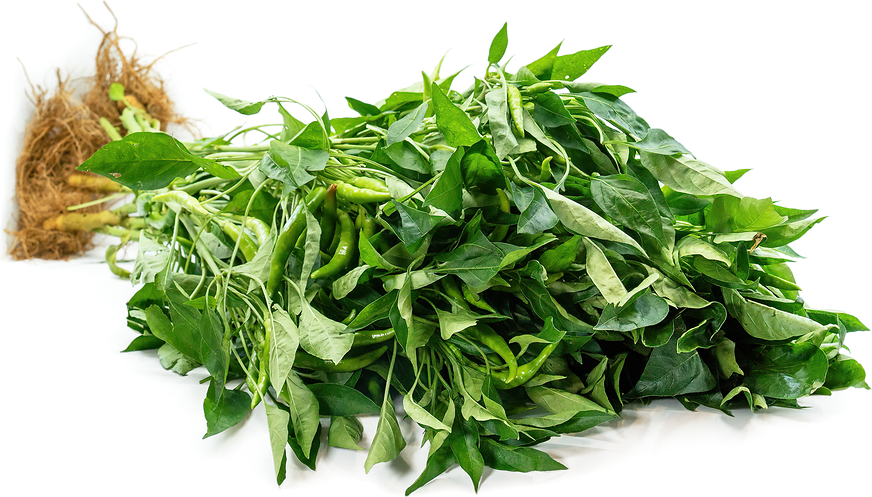 Hatogarashi Pepper Leaves
Inventory, lb : 0
Description/Taste

Hatogarashi is comprised of small to medium-sized leaves, averaging 3 to 4 centimeters in diameter and 5 to 7 centimeters in length, that grow along upright, fibrous green stalks. The leaves are typically sold in stemmed bundles with the roots still attached, and small chile peppers are also found growing in the plant cuttings. The lanceolate-shaped leaves exhibit a dark, muted green hue on the top surface and a lighter, dusty green on the underside, tapering to a distinct point on the non-stem end. Each leaf surface generally has a smooth, soft, and pliable feel, and the underside features raised, prominent veining spreading through the center. Hatogarashi has a subtly vegetal, green aroma, and only young leaves are picked for culinary use. When selecting Hatogarashi in markets, look for fresh bundles that do not contain any withered or discolored leaves. Also, choose bundles with small chile peppers, as the smaller the peppers, the softer the leaves. The peppers can be green or red and are edible raw or cooked. Hatogarashi is edible raw and may have a faint tingling sensation when eaten fresh, but the leaves are mostly deemed unpalatable when fresh due to their acrid bitterness. The leaves are lightly boiled to remove bitterness, resulting in a tender, crisp green with a mild, peppery, and vegetal taste. It is important to note that chile pepper leaves are not spicy like the pepper pods produced on the same plant.


Seasons/Availability

Hatogarashi is available in the summer through fall.


Current Facts

Hatogarashi, botanically a part of the Capsicum genus, is a general descriptor for edible chile pepper leaves belonging to the Solanaceae or nightshade family. The name Hatogarashi is a Japanese term for "chile pepper leaves," with "ha" meaning "leaves" and "togarashi" meaning "pepper." Chile pepper leaves are consumed as a vegetable worldwide, but they are extensively used in Korea, China, Japan, and the Philippines as a peppery green. In Japan, Hatogarashi is a seasonal summer ingredient, and the leaves are customarily sold still attached to their stems with the plant's roots in long, bushy bundles. Small chile peppers may also be found growing in these bundles, and many chefs and home cooks appreciate pairing the leaves and pods together in recipes for enhanced flavoring. Hatogarashi is cooked before consumption to remove bitterness from the leaves. Edible chile pepper leaves can be sourced from varieties found within the species Capsicum annuum and Capsicum frutescens, and in Japan, popular varieties include Nikko, Kigosho, Fushimi Kara, Kyoto-na, Kyotouna, Kyo-karana, and Yatsufusa.


Nutritional Value

Hatogarashi is a source of fiber to regulate the digestive tract, copper to develop connective tissues, calcium to build strong bones and teeth, and vitamin C to boost the immune system. The leaves also provide iron to produce the protein hemoglobin for oxygen transport through the bloodstream, zinc to support daily thyroid operations, vitamin A to maintain healthy organ functioning, antioxidants to protect the cells against the damage caused by free radicals, and other nutrients, including manganese, potassium, magnesium, phosphorus, and vitamin E. Beyond vitamins and minerals, some chile pepper leaves may contain capsaicin, a natural compound that triggers the senses to feel warmth or spice. Throughout East Asia, chile pepper leaves are topically crushed and used to soothe fevers, ingested to detox the body, and crushed and placed over skin inflammation.


Applications

Hatogarashi has a vegetal, peppery, and green taste suited for cooked preparations. The leaves are not typically consumed raw as they have a bitter, unpleasant taste. It is also worth noting that some varieties may leave a residue on the hands that can irritate the eyes, so caution should be taken when handling fresh greens. Most chile pepper leaves are lightly boiled and then simmered or stir-fried to create a palatable flavor. Chile pepper leaves are used in culinary preparations worldwide, but in Japan, they are favored as a vegetable side dish flavored with sauces. Simmered Hatogarashi is a popular summer dish served with beer in Japan. The leaves can be stir-fried with sardines, coated in miso, or added to fried rice as a flavor enhancement. Hatogarashi can also be sauteed and stirred into pasta, cooked with pepper pods and served as a side dish, mixed into soups and stews, or used as an edible topping over main dishes. Hatogarashi pairs well with mirin, bonito, soy sauce, sesame oil, chile peppers, miso, meats such as pork, poultry, and beef, and aromatics including garlic, onions, and ginger. Fresh Hatogarashi should be immediately consumed for the best quality and flavor. The leaves have a short shelf life and will keep for a few days when wrapped in newspaper, stored in a plastic bag, and placed in the refrigerator's vegetable drawer. Chile pepper leaves can also be frozen or dried for extended use.


Ethnic/Cultural Info

Hatogarashi is traditionally incorporated into tsukudani, a specialty of Tokyo, Japan. There are over one hundred variations of tsukudani, made with varying ingredients, and Hatogarashi is combined with soy sauce. Tsukudani roughly translates to mean "preserved boiled food" or "simmered in the manner of Tsukuda," and Tsukuda was an island in Edo where fishermen resided. During the Edo Period, from 1603 to 1868, small pieces of vegetables and seafood were cooked in soy sauce and mirin as a method of preservation. The simmered dishes were widely consumed throughout the region and were also used as offerings at religious shrines, eventually known as tsukudani. In the 1830s, tsukudani was deemed a specialty of Edo, and companies began selling commercial quantities of various preserved foods. In the modern day, Hatogarashi is prepared in tsukudani and stuffed into onigiri, another famous item in Japan. Onigiri is an easy-to-hold, on-the-go rice snack with a filling, and in the Edo Period, the rice ball was wrapped in nori to prevent hands from becoming sticky. Tsukudani-stuffed onigiri is sold through convenience stores, grocery stores, and local markets throughout Japan.


Geography/History

Hatogarashi, or chile pepper leaves, are native to South America and have been growing wild since ancient times. There are many different varieties of chile peppers that have been harvested from the wild, domesticated, or bred plants, and the pods from the plants have historically been used as medicinal and culinary ingredients. Chile pepper species were spread throughout Central and Mesoamerica before they were introduced to Europe and Asia by Spanish and Portuguese explorers carrying back seeds from the New World. Chile peppers were introduced to Japan by Portuguese sailors in the 16th century, but the pods were not immediately adopted into culinary preparations. Over time, many types of chile peppers were cultivated throughout Japan, and as the leaves became a secondary culinary ingredient, breeders began creating cultivars with a focus on improving leaf texture and flavor. One of the more notable Japanese chile pepper varieties bred for leaves was released in 2004 under the name Kyo-karana. Another variety, Kyoto-na, was developed by Kyoto University in partnership with Kyoto City, and the leaf-focused cultivar is grown as a regional specialty of Kyoto. Today many varieties of chile peppers are produced across Japan in the Kyoto, Tochigi, and Kanagawa prefectures. The Kinki region, also known as the Kansai region, also commercially cultivates chile pepper leaves. When in season, Hatogarashi is sold through local markets, roadside vendors, and select specialty stores. The Hatogarashi featured in the photograph above was sourced from Takashimaya Shinjuku in Tokyo, Japan.