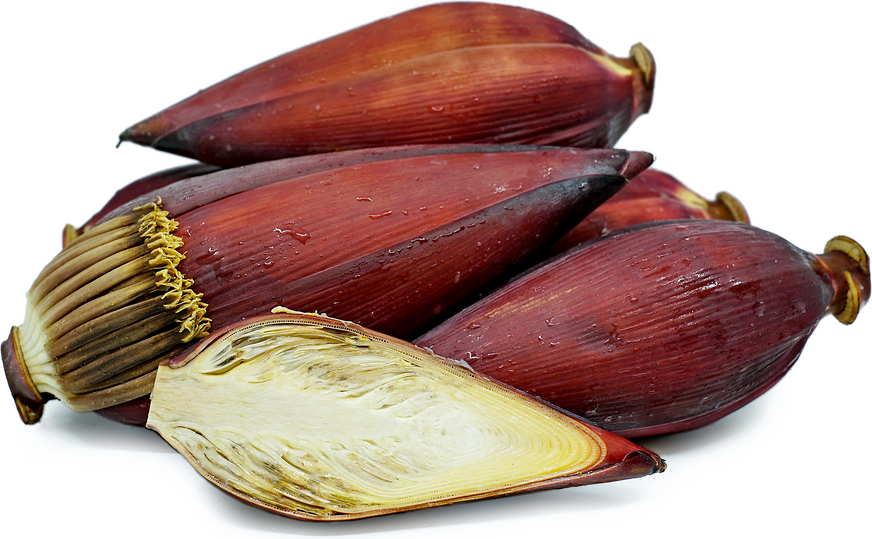 Banana Flowers
Inventory, 35 lbs : 1.83
This item was last sold on : 08/16/23
Description/Taste
Banana flowers emerge at the end of a bunch of developing bananas and grow from a thick, fibrous stem. The bud has a tapered, cone-like shape and is somewhat large, sometimes growing up to thirty centimeters in length, but is generally found in smaller sizes in markets. The surface of the flower is wrapped in tightly layered bracts, appearing in shades of red-orange to dark purple-red, and these bracts are inedible with a textured, fibrous, and tough consistency. As the outer bracts are peeled away, small, elongated, and slender cylindrical florets appear at the bud's base. When first revealed, these florets are yellow-white, darkening and oxidizing quickly once exposed to air. The florets are edible but require a hard stamen and outer petal covering to be removed before consumption. Inside the bud, a central white to yellow-hued heart is dense, semi-fibrous, and starchy. The heart is the most prized portion of the flower and contributes a fleshy, chewy, and crumbling texture when sliced or chopped. The flowers should be tightly closed and feel heavy for their size. Banana flowers have a mild, sweet, vegetal, and faintly floral flavor when young, developing more pungent bitter notes and nutty nuances as it matures. Cooked Banana flowers will create a softer texture, often likened to the consistency of palm hearts or bamboo shoots.
Seasons/Availability
Banana flowers are found year-round, varying in availability depending on climate, region, and hemisphere.
Current Facts
Bananas flowers, botanically a part of the Musa genus, are edible buds that grow on herbaceous plants belonging to the Musaceae family. Banana plants are native to Southeast Asia and have naturalized in tropical climates worldwide, utilized mainly for their edible fruits. The flowers are a secondary crop, typically harvested for use in fresh and cooked culinary preparations. Banana flowers are also known as Banana blossoms and Banana hearts and are a specialty ingredient used among cuisines of Southeast Asia and other tropical regions worldwide. Despite bananas being commercially grown, Banana flowers are not mass produced as each plant only grows one flower at a time. The flowers also have a relatively short lifespan, localizing the buds to nearby fresh markets, preventing long-distance exports. Banana flowers can be harvested from wild or home-grown plants and are sold through farmers, market vendors, or select grocers.
Nutritional Value
Banana flowers are an excellent source of potassium to balance fluid levels within the body, phosphorus and calcium to build strong bones and teeth, iron to develop the protein hemoglobin for oxygen transport through the bloodstream, and vitamins A and C to strengthen the immune system, reduce inflammation, and maintain healthy organ functioning. The buds also provide copper to develop connective tissues, fiber to regulate the digestive tract, and lower amounts of magnesium and vitamin E. In Southeast Asia, Banana flowers are incorporated into natural medicines to help against infections, improve lactation, promote anti-aging, and reduce anxiety.
Applications
Banana flowers have a starchy, fibrous consistency and a neutral, subtly bitter, and fruity flavor well suited for fresh and cooked preparations. The outer, dark-hued bracts should not be consumed, but they can be used as a decorative serving vessel. As each bract is removed, the small florets can be separated from their tough stamens and set aside for use with the flower's heart. Once the bracts have been peeled away to reveal a yellow-white hue, the heart can be sliced into pieces and incorporated into recipes. It is recommended to immerse slices of the Banana flower in salted lemon water or vinegar water for at least 20 to 30 minutes to extract some of the bitterness. Banana flowers can be added to fresh fruit and green salads, and younger flowers will have a sweeter flavor for raw preparations. They can also be minced into dips, dumplings, and pastes. Beyond fresh preparations, Banana flowers can be lightly steamed and served with dips, similar to an artichoke, boiled in coconut water and stir-fried, or incorporated into curries and soups. The flowers can also be fried into patties, soaked in flavoring, cooked like fish fillets, or sauteed into vegetable, rice, and noodle dishes. In Thailand, young Banana flowers are commonly served raw on the side with pad Thai. In Indonesian cuisine, Banana flowers are mixed with pork and hot sambal, cooked in a section of bamboo, and served as a festival or wake appetizer. In Brazil, Banana flowers are incorporated into pies, quiches, and cooked into various sweet and savory goods. There is also a famous pastry in the Brazilian state of Minas Gerais known as pastel de agnu that has its own festival. The festival annually occurs in the city of Itabirito and features food vendors, local growers, restaurants, and arts and crafts vendors, all centered around the famous pastry of the region. Pastel de agnu is comprised of Banana flowers stewed with meat and then fried into a dough-like puff. Banana flowers pair well with spices such as turmeric, curry powder, mustard seeds, cumin, and chile powder, aromatics including garlic, shallots, onions, lemongrass, and galangal, coconut milk, macadamia nuts, lime leaves, papaya, and carrots. Whole, raw Banana flowers should be immediately consumed for the best quality and flavor. The flowers can also be wrapped in plastic and stored in the refrigerator, or cut pieces can be placed in a sealed container in the fridge for 2 to 3 days. In addition to fresh Banana flowers, the buds can also be found canned or frozen for extended use.
Ethnic/Cultural Info
According to regional folklore, in Southeast Asia, banana plants are believed to inhabit otherworldly spirits. In Thailand, banana plants may be inhabited by Nang Tani, a female ghost who lives in clumps of banana trees. Nang Tani is also known as the "Lady of the Wood" and is said to be mostly docile unless she comes across unfaithful men. Folklore recounts locals seeing her floating spirit during the night of a full moon, and it is said that her appearance is pale green to match the coloring of the banana plants. Spirit-inhabited plants are prohibited from being cut down in the belief that it will bring bad luck. Many Thai villages will also tie a satin cloth around the trunk of the banana tree as a sign that the tree contains her spirit. In Malaysia, Banana flowers are rumored to turn into a spirit known as Hatu Pisang that takes the form of a young woman when it is pierced with a nail attached to a red string. If the nail is put in correctly, one legend states the spirit will grant one favor, but it is not pierced correctly, the spirit could turn angry and try to steal the souls of young men. In communities with these myths and legends, it is typically considered taboo to linger around banana plants in fear of encountering spirits.
Geography/History
Bananas are native to a tropical region spanning from the Philippines and New Guinea to Indonesia and Malaysia. The herbaceous plants have been growing wild since ancient times and have been captured in sculptures, documents, and stories that date back to before the common era or BCE. Around 200 CE, banana plants were introduced to China and were later transported to Africa. They were also carried with Indian, Persian, and Arabian traders who traveled around the Indian Ocean between the 5th and 15th centuries and were later transported to the Americas and the Caribbean in the 16th and 19th centuries. Banana flowers have been utilized in natural medicines, and culinary preparations since the plants have been grown for their edible fruits. The flowers are not as well-known as the fruits, but they are increasing in popularity as consumer preferences are changing for a more natural diet. Today Banana flowers are found in tropical banana-growing regions worldwide. The buds are mainly sold through growers, local markets, roadside stands, and grocers in Southeast Asia, China, the South Pacific, Africa, Central and South America, and Hawaii in the United States
Recipe Ideas
Recipes that include Banana Flowers. One

is easiest, three is harder.
Podcast