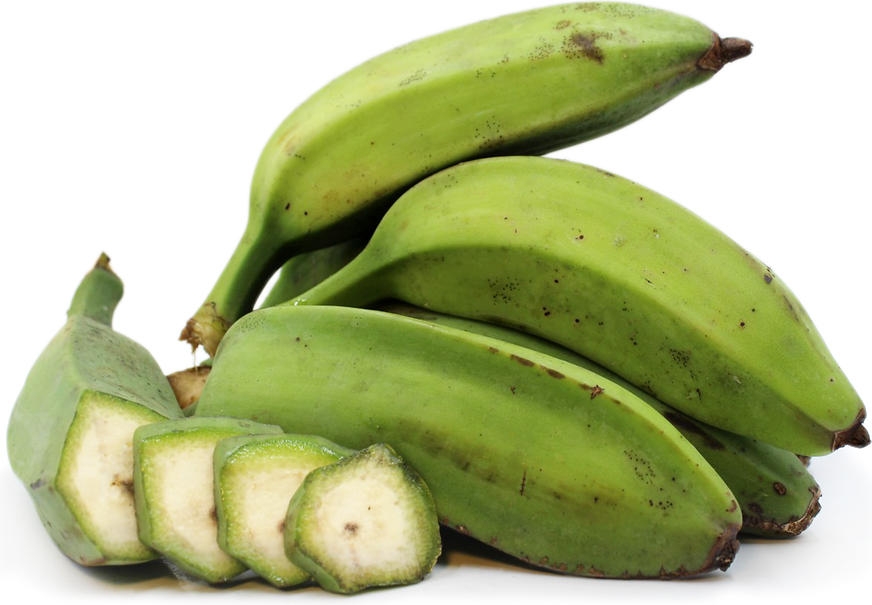 Popocho Plantain Bananas
Inventory, lb : 0
Description/Taste

Popocho plantains are a small to medium-sized varietal, averaging 6 to 8 centimeters in diameter and 15 to 25 centimeters in length, and have a thick, plump, and generally straight shape, tapering slightly at both ends. Each plantain has a smooth, fibrous, rubbery, and angular peel that transitions from dark green to yellow when mature. Underneath the peel, the flesh is dense, creamy, and soft, showcasing cream-colored to ivory-grey hues, depending on cultivation. Popocho plantains are semi-sweet with a neutral aftertaste. The plantains can be used fresh or cooked and edible in their raw, green, and mature, yellow stage.


Seasons/Availability

Popocho plantains are available year-round, with a peak season during the rainy months in Colombia.


Current Facts

Popocho plantains, botanically classified as Musa paradisiaca, are a rare South American variety belonging to the Musaceae family. The semi-sweet cultivar is primarily found in Colombia and is grown as a local variety, consumed on a small scale as a fresh eating and cooking banana. Popocho plantains are known by many names including Cuatro filo, Canaleado, Cuadrado, Platano Popocho, Cachaco banana, Mafufo, Colicero, Copacura, Cuatrofilos, Popocho, Locho, Tresfilos, and Topocho. The variety is favored for its soft consistency, ease of cultivation, and resistance to climate fluctuations. Despite its value as a nutritional food source among children in Colombia, Popocho plantains have been removed from farms in favor of growing other more commercially in-demand varieties. This has caused the plantains to become an obscure variety mostly grown on small plots as a secondary crop for local markets.


Nutritional Value

Popocho plantains are a source of potassium to balance fluid levels within the body, fiber to stimulate the digestive tract, and vitamin C to strengthen the immune system while reducing inflammation. The bananas also provide B vitamins to transport nutrients through the body, magnesium to regulate optimal nerve functioning, and vitamin A to maintain healthy organs.


Applications

Popocho plantains have a semi-sweet flavor and dense consistency suited for fresh and cooked preparations. The fruits can be used unripe in their green peel state or ripe in their yellow phase, and when green, the flesh is popularly sliced and tossed into soups and stews. Green Popocho plantains can also be used in stir-fries, mashed and fried into tostones, baked, or stewed. In addition to green Popocho plantains, the variety can be used when ripe and consumed straight out of hand as a dessert banana. Ripe Popocho plantains can also be incorporated into bread, rolls, and egg-based dishes such as quiche, mashed and served as a side dish, or pan-fried into patties. In Colombia, Popocho plantains are commonly dried and ground into a powder. This powder can be mixed into desserts such as cakes, cookies, pudding, bread, and muffins, or stirred into smoothies, juices, and other beverages. The powder can also be used to thicken soups or folded into dumpling dough. Beyond fresh and dried preparations, Popocho plantains can be sliced into thin strips, fried, and dried into a crisp chip. The leaves are also used to wrap tamales and other meats. Popocho plantains pair well with dark leafy greens, herbs such as cilantro, parsley, and rosemary, meats including beef, pork, and poultry, and spices such as cinnamon, cardamom, and cloves. Green Popocho plantains can be stored in the refrigerator if they are used green or left at room temperature to ripen. Mature Popocho plantains should be consumed immediately for the best quality and flavor, or they can be frozen for extended use.


Ethnic/Cultural Info

Popocho plantains are traditionally dried and used as an infant drink in Colombia, known as colada de platano. The creamy beverage is comprised of dried Popocho plantains, ground into a powder and mixed with milk and water. Some recipes also add sugar, cloves, and cinnamon for added flavor. Popocho plantains are valued for their nutritional properties and have been used as a source of vitamins and minerals for young children throughout Colombia. For many years, infant formula was not available to communities in Colombia, and the bananas were used as a formula substitute. The banana, milk, and water mixture provided nutrients to prevent malnutrition, and the recipe has been passed down between generations for centuries. Green Popocho plantains are peeled, cut into slices, and dried naturally in the sun. Once the pieces are dried, they are ground into a powder. In the present day, Popocho plantains are a rare variety that other banana cultivars have overshadowed. The variety has become localized to rural markets, and fresh plantains and the dried powder are sold to a small population for convenience. Despite the variety's disappearance from commercial markets, Colombian residents are working to establish a Popocho Festival in Ibagué, Colombia, to highlight the traditional plantain and encourage farmers and consumers to become re-engaged with the cultivar.


Geography/History

Bananas are native to Southeast Asia and were carried into Africa and Western Asia in the early ages. Over time, bananas were introduced into the New World and were initially planted in the Caribbean. Commercial production of bananas began in the 19th century, and the fruits were spread to Central and South America. While the exact history of Popocho plantains is unknown, the variety is mainly found in Colombia and thrives in warm, humid climates. Popocho plantains are cultivated in the Chocó Department of Western Colombia, especially in the regions surrounding the capital Quibdó. The variety is not produced commercially on a large scale but is a specialty plantain cultivated for its nutritional value, hardiness, and low cost, grown in home gardens and select growers. Today Popocho plantains are planted on a small scale for domestic use in Colombia and are sold as fresh-eating fruit or dried powder.