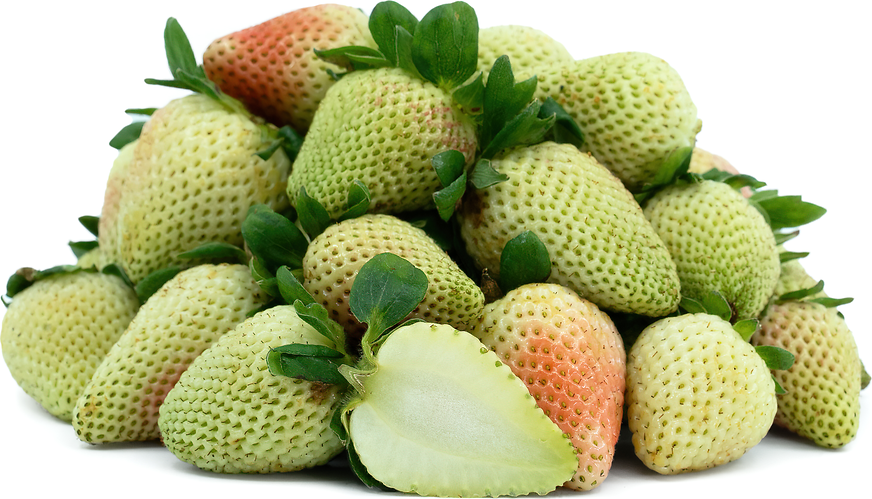 Green Strawberries
Inventory, bskt : 0
Description/Taste
Green strawberries are small to medium-sized fruits, averaging 2 to 5 centimeters in diameter, and have a cordate to oval shape with broad, curved shoulders tapering to a blunt or pointed, narrow tip. Each fruit will vary in appearance, size, aroma, and flavor, depending on the variety, and is capped with a tuft of small lanceolate green leaves growing in a circular formation. The skin is typically thin and easily punctured or damaged, covered in tiny green seeds, also known as the achenes of the fruit. One strawberry can have over 200 achenes on its surface, and each achene contains a single seed. Green strawberries vary in color, depending on when they are harvested. If the fruits are picked earlier, they will be greener in nature, while fruits picked closer to their ripening date will appear in shades of green-white, green with ivory to pale yellow undertones, to green-white with patches of pink or red blush. Underneath the surface, the white flesh is firm, with a crisp and slightly succulent consistency reminiscent of the texture of a cucumber. The seeds on the outside also provide a subtle crunch. Green strawberries contain more starch and less sugar than red ripened fruits, giving them a distinct mouthfeel and taste. The fruits retain their signature crunch if served raw or pickled and have a somewhat acidic, tart, grassy, and vegetal, fresh taste with a hint of berry. When soaked in sugar or briefly cooked in sweeteners, Green strawberries acquire a flavor similar to a kiwi.
Seasons/Availability
Green strawberries are available in the spring, primarily harvested in April.
Current Facts
Green strawberries, botanically classified as Fragaria ananassa, are unripe versions of the popular fruit belonging to the Rosaceae family. Strawberries develop on low-growing, herbaceous flowering plants, and the fruits form at the ends of runners, which are offshoots that extend from the mother plant. In fact, the name strawberry is thought to be a corruption of the words "strewn berry," a descriptor given for the way the fruits are naturally strewn across the ground when ripening. There are more than 600 varieties of strawberries worldwide, and the fleshy, juicy fruits offered in commercial markets in the modern day were developed from centuries of breeding smaller wild species. Green strawberries are fruits that are harvested before they have reached maturity and have changed color. The underripe fruits are typically picked a week or two before they ripen and are a hyper-seasonal ingredient used to add a firm and crisp texture and an acidic, tart, and sour flavor. Chefs favor Green strawberries as a fresh springtime ingredient and believe the fruits embody the essence of spring awakening. Green strawberries have joined the ranks of treasured spring ingredients along with ramps, asparagus, spring garlic, and fava beans, and the pale green fruits capture the familiar qualities of red strawberries without the sweetness in an unusual, unexpected form. Green strawberries are only available for a short season and are challenging to find in fresh markets. The green fruits are versatile and are used in fresh, cooked, and pickled preparations.
Nutritional Value
Green strawberries have not been studied for their nutritional properties. Like red strawberries, the fruits may have some vitamin C to strengthen the immune system, fiber to regulate the digestive tract, and vitamin E to reduce inflammation. The fruits also provide potassium to balance fluid levels within the body, copper to develop connective tissues, and other nutrients, including manganese, iron, and iodine.
Applications
Green strawberries have a grassy, vegetal, tart, and acidic taste suited for fresh or cooked preparations. The underripe fruits are distinct from ripe red fruits and should not be used in the same methods. Green strawberries are used to add acidity or texture to a dish. They may be implemented similarly to citrus, green tomatoes, and capers, providing brightness to sweet and savory dishes. Green strawberries can be thinly sliced and tossed into green salads, complementing rich dressings, vinaigrettes, dark leafy greens like kale, and crunchy toppings such as apples, nuts, and fennel. The fruits can also be added to charcuterie plates as an eye-catching element, chopped and mixed into salsa, stirred into ceviche, or used as a fresh topping over chicken and fish dishes. In addition to salads and sauces, Green strawberries can be incorporated into sweet dishes such as shortcakes, tarts, and crunches. The fruits can be candied, simmered in sugar to create syrup, or marinated in fresh herbs and white balsamic to develop an ice cream topping or garnish over various desserts. Try including Green strawberries in compotes, fruit leather, gazpacho, or sorbet. Beyond sweet preparations, Green strawberries complement savory dishes and are often served with rich meats, including wild game, duck confit, pork belly, pate, and lamb. The acidic fruits are also added to seafood dishes and can be charred, steeped in spices, or combined into a vinegar-based sauce. One of the most famous methods of using Green strawberries is to pickle the fruits. Pickled Green strawberries have a texture similar to a cucumber, and the acidic nature of the fruits is mixed with a hint of berry flavor, creating a memorable flavor experience. The pickled fruits can be consumed as a tangy condiment, tossed into salads, served with cheeses, placed on top of seafood, layered into sandwiches, or added into dips and spreads. Green strawberries can also be incorporated into cocktails such as white sangria or gimlets and can be a festive garnish to display on the rim of glasses. Green strawberries pair well with other spring vegetables such as pea shoots, asparagus, morels, ramps, rhubarb, fava beans, and green garlic, herbs such as lemongrass, cilantro, and mint, citrus, bay leaves, allspice berries, mulberries, and raspberries. Green strawberries should be used immediately for the best quality and flavor. The fruits may also be stored in the refrigerator for 1 to 2 days.
Ethnic/Cultural Info
The use of Green strawberries in culinary preparations most notably evolved out of New Nordic cuisine. New Nordic cuisine is a culinary movement that began in the early 21st century in northern Europe among Scandinavian and Nordic countries, including Denmark, Sweden, and Norway. Within these countries, twelve chefs gathered together, led by restaurateur Claus Meyer, and created The Nordic Kitchen Manifesto in 2004 in Copenhagen, Denmark. The manifesto contained ten main points on seasonality of food, sustainability, ethics, quality, and health or Nordic cooking and was established to transform the region's food scene. One of the chefs invited to construct the manifesto was René Redzepi, the co-owner of the famous restaurant Noma, also owned by Meyer. Noma was opened as a new restaurant in 2003 and quickly became renowned as a fine-dining conceptual experience. The restaurant was awarded the World's Best Restaurant four times in 2010, 2011, 2012, and 2014 and also received multiple Michelin stars. At Noma, Redzepi first showcased his Green strawberry and scallops dish, launching Green strawberries as a coveted ingredient used among chefs and foodies worldwide.
Geography/History
Green strawberries have the same ancient history as their mature, bright red counterparts, but their arrival into restaurants and fine dining only occurred in the 21st century. Strawberry varieties found in the present day are descendants of a few wild strawberry species that have been growing since ancient times. Experts believe there were approximately 5 to 6 wild species naturally growing in temperate regions of North America, South America, Europe, and Asia, and the earliest records of the aggregate fruits can be traced back to the Greeks and Romans. Wild strawberries were used in small quantities in medicinal and culinary applications throughout the Greek and Roman Empires and were well-respected and viewed as a gift from the gods. Later, in pre-modern Europe, wild strawberries remained a foraged item, and there were three main species eaten, including the Woodland strawberry, Fragaria vesca, Musk strawberry, Fragaria moschata, and Green strawberry, Fragaria viridis. Selective cultivation of strawberries did not occur in Europe until the 13th and 14th centuries, and Germany, Italy, and England were the top producers at the time. While Europe was beginning to cultivate its wild strawberry species, tribes in North and South America were already growing and slowly domesticating their own wild strawberries. Spanish and Portuguese explorers carried North American strawberry species back to Europe in the early 17th century. In 1714, Frenchman Amedee-Francois Frezier smuggled several Chilean strawberry plants from Chile and planted them in France. In a series of trials, the North American strawberry, or Fragaria virginiana, was planted beside the Chilean strawberry, Fragaria chiloensis. The two species were allowed to cross-pollinate, developing larger and sweeter fruit. This new species, called garden strawberries, quickly replaced wild strawberries in commercial production. By the 1770s, garden strawberries were introduced into the United States. Over time, strawberries were commercially bred, and many different improved varieties were released for fresh preparations and processing. Green strawberries have been present in gardens throughout history but were considered a niche crop only used on a small scale. It wasn't until the 21st century that the tart and acidic fruits received notoriety as a fresh culinary ingredient. In 2012, Danish Chef René Redzepi was credited with sparking the trend of using Green strawberries on menus. Redzepi thinly sliced Green strawberries and added them to a dish of raw scallops, pea juice, and fresh vegetables, presenting the plate to Chef David Chang on the show The Mind of a Chef. After the episode aired, chefs became intrigued by the green fruits, and the use of Green strawberries appeared on menus worldwide. Green strawberries were especially popular between 2012 and 2017 throughout Europe and the United States. Today Green strawberries can be found in fresh markets worldwide, where strawberries are grown. The underripe fruits are challenging to source as they are still a niche, novel ingredient, but more growers are offering Green strawberries as a specialty crop in the spring.
Recipe Ideas
Recipes that include Green Strawberries. One

is easiest, three is harder.
Podcast