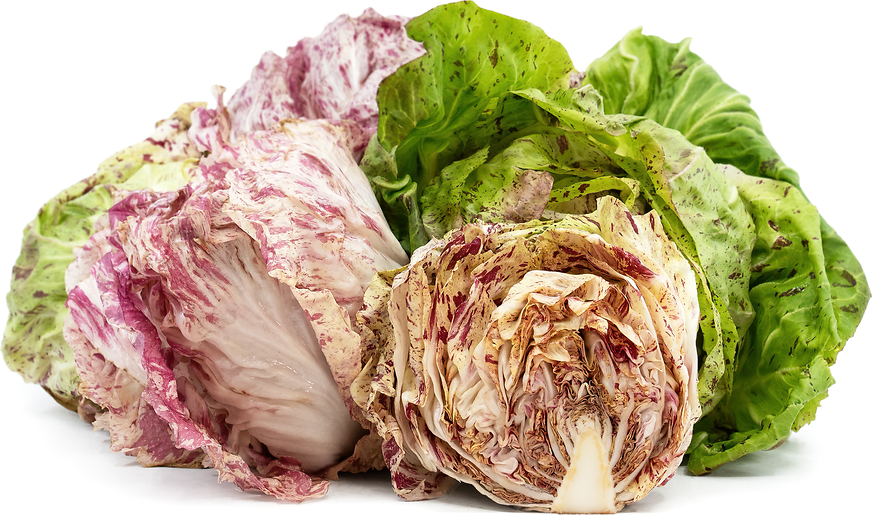 Castelfranco
Inventory, 12 ct : 22.08
This item was last sold on : 12/08/23
Description/Taste
Castelfranco ranges from small to large in size, depending on cultivation and shaping, and generally averages at least 15 centimeters in diameter. The somewhat round heads are tightly layered at the base, and the leaves are opened and fanned at the top, creating a flower-like shape. Each leaf is broad, semi-thick, and wavy with small ribs and serrated, ruffled edges. The leaves also have a pale green, yellow-green, to white base coloring, covered in burgundy, maroon, to purple-red speckling and flecks. The amount of coloration will vary between each plant, and cold weather exposure in cultivation tends to deepen the accent coloring. In fresh markets, Castelfranco is sold with a shaved, angled root base no more than 4 centimeters in diameter. Castelfranco has a crisp, subtly chewy, tender, and succulent consistency. The central portion of the head is the most desired for culinary preparations, and the greens can be used raw or cooked. Raw Castelfranco has a mild, vegetal, green, subtly sweet, and pleasantly bitter taste.
Seasons/Availability
Castelfranco is available in the fall and winter.
Current Facts
Castelfranco, botanically classified as Cichorium intybus, is an Italian heirloom belonging to the Asteraceae family. The specialty green was developed in the 19th century in the Veneto region of northeastern Italy using specific forcing methods to create its characteristic, speckled appearance. Historically, Castelfranco was produced in Italy from the need to store edible greens during the bleak winter months, but the variety evolved into a labor-intensive crop valued for its tradition, appearance, flavor, and texture. One of the distinct characteristics of Castelfranco is the process of opening the heads by hand to create its unique, flower-like shape. Once the heads are opened and stylized, they are sent to commercial markets for sale. Castelfranco is named after the town of Castelfranco in the Veneto region, the variety's site of origination. The greens are also known as Radicchio de Castelfranco, Radicchio Variegato di Castelfranco, Variegato di Castelfranco, and other nicknames, including Edible Flower, Orchid Lettuce, Tulip of Winter, and Winter Rose, a nod to the way it resembles a flower when unfolded. In the modern day, Castelfranco is still treasured in Italy and is also grown worldwide. In culinary preparations, it is a delicacy beloved by chefs for its mild, subtly bitter, and sweet nature and limited availability, utilized in an array of fresh and cooked preparations.
Nutritional Value
Castelfranco is a source of iron to develop the protein hemoglobin for oxygen transport through the bloodstream, vitamin C to strengthen the immune system while reducing inflammation, and calcium to build strong bones and teeth. The greens also provide vitamin A to maintain healthy organ functioning, phosphorus to produce genetic material such as DNA and RNA, and other nutrients, including magnesium, vitamin E, vitamin K, and B vitamins.
Applications
Castelfranco has a delicate, bitter taste with sweet undertones suited for fresh and cooked preparations. The greens are tender and mild enough to be served raw and may be added to fresh green salads, displayed as an edible garnish, or used as a bed of greens for seafood or roasted meats. Castelfranco can also be shredded into slaws, layered into sandwiches as a bitter accent, or mixed into grain bowls. In addition to fresh preparations, Castelfranco is popularly added to soups, sauteed with herbs and spices as a simple side, or braised into savory main dish recipes. The greens can also be used as a topping over pizza, mixed into risotto, or grilled and tossed in a bright dressing. Beyond savory cooked dishes, Castelfranco can be transformed into various dessert recipes. In Italy, Castelfranco is incorporated into sformato di radicchio al domino, a type of sweet flan made with ricotta, custard, and chocolate. Castelfranco pairs well with citrus, red wine vinegar, balsamic vinegar, aromatics such as garlic, chile peppers, and onions, cheeses including parmesan, goat, and mozzarella, herbs such as fennel, basil, and parsley, mushrooms, tomatoes, and pancetta. Whole, unwashed Castelfranco should be immediately consumed for the best quality and flavor. The greens can be stored in the refrigerator for 1 to 3 days, and the leaves must remain dry to prevent spoiling.
Ethnic/Cultural Info
Castelfranco is whimsically known as the "rose you eat" and the "flower you eat" throughout the Veneto region of Italy. The variety received its floral descriptors from its open and spreading, petal-like appearance. The speckled nature of the leaves also gives the heads a vibrant, attractive appearance similar to the attraction of fresh blooms. Legend has it that Castelfranco developed its flower-like nature from two different tales of women using the greens as decoration. The first story recounts a beautiful noblewoman wearing Castelfranco as a flower on her dress when attending a premiere at the Teatro Alla Scala, the famous opera house in Milan, Italy. Other attendees marveled at the speckled Castelfranco and initially mistook it as a rare flower. The second tale involves Castelfranco being used as a household decoration in a castle in Veneto. The wide-spreading greens were gathered in small bunches and displayed to add color and visual appeal during the bleak winter months.
Geography/History
Castelfranco is native to Italy and is a descendant of heirloom Italian greens that have been growing wild since ancient times. The exact history of the speckled greens is unknown, but experts believe that the variety was created from a cross between Treviso and Escarole in the 19th century. Castelfranco is grown using specific practices, and the art of cultivation was developed in Italy when much of the population struggled to find food during the winter. Italian countryside residents would grow the greens in open fields and attempt to store the greens in their stables and barns throughout the winter. During the process of trial and error in storing the greens, it was discovered that keeping the greens under a layer of tarp and hay would force the greens to develop a pale interior with a sweeter, milder taste. Once the heads have been blanched for a period, the outer leaves are removed, and the taproot is cut and angled into an aesthetically pleasing shape. In the late 19th century, Belgian agronomist Francesco Van Den Borre introduced a blanching process from practices he learned in Belgium. The agronomist's technique was known as imbiancamento, and it involved packing the trimmed heads into mesh baskets and storing them in a darkened room in circulating spring water until they developed their desired coloring. After its creation, Castelfranco became a specialty of the Veneto region and was favored as a seasonal delicacy in Italian recipes. In 1996, Castelfranco was granted an IGP or Indication of Geographic Protection, a mark of quality for the greens grown within specific regions of Italy. Today Castelfranco is cultivated in the provinces of Venice, Treviso, and Padua in the Veneto region of Italy. Within each province, there are 8 municipalities in Venice, 20 municipalities in Padua, and 25 municipalities in Treviso that grow the flower-like heads. The plants thrive in these regions as they have hot summers, cold winters, and rich, fertile soil. These regions also are filled with pure groundwater from the Dolomites and spring water from the Sile river. Outside of Italy, Castelfranco is grown in Australia, other parts of Europe, and the United States. It is important to note that Castelfranco grown outside specific regions in Italy is not labeled with an IGP. When in season, the variety is found through specialty markets, grocers, and distributors.
Featured Restaurants
Restaurants currently purchasing this product as an ingredient for their menu.
| | | |
| --- | --- | --- |
| Gravity Heights Restaurant and Brewery | San Diego CA | 858-551-5105 |
| Kingfisher | San Diego CA | 619-861-8074 |
| Fort Oak | San Diego CA | 619-795-6901 |
| Fairmont Grand Del Mar | San Diego CA | 858-314-1975 |
| Secret Sister | San Diego CA | 619-281-0718 |
| Urban Kitchen Catering | San Diego CA | 619-276-8803 |
| Tap Room Beer Co. (Bar) | San Diego CA | 619-539-7738 |
| La Jolla Country Club | San Diego CA | 858-454-9601 |
| Starlite Kitchen | San Diego CA | 619-358-9766 |
| Lodge at Torrey Pines Main | San Diego CA | 858-453-4420 |
| Sandpiper Wood Fired Grill & Oysters | La Jolla CA | 858-228-5655 |
| Wormwood | San Diego CA | 619-573-0289 |
| Black Radish | San Diego CA | 619-775-7412 |
| Miho | San Diego CA | 619-365-5655 |
| Lauberge Del Mar | Del Mar CA | 858-259-1515 |
| Bistro du Marche by Tapenade | La Jolla CA | 858-551-7500 |
| Nolita Hall | San Diego CA | 619-618-8820 |
| Manna | Encinitas CA | 510-366-3057 |
| Bishop School | San Diego CA | 858-459-4021 |
| Herb & Sea | Encinitas CA | 858-587-6601 |
the other 3...
Recipe Ideas
Recipes that include Castelfranco. One

is easiest, three is harder.