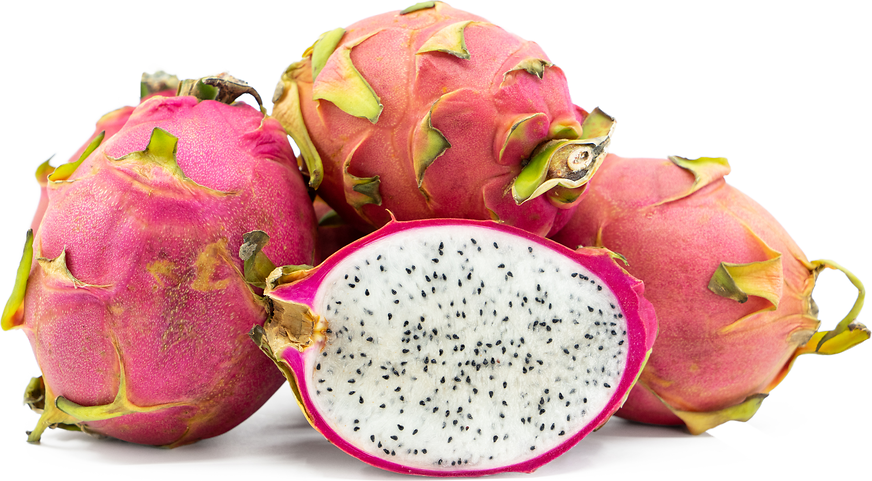 Dragon Fruit White Pitaya
Inventory, 10 lbs : 86.95
This item was last sold on : 12/10/23
Description/Taste
Dragon fruit grows on climbing cacti with stems that reach up to 6 meters long. The fruits are oval to oblong in shape, weighing about 8-12 ounces and averaging 10-15 centimeters in length. They have a pink or magenta peel with green scale-like leaves, and white flesh that is dotted with tiny edible black seeds, similar to a kiwi. The juicy, spongy yet dense pulp offers a subtle sweet flavor with notes of berry, pear, kiwi, and watermelon, sometimes with just a hint of sourness.
Seasons/Availability
Dragon Fruit is available year-round, with a peak season in the summer and early fall.
Current Facts
Dragon fruit, also known as Pitaya or Pitahaya, is a member of the cactus family, and is botanically found in two separate genera: Hylocereus and Selenicereus. However, the most commonly cultivated varieties are in the genus, Hylocereus, including the white-fleshed fruit, Hylocereus undatus. The Dragon fruit plant has also been nicknamed Belle of the Night, Cinderella plant, Night Blooming Cereus, Queen of the Night, and Moonflower, as its flowers only bloom for one night each year. During the short window overnight, the large, extremely fragrant flowers are pollinated by moths, bats, or by hand, although some varieties can self-pollinate. Despite the short-lived flowers, the plant will bear fruit about 4-6 times each year.
Nutritional Value
Dragon fruit is rich in phytonutrients and antioxidants, including good amounts of carotene and vitamin C, and its nutritional and antibacterial properties have been studied for their ability to improve digestion, strengthen the immune system, and boost energy levels. Dragon fruit has high water content (about 80% water), and is a good source of iron, magnesium, B vitamins, phosphorus, protein, calcium, and fiber. The fruit's edible seeds are also nutritious, as they are high in polyunsaturated fats like omega-3 and omega-6 fatty acids, which have been shown to lower the risk of cardiovascular disorders.
Applications
Dragon fruit is best used raw and slightly chilled, but can also be cooked, such as grilling with a sprinkle of chili powder to balance its sweet flavor. Slice the fruit lengthwise and scoop out the flesh, or quarter it and peel off the leathery skin entirely, as it can be bitter. Dragon fruit is commonly blended in smoothies, or juiced for beverages and cocktails. It can be used to make jams or flavor ice creams, sorbets and other desserts, while syrup made from the fruit is often used for coloring pastries and candies. The soft yet dense texture will hold its shape nicely when cut, so it can be diced into fruit salads with papaya, coconut, mango, guava or kiwi. It can also be used in savory salads, and pairs well with seafood, such as scallops and white, flaky fish like mahi-mahi. Ripe Dragon fruit can be kept at room temperature for a few days, or refrigerated in a sealed container for prolonged use. Fresh, cut segments will keep in a sealed container in the refrigerator for a day or two. Dragon fruit can also be sliced or cubed, then frozen for future use in blended or pureed applications.
Ethnic/Cultural Info
Dragon fruit was only known as Pitaya before it was renamed by produce marketers in Asia in hopes of sparking intrigue in the fruit. According to the legend formulated around the new name, fire-breathing mythical creatures created the fruit. During battle, when a dragon would breathe fire, the last thing to come out at the end of the flames was the Dragon fruit. When the dragon was slain, the fruit would be collected and presented to the Emperor as a coveted treasure and symbol of victory.
Geography/History
Dragon fruit is said to be native to Central America, extending from Southern Mexico through Belize, Guatemala, El Salvador and Costa Rica, although the exact native range is hard to pinpoint. This is partly because the fruit has long been in cultivation, but also because it has been known to escape from cultivation and become naturalized. Still, Dragon fruit was first discovered in Central America centuries ago, traveling in the hands of early missionaries and explorers to all corners of the globe, including Australia, the Middle East, and parts of Asia. It was introduced into Vietnam more than a century ago, with most accounts crediting the French with the introduction. It was first grown in Vietnam for the king, gained popularity among the wealthy, and today, it's the leading fruit export of Vietnam. Dragon fruit is cultivated in more than 20 countries and across 6 continents around the globe, with production in areas like Thailand, Israel, Australia, China, Nicaragua, Indonesia, and more. The United States imports the majority of its fresh Dragon fruit from Southeast Asia, although it has successfully been grown on a small scale in California, Florida and Hawaii.
Featured Restaurants
Restaurants currently purchasing this product as an ingredient for their menu.
| | | |
| --- | --- | --- |
| Joya Kitchen | San Diego CA | 619-255-5979 |
| Farmer and The Seahorse 2023 | San Diego CA | 619-302-3682 |
| Aztec Shop Catering | San Diego CA | 619 594-3576 |
| Park Hyatt Aviara | Carlsbad CA | 760-448-1234 |
| Farmer and The Seahorse | San Diego CA | 619-302-3682 |
| The Wild Thyme Company | San Diego CA | 858-527-0226 |
| University Club (Bar) | San Diego CA | 619-234-5200 |
| Venissimo Cheese Hillcrest | San Diego CA | 619-491-0708 |
| C 2 C | San Diego CA | 619-972-9345 |
| The Handmade Chef Meal Prep Co. | San Diego CA | 619-368-3705 |
| Fairmont Grand Del Mar | San Diego CA | 858-314-1975 |
| Sheraton Carlsbad (Banquets) | Carlsbad CA | 760-827-2400 |
| La Costa Resort & Spa Main Kitchen | Carlsbad CA | 760-930-7063 |
| Mothership | San Diego CA | 858-342-3609 |
| Moniker Cocktail Co. | San Diego CA | 619-203-5610 |
| Darshan Bakery (Del Mar) | Del Mar CA | 858-925-7223 |
| Cal A Vie | Vista CA | 760-945-2055 |
| Cutwater Spirits (Bar) | San Diego CA | 619-672-3848 |
| Salvatore's | San Diego CA | 619-544-1865 |
| Food by Chef Ty | Vista CA | 323-506-1890 |
the other 3...
| | | |
| --- | --- | --- |
| Sheraton Carlsbad (20/20) | Carlsbad CA | 760-827-2400 |
| The Flavor Chef (Catering) | Vista CA | 619-295-3172 |
| Saiko Sushi-Coronado | Coronado CA | 619-435-0868 |