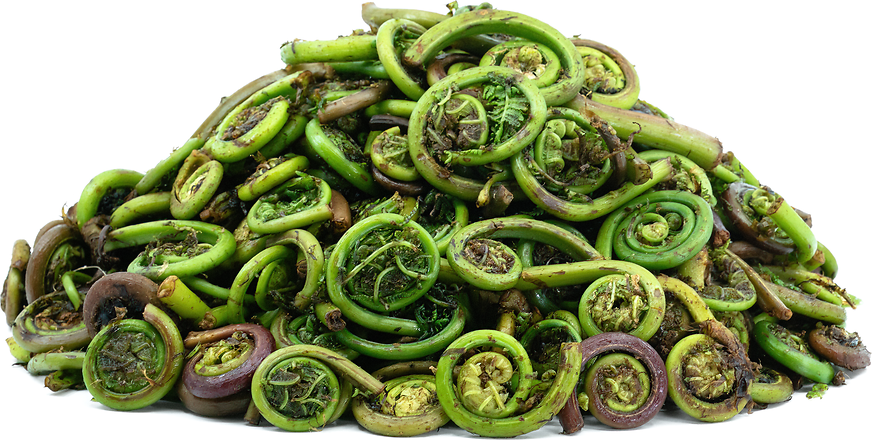 Fiddlehead Ferns
Inventory, 5 lbs : 0
Description/Taste
Fiddlehead ferns are small, tightly coiled frond tips, averaging 2 to 3 centimeters in diameter and 4 to 5 centimeters in length, and have a round, spiraled top connected to a short stem. The young fern's surface is smooth, taut, and bright green, sometimes covered in a protective layer of tawny, brown scales. Depending on the variety, some ferns also bear an indented groove on the inside of the stem. Fiddlehead ferns contain a tender, crisp, and succulent texture with a snap-like finish when lightly cooked. The ferns also emit a delicate, grassy, and woodsy flavor with artichoke, mushroom, asparagus, and pine nut nuances.
Seasons/Availability
Fiddlehead ferns are available for a few weeks in the spring.
Current Facts
Fiddlehead ferns are young, uncurled fronds that grow in clusters at the base of ferns. The tender, new ferns only appear for a short time in the spring, generally for two weeks or less, and are considered one of the first fresh vegetables to appear in , temperate climates. On each plant, there can be anywhere from 3 to 12 Fiddleheads, and the Fiddleheads are harvested by hand to protect the fern's delicate nature and ensure a sustainable harvest. Worldwide, many different fern varieties produce young, edible coils, and the term Fiddlehead is used globally to describe this stage of growth for many different ferns. In North America, Fiddlehead fern refers primarily to Matteuccia struthiopteris or young ostrich ferns. Ostrich ferns are widely found throughout Canada and in the Northern United States and are the choice fern of chefs, exhibiting a delicate, fresh flavor when lightly cooked.
Nutritional Value
Fiddlehead ferns are an excellent source of vitamin C to strengthen the immune system, potassium to balance fluid levels within the body, and fiber to regulate the digestive tract. The ferns are also a good source of omega-3 and omega-6 fatty acids, niacin, iron, phosphorus, and antioxidants to protect cells against free radical damage.
Applications
Fiddlehead ferns have a mild, green flavoring best suited for lightly cooked preparations, including steaming, braising, boiling, sautéing, or roasting. It is important to note that the ferns are not recommended to be consumed raw as they can sometimes contain foodborne bacteria that may cause illness or indigestion. When lightly cooked, the greens also develop a subtly sweeter, more pleasant flavor that mirrors springtime's freshness. The brown protective layer should be removed before cooking, and the ferns should be rinsed several times to remove any dirt or debris that may have become stuck in the coils. Fiddlehead ferns can be cooked and tossed into salads, served over toast, or stirred into pasta. The young greens can also be cooked, chopped, and folded into egg dishes such as eggs benedict, frittatas, or quiche, lightly stir-fried and mixed into noodle dishes, incorporated into curries and soups, or fried into seasonal tempura. Beyond lightly cooked preparations, Fiddlehead ferns can be pickled for extended use and served as a savory snack, flavoring, or topping. Fiddlehead ferns pair well with other spring plants such as snap peas, pea tendrils, morel mushrooms, green garlic, spring onions, and artichokes, herbs including tarragon, basil, rosemary, marjoram, basil, and oregano, miso, lemongrass, butter, lemon, and grapefruit. The tender ferns should be immediately consumed for the best quality and flavor. Fiddlehead ferns do not store well and quickly lose their color, flavor, crisp texture, and elasticity, developing a gummy film. The ferns can be wrapped in plastic and stored in the coldest part of the refrigerator for a day or two. Fiddlehead ferns can also be blanched and frozen for up to nine months, but the flavor and texture will not be the same as fresh ferns.
Ethnic/Cultural Info
In New Brunswick, Canada, Fiddlehead ferns are prevalent throughout the Restigouche River Valley and are one of the most popular Canadian springtime vegetables. Locals across the region refer to foraging for Fiddleheads as "fiddleheading," and the area is known for having the most concentrated groupings of the ferns. Throughout New Brunswick, several villages and towns have incorporated Fiddlehead ferns into their annual traditions and practices. In Tide Head, a small Canadian village of approxima00 people, residents have self-proclaimed the village as the "Fiddlehead Capital of the World." When the ferns are in season, Tide Head residents sustainably forage for the curled greens as the practice of hunting for the ferns has been passed on for generations. Fiddlehead fern foraging also provides a welcomed secondary source of income for the families, and the ferns are sold seasonally at restaurants, food trucks, roadside stands, and markets. In Plaster Rock, another Canadian village ofilar there is a Fiddlehead fern statue that reaches over seven meters in height. The wood-carved statue is cleverly labeled as the "World's Largest Fiddleheads," and on Canada Day, the village hosts a Fiddlehead Festival around the statue to celebrate the ferns. During the festival, Fiddlehead ferns are prepared simply in different preparations and are considered a delicacy that unites the town each year.
Geography/History
Ferns have been growing wild since ancient times and have been a source of nutrients for civilizations worldwide. The most common species harvested as Fiddlehead ferns, the ostrich fern, grows wild throughout North America, spanning from British Columbia to Northeastern Canadian Provinces and across the Northern United States. It is also found in limited areas of Alaska, including the Kenai Peninsula and Anchorage, and in regions of Europe and Asia. In addition to ostrich ferns, there are many other ferns harvested as Fiddleheads and consumed in culinary preparations worldwide. Fiddlehead ferns are primarily localized to their native growing regions and are gathered from wild plants rather than cultivated. The ferns favor moist soil along lakes, riverba and ponds, or they can be found in damp temperate forests. Today Fiddlehead ferns are only available for a short season each spring, and once harvested, the ferns are sold through specialty distributors, farmer's markets, and select grocers.
Recipe Ideas
Recipes that include Fiddlehead Ferns. One

is easiest, three is harder.
the other 10...