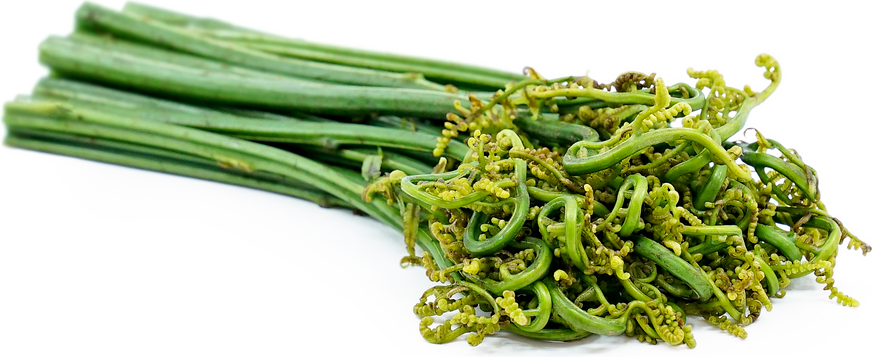 Wild Pohole Hawaiian Ferns
Inventory, lb : 0
Description/Taste
Pohole ferns are comprised of small, tight to semi-loosely coiled frond tips attached to slender stems, averaging 15 to 22 centimeters in length. The young fern's surface is smooth, taut, glossy, and bright green, sometimes covered in a protective layer of tawny, brown scales or fuzz. Some of the ferns also bear an indented groove on the inside of their straight, emerald green stem. Pohole ferns are tender, moist, and crisp with a succulent, slippery texture, developing a snap-like, chewy finish when lightly cooked. The ferns also emit a delicate forest aroma and have a grassy, subtly nutty, and woodsy flavor with sweet and earthy artichoke, mushroom, asparagus, and okra-like nuances.
Seasons/Availability
Pohole ferns are available year-round in Hawaii.
Current Facts
Pohole ferns, botanically a part of the Diplazium genus, are edible, herbaceous plants belonging to the Athyriaceae family. The term Pohole is a general descriptor used for ferns growing in the tropical forests of Hawaii. Pohole ferns can grow to be very parge, reaching over 1.8 meters in height, and the plant is valued for its young, coiled shoots. Pohole ferns are similar in flavor to fiddlehead ferns, fresh shoots harvested from other fern species throughout the mainland United States, Europe, and Asia as a culinary delicacy. Unlike fiddlehead ferns, which are only available for a few weeks each spring, Hawaii provides year-round harvests of Pohole ferns. It is important to note that timing is critical when foraging Pohole ferns, as the uncoiling, ts have the best flavor when harvested within two weeks of the ferns appearing and unfurling. Pohole ferns are known as Pohole on Maui and Ho'i'o on Hawaii, Oahu, and Kuaui. Pohole ferns are traditionally foraged from the wild and are sustainablharvted to protect the fern's delicate nature. The ferns have been consumed for centuries on the island and are intertwined into the lifeblood of consuming locally sourced ingredients. Chefs favor Pohole ferns for their green, sweet, and earthy flavor and utilize the young coils in lightly cooked preparations.
Nutritional Value
Pohole ferns are a source of iron to develop the protein hemoglobin for oxygen transport through the bloodstream, potassium to balance fluid levels within the body, and calcium to build strong bones and teeth. The ferns also have high water content and contain other nutrients, including magnesium, fiber, omega-3 fatty acids, and vitamin C.
Applications
Pohole ferns have an earthy, nutty, vegetal, and sweet taste suited for fresh and cooked preparations. The ferns must be cleaned before use and are mostly trimmed and scrubbed to remove dirt, debris, and fuzz. Pohole ferns are traditionally blanched for around 30 seconds and are shocked in an ice bath to retain their vibrant green coloring. Once blanched, the ferns can be incorporated into salads, chopped and mixed into side dishes, or tossed into a light vinaigrette for a delicate flavor. In Hawaii, Pohole ferns are often combined into salads with shrimp, seaweed, onion, and tomatoes. Pohole ferns can also be stir-fried, simmered into soups and stews, used as a substitute for asparagus in recipes, stirred into noodle dishes, or cooked into omelets and other egg-based recipes. Try using the blanched ferns as a topping over pizza or pickling for extended use. Pohole ferns pair well with aromatics such as garlic, sweet onions, ginger, and shallots, tomatoes, yams, taro, seafood, and meats such as poultry, pork, and beef. The tender ferns should be immediately consumed for the best quality and flavor. Pohole ferns do not store well and quickly lose their color, flavor, crisp texture, and elasticity, developing a gummy film. Pohole ferns may last 1 to 2 days when wrapped in damp paper towels in plastic and stored in the refrigerator. The ferns are sometimes stored in ti leaves in Hawaii.
Ethnic/Cultural Info
Pohole ferns were a favorite meal of the Piliwale sisters in the Hawaiian legend of Na-Piliwale. The ancient tale depicts the Piliwale sisters as terrible creatures with an insatiable appetite. The sisters would roam the Hawaiian Islands and expect villages to feed them copious amounts of food, often causing famine in their wake. If the villages refused to provide food for them, the sisters would bring natural disasters, including floods and landslides, onto the villages. The Piliwale sisters could on villages by night and protected themselves in caves during the day because sunlight would turn them to stone. On one visit to a village in Ha'ena on Kauai, chief Lohi'au developed a plan and constructed a sheltered hut on a mountain ridge for t srs. This hut allowed the sisters to enjoy a beautiful view as they ravaged the food from the village. Unaware of the chief's plan, the sisters settled into the hut, staying inside the entire night, forgetful of the rising sun. At daybreak,ohi'aued the sisters a plate of Ho'i'o or Pohole ferns and 'opae, shrimp sprinkled with salt. The Piliwale sisters loved the young ferns and began devouring the plate. As they were eating, the sun rose, and the chief swiftly removed the hut's walls, exposing the sisters to the morning rays. The sisters shrieked in horror and began running down the mountainside, turning to stone before they could reach the darkness of a cave. Outlines of the two sisters can still be seen on the Manoa ridg Kauai, and thck formations are named Na-Piliwale, meaning "clinging ones."
Geography/History
Pohole ferns are edible species found in the rain forests of Hawaii, growing wild since ancient times. The ferns thrive in the island's tropical, damp climate and are often spotted in shady valleys, alongside rivers, and on damp forest floors. Pohole ferns have been consumed among local populations in Hawaii for centuries, but the ferns did not become a staple of restaurants until recently. Today Pohole ferns are available throughout the year and are primarily foraged from wild plants. The ferns are acultivated on a small scale through select farms. When available, the ferns are sold through specialty distributors, farmer's markets, and local grocers. Some commercially grown Pohole ferns are exported to chefs and restaurants in San Diego, Las Vegas, and other areas along the West Coast of the United States.
Recipe Ideas
Recipes that include Wild Pohole Hawaiian Ferns. One

is easiest, three is harder.