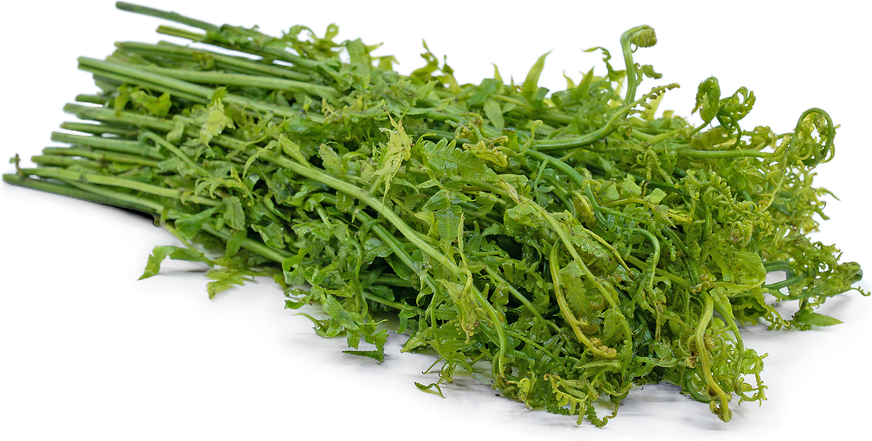 Paku Pakis Ferns
Inventory, lb : 0
Description/Taste
Paku Pakis ferns are comprised of elongated stems lined with small, unfurling fronds. Each stem is thicker and woodier at the base, appearing in dark green hues, and as the stem grows upright, it begins tapering slightly towards the top. The stems are also semi-smooth, fleshy, pliable, and slightly chewy with a crisp consistency. The fronds showcase many small leaves that are generally lanceolate in shape, tapering to a distinct point, and each leaf has serrated edges, growing close to one another, creating a feathery, soft, and slender feel. The fronds are green and also twist in varying shapes, with some leaves in the process of unfurling while others are still twisted and coiled. Paku Pakis ferns have an earthy, fresh, vegetal scent, often likened to the smell of a damp forest floor. The young stems and fronds have a slightly bitter and grassy flavor when raw, but once cooked, the bitterness mellows into a subtly sweet, green, and vegetal taste. Paku Pakis ferns will also soften in texture when cooked, developing a mouthfeel likened to cooked asparagus.
Seasons/Availability
Paku Pakis is available year-round.
Current Facts
Paku Pakis, botanically classified as Diplazium esculentum, is a wild Asian fern belonging to the Athyriaceae family. The ferns extend 1 to 1.5 meters in height when mature and are an evergreen plant that thrives in humid, tropical regions. Paku Pakis is a term used for foraging young ferns. Only the young and tender stems and unfurling fronds are utilized for culinary use as they contain a mild, subtly bitter vegetal flavor that sweetens with heat. The ferns are widely used throughout Southeast Asia and East Asia, known as Paku Tanjung, Paku Ikan, Pucuk Paku in Malaysia and Indonesia, Phak Khut in Thailand, Pkau and Pako in the Philippines, Kuwareshida in Japan, Dhekia in Assam, and Linguda in northern India. Paku Pakis are not commercially cultivated and are nicknamed nature's organic vegetable, as most fern varieties cannot survive in chemically contaminated areas. The wild ferns are also not sprayed with fertilizer or pesticides and grow abundantly in the wild. Since the ferns are not commercially produced, they are primarily foraged from wild plants and are sold in local wet markets and select grocers throughout Asia. Paku Pakis fronds are utilized for culinary and medicinal use.
Nutritional Value
Paku Pakis is a source of potassium to balance fluid levels, vitamin E to reduce inflammation, and iron to develop the protein hemoglobin for oxygen transport through the bloodstream. The fronds also provide beta-carotene, which is converted into vitamin A to maintain healthy organ functioning, and riboflavin to help the body convert food into energy. In Southeast Asia, Paku Pakis ferns are boiled, and the liquid is used to reduce symptoms of coughs, diarrhea, and as a tonic to replenish nutrients in the body after childbirth. The leaves are also ground into a paste and applied topically to reduce symptoms of rashes and skin irritations.
Applications
Paku Pakis have a sweet, vegetal, and grassy flavor suited for lightly cooked preparations such as boiling, sautéing, stir-frying or blanching. The young fronds are prepared as a vegetable, and the woody ends should be trimmed before being cooked. Paku Pakis is typically boiled and added to soups and stews, simmered into curries, or stir-fried as a simple side dish. In Malaysia, one of the most popular methods of preparing Paku Pakis is boiling the fronds and mixing them with aromatics and belacan, a fermented shrimp paste. Cooked fern fronds are a nutritious and flavorful dish commonly seen on menus at traditional Malay restaurants and prepared as everyday dishes in home kitchens. At Bijan, a restaurant in Kuala Lumpur, Malaysia, Paku Pakis is featured in a dish cooked with chile peppers, caramelized coconut, and shrimp paste. Beyond cooked preparations, Paku Pakis can also be pickled for extended use. Paku Pakis pairs well with aromatics such as lemongrass, ginger, garlic, shallots, shrimp paste, and chile peppers, lime, calamansi, coconut, palm sugar, potatoes, torch ginger flower, and curry powder. Whole, unwashed Paku Pakis should be immediately consumed after purchase for the best quality and flavor.
Ethnic/Cultural Info
Paku Pakis is just one of 1,165 species of ferns found in Malaysia. The country is known as the land of ferns, and despite there being a vast abundance of species, only about 50 species are utilized in various culinary and medicinal preparations. Furthermore, approximately 5 of the 50 species are consistently sold in local markets, and Paku Pakis is often considered one of Malaysia's most popular culinary ferns. Despite the limited number of fern species consumed in culinary preparations, ferns are deemed clean, natural, and nutritious. In the Malaysian state of Sabah on the island of Borneo, scientists have recorded at least 608 of the 1,165 fern species on Mount Kinabalu. The 4,095-meter mountain is the tallest in Malaysia and is a part of Kinabalu Park, a protected wildlife and plant zone named a UNESCO World Heritage site in 2000. Kinabalu Park is home to four climatic zones and over 5,000 to 6,000 species of flora and fauna. Botanists estimate that the park alone is home to more species of plants than Europe and North America combined, excluding tropical regions of Mexico, making it an important site for research, preservation, and observation.
Geography/History
Ferns, a part of the species Diplazium esculentum, are native to warm, humid regions of Asia and have been growing wild since ancient times. The plants thrive in rich soil and are typically found growing in shady areas of forest floors, along riverbanks and streams, in ditches, and home gardens. Paku Pakis are the young fronds of the fern, and the fronds are traditionally harvested fresh from wild plants. Over time, ferns have spread naturally throughout tropical regions of Asia and Oceania. Today Paku Pakis ferns grow wild throughout Southeast and East Asia and Oceania. They are a popularly foraged green in Malaysia, Singapore, Indonesia, the Philippines, India, Thailand, Taiwan, China, and Japan. The Paku Pakis featured in the photograph above was sourced from Chow Kit wet market in Kuala Lumpur, Malaysia.
Recipe Ideas
Recipes that include Paku Pakis Ferns. One

is easiest, three is harder.