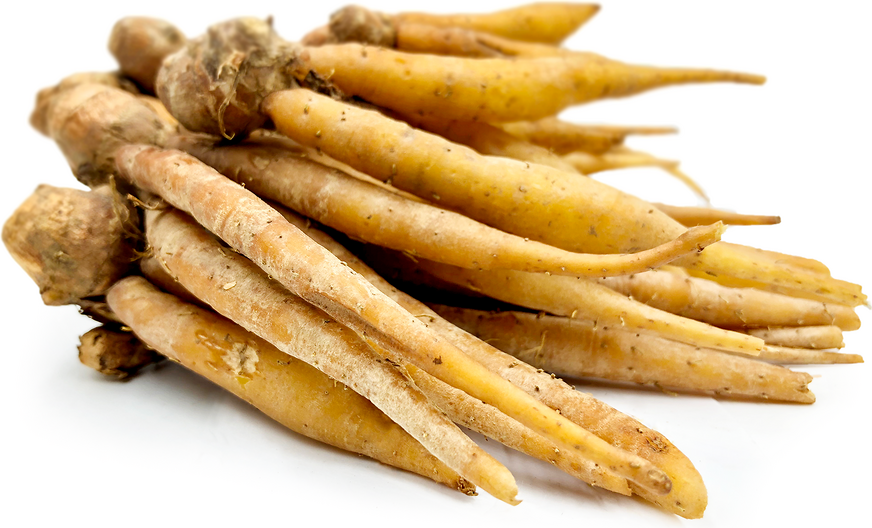 Fingerroot Ginger
Inventory, lb : 0
Description/Taste
Fingerroot ginger is comprised of 3 to 4 broad, light green leaves that grow upright, averaging 7 to 12 cm in width and 25 to 50 centimeters in length. The leaves are oblong to elliptical in shape and showcase vertical grooves across the surface, sometimes encased in red sheaths. Beneath the leaves, small underground rhizomes form a globular base, sending finger-like offshoots out, giving the ginger an unusual appearance. Each slender rhizome offshoot ranges from 5 to 10 centimeters in length and has a straight to slightly tapered, cylindrical shape with a swollen, bulbous center and pointed tips. The rhizome's skin is thin, textured, and light brown, being easily peeled to reveal a yellow flesh. The flesh is dense, fibrous, and semi-aqueous, bearing a crisp, snap-like consistency when chopped, sliced, or broken. Fingerroot ginger emits a fresh aroma and contains a milder flavor than common ginger. The finger-like rhizomes have an earthy, peppery, subtly sweet, herbaceous, slightly bitter, and medicinal taste.
Seasons/Availability
Fingerroot ginger is available year-round.
Current Facts
Fingerroot ginger, botanically classified as Boesenbergia rotunda, is a tropical variety of ginger belonging to the Zingiberaceae family. The rhizomes grow beneath an herbaceous perennial that can reach 15 to 40 centimeters in height and have been present in Southeast Asia for thousands of years. Fingerroot ginger is known by many regional names, including Ao Chun Jiang in China, Temu Kunci in Malaysia, Temu Kuchi in Indonesia, Ngai bun, Nga truat, or Cu Ngai in Vietnam, Neng Kieng in Laos, Krachai in Thailand, Gajutu in Japan, Petits Doigts in France, Temoe koentji in The Netherlands, and Fingerwurz in Germany. The rhizomes are also called Chinese ginger, Chinese Keys, Thai ginger, Tropical ginger, Resurrection Lily, Kcheay, and Tropical Crocus. The name Fingerroot was derived from the rhizome's long and slender, finger-like appearance. Fingerroot ginger is native to tropical regions of Southeast Asia and is mainly used as a medicinal and culinary ingredient. The rhizomes can be incorporated fresh into soups, curries, rice-based dishes, and noodles, but they can also be sold in dried, powdered form or as an essential oil extract.
Nutritional Value
Fingerroot ginger is a good source of fiber to stimulate the digestive tract, potassium to balance fluid levels within the body, and vitamin C to strengthen the immune system. The rhizomes also provide iron to develop the protein hemoglobin for oxygen transport through the bloodstream and contain anti-inflammatory and antibacterial properties. In natural medicines throughout Southeast Asia, Fingerroot ginger is an herbal remedy for stomach pain, ulcers, fevers, coughs, and swelling. In Indonesia, Fingerroot is prepared in jamu, or a beverage created from a blend of leaves, roots, seeds, fruits, and flowers to help treat specific ailments. The slender rhizomes are traditionally steeped into tea or incorporated into drinks or tonics as a diuretic. In some countries, Fingerroot is considered an aphrodisiac.
Applications
Fingerroot ginger has a mild, earthy, and slightly medicinal flavor primarily used as a flavoring agent or dried spice in savory culinary dishes. Fresh young Fingerroot should be washed and peeled, removing the thin skin, and once clean, the rhizomes can be finely minced, sliced, or grated into dressings, sauces, dips, or pastes. In Indonesia, Fingerroot is incorporated into tempeh, a fermented soybean cake that is a protein substitute for vegetarians. Tempeh was first created in Indonesia and can be fried, baked, steamed, or pan-fried as a neutral protein, absorbing accompanying flavors such as Fingerroot. The rhizomes can also be finely chopped and tossed into vegetables, stirred into soups, curries, and stews, or served in seafood dishes. In Thailand, Fingerroot ginger is combined into kanom jeen namya, a rice noodle dish flavored with fish curry. The aromatic ginger is often incorporated into Thai seafood dishes as it helps balance the smell and taste of fishy odors. Fingerroot ginger is also mixed into kaeng tai pla, a saucy fish curry, or pad cha talay, a wok-made dish of seafood and vegetables. Outside Southeast Asia, Fingerroot ginger is not typically found fresh and is sold dried and powdered, frozen, or pickled. Fingerroot ginger pairs well with seafood such as fish, prawns, scallops, shrimp, and mussels, aromatics including garlic, galangal, turmeric, chile peppers, scallions, and lemongrass, herbs such as mint, cilantro, and coriander, lime leaves, coconut, mango, sesame, and soy sauce. Peeled ginger will keep 2 to 3 weeks when stored in a plastic bag in the refrigerator, and unpeeled ginger will keep 1 to 2 months.
Ethnic/Cultural Info
Fingerroot ginger is used in fish amok, one of Cambodia's national dishes. Fish amok is a curried fish dish that can be prepared in several ways to develop a specific textural component. The dish is comprised of a yellow curry paste known as kroeung, a handmade mixture of chile peppers, lemongrass, Fingerroot ginger, turmeric, shallots, lime, and other roots, and is combined with coconut milk, fish, salt, and sugar. One of the unique aspects of the dish is the way it is traditionally prepared. The term "amok" refers to the curry mixture being wrapped in a banana leaf and steamed. This cooking method creates a light, mousse-like consistency, and the fish is tender, served with rice as a complete meal. The dish can also be prepared in a more straightforward manner by boiling, a method creating a thinner curry-like soup. Fish amok is one of the most well-known dishes in Cambodia, and its popularity has led chefs to develop new variations using poultry or vegetables beyond the classic freshwater fish or snails.
Geography/History
Fingerroot ginger is native to regions of Southeast Asia and Southern China and has been growing wild since ancient times. The plants thrive in humid, tropical forests and grow for five months during the monsoon season, followed by a natural dormant period during the dry season. Fingerroot ginger has been foraged throughout history utilized in medicinal and culinary preparations. Over time, Fingerroot was selected and sown as a valuable medicinal plant in villages throughout Southeast Asia and became commercially cultivated on a small scale. The rhizome's popularity continued to increase as its therapeutic benefits became understood, and in the modern-day, Fingerroot ginger is still found in home gardens. Fingerroot ginger grows wild and is planted in gardens in China, Malaysia, Indonesia, Thailand, Vietnam, Cambodia, Singapore, India, and Sri Lanka.
Recipe Ideas
Recipes that include Fingerroot Ginger. One

is easiest, three is harder.