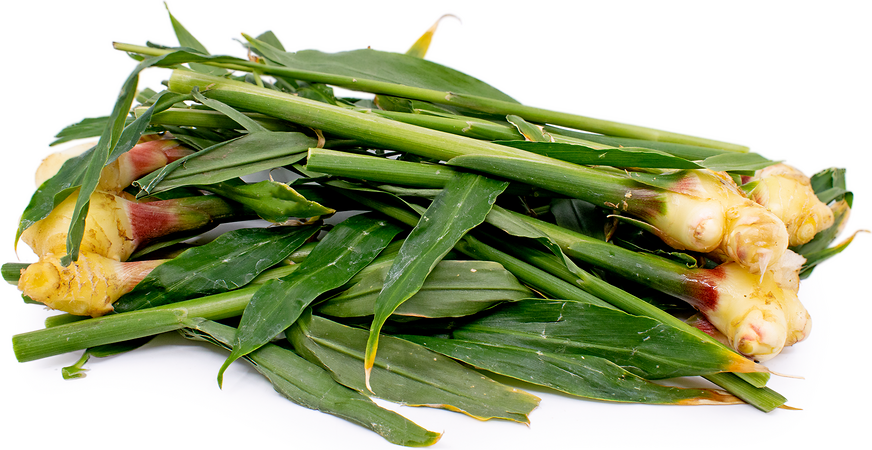 Ginger Leaves
Inventory, lb : 0
Description/Taste
Ginger leaves grow from elongated, upright, fleshy pseudostems attached to an underground multi-branched rhizome. The pseudostems are comprised of tightly wrapped leaf sheaths that are fibrous and woody, generally appearing in dark green shades. The leaves grow in an alternate pattern and have a long, straight, and slender shape, averaging 15 to 30 centimeters in length, with lanceolate-shaped blades tapering to a pointed tip. The leaves are somewhat tough, pliable, and fibrous, creating a crisp, chewy, and succulent consistency. Ginger leaves are not commonly consumed whole and are finely sliced into smaller pieces to avoid unpleasant, leathery large pieces. They are also selected when young for the best texture and flavor. Ginger leaves can be consumed fresh or cooked and have a mild, grassy, peppery, and vegetal flavor reminiscent of the rhizomes but with a more delicate taste.
Seasons/Availability
Ginger leaves are available in the late summer through fall.
Current Facts
Ginger leaves, botanically classified as Zingiber officinale, are the edible foliage of a tropical, herbaceous plant belonging to the Zingiberaceae family. Ginger is native to Asia, widely found growing wild in subtropical to tropical regions, and has traditionally been utilized for culinary and medicinal preparations for thousands of years. While the rhizomes are the most used portion of the plant, Ginger leaves are a secondary crop valued for their softer flavor. Ginger leaves are harvested when they are young, viewed as the purest form of the plant, and are incorporated as a specialty ingredient adding herbal, vegetal, and zesty notes to sweet and savory dishes. It is important to note that the leaves of common ginger are the only types used for culinary purposes. There are many different varieties of ginger grown worldwide, including culinary and ornamental. Research and care should be taken to ensure the leaves belong to common ginger if foraging. Ginger leaves found in local markets are typically from Zingiber officinale.
Nutritional Value
Ginger leaves have not been extensively studied for their nutritional properties. The leaves contain fiber to regulate the digestive tract, potassium to balance fluid levels, magnesium to control optimal nerve functioning, and calcium to build strong bones and teeth. In Asia, especially in China, Ginger leaves are utilized in natural medicines. The leaves are steeped into a tea and are served with honey and lemon as a digestive soother. Ginger leaf tea is consumed for morning or motion sickness, colds, nausea, indigestion, and other ill feelings. The leaves also contain antibacterial and antifungal properties.
Applications
Ginger leaves have a grassy, vegetal, and peppery flavoring suited as a flavor enhancement in fresh and cooked preparations. The leaves are edible raw but generally have a tough, fibrous nature. Ginger leaves are not commonly consumed whole. Instead, they are finely chopped and mixed into salads, sprinkled as a garnish, or minced and stirred into grain-based dishes. Ginger leaves can also be incorporated into soups, curries, and stews, stir-fried with vegetables, cooked in soy sauce and served with rice, minced and added to stuffings, or dipped in miso paste or batter and fried, served with dips. In addition to savory preparations, Ginger leaves can be infused into syrups and fillings for baked goods or used to impart a light, herbal flavor in desserts. The leaves can also be dried and crumbled as a crisp topping, pickled for extended use, or steeped into a tea. Ginger leaves pair well with aromatics such as garlic, shallots, scallion, and chile peppers, spices including turmeric, cinnamon, coriander, mint, and lemongrass, honey, soy sauce, and sesame oil. Whole, unwashed Ginger leaves are perishable and should be immediately used for the best quality and flavor. The leaves can also be stored for a couple of days in a sealed container in the refrigerator. Ginger leaves can be finely chopped, added to ice cube trays, and filled with oil or water as an extended storage method. These frozen cubes can be quickly added to cooking and impart a fresh flavor.
Ethnic/Cultural Info
Ginger was carried on Chinese ships to provide a vital source of nutrients for sailors on long voyages. One of the deadliest aspects of sailing was not shipwrecks and pirates but a lack of vitamin C, causing scurvy. Vitamin C is required to keep the connective tissues from breaking down, and the vitamin also helps to produce collagen, a protein building block of the body. After about one month of not ingesting vitamin C, scurvy can cause the gums to bleed, the connective tissues to break down, bruising, and feelings of fatigue. Sailors who succumbed to scurvy often perished, and their bodies would be thrown overboard as the crew continued their journey. Scurvy was known in ancient times, and there were many theories recorded by herbalists and doctors worldwide to lessen the disease's presence on voyages. One record was written by Faxian, a 5th-century Chinese monk, who noted that ginger was a staple item carried on Chinese ships to prevent scurvy. Beyond scurvy, Ginger rhizomes were closely associated with the element of fire and were seen as a cleansing ingredient. The root was sometimes chewed in hopes of inspiring courage and ridding the body of feelings of uncertainty, especially before large events, battles, and gatherings.
Geography/History
Ginger is native to Southeast Asia and has been cultivated since ancient times. The rhizomes were extensively grown in southern China, first documented in 2000 BCE, and were developed for medicinal and culinary purposes. Over time, ginger was introduced to Western Asia, Africa, and Europe around the 1st century through trade routes. In the Middle Ages, ginger became popular in the Mediterranean, and Spanish and Portuguese explorers introduced the rhizome to the New World in the 15th century. Ginger leaves have been cultivated as a secondary crop for as long as the rhizomes have been grown. The leaves are a seasonal specialty, valued as a subtle flavoring in culinary dishes, especially in Asia. Today Ginger leaves are cultivated worldwide and sold through distributors and select fresh markets in Asia, Europe, the United States, Africa, Australia, and South America.
Recipe Ideas
Recipes that include Ginger Leaves. One

is easiest, three is harder.