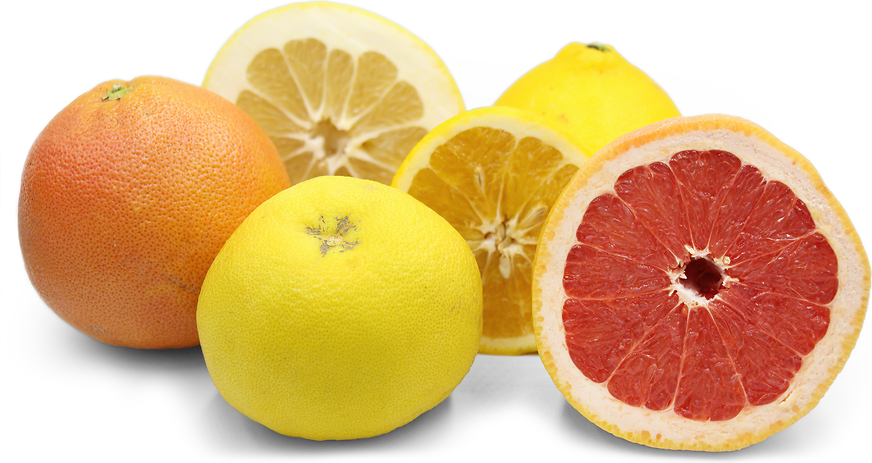 Grapefruit
Inventory, ea : 0
This item was last sold on : 06/18/23
Description/Taste
Grapefruits are medium to large fruits, averaging 10 to 15 centimeters in diameter, and are round to ovate, sometimes displaying a slightly flattened appearance. The peel is generally smooth, glossy, and semi-thin with a lightly pebbled texture, covered in small oil glands that release fragrant, essential oils. The peel also generally ripens from green to pale yellow, golden yellow, to yellow-orange blushed with pink, depending on the variety, but some green spots may remain on the surface at maturity for yellow-fleshed varieties and are not indications of ripeness. Underneath the peel, a thick, white, bitter, and spongy pith is tightly adhered to the flesh, and tough membranes divide the flesh into 10 to 14 segments. The flesh has a translucent hue, ranging in color from pale yellow, pink, to dark red, and is comprised of tiny sacs filled with juice, creating an aqueous, tender, and semi-firm consistency. Grapefruit varieties will vary in seed content, fluctuating from containing many cream-colored seeds to being found seedless. The flesh's core may also appear hollow or solid, primarily determined by variety and growing conditions. Grapefruits have a subtle, floral fragrance with a bright, sweet, acidic, and tangy, mildly bitter flavor.
Seasons/Availability
Grapefruits are available year-round, with a peak season in the winter through spring.
Current Facts
Grapefruits, botanically classified as Citrus paradisi, are a large, subtropical to tropical citrus variety belonging to the Rutaceae family. The sweet-tart fruits are a natural cross between a pummelo and an orange and grow on evergreen trees reaching 9 meters in height. The origin of the name Grapefruit is shrouded in mystery as much of the fruit's history was unrecorded. The fruits were discovered in Barbados and were allegedly named after their clustering growth habit, similar to the way grapes form in bunches. Some experts also hypothesize that the fruits may have been named for their tart flavor, reminiscent of an unripe grape. There are three main types of grapefruits in the modern-day, generally categorized as pink, white, or red-fleshed. Grapefruits are cultivated worldwide and are hand-picked each season, favored for their sweet-tart taste, and are sold for fresh use, cooked, and canned applications.
Nutritional Value
Grapefruits are an excellent source of vitamin C, an antioxidant that strengthens the immune system, reduces inflammation, and boosts collagen production within the skin. The fruits are also a good source of vitamin A to maintain healthy organ functioning, fiber to stimulate the digestive tract, and contain lower amounts of folate, potassium, and magnesium. Red and pink grapefruit varieties contain lycopene, a nutrient found in the pigmented flesh with antioxidant-like properties and protects the cells against free radical damage.
Applications
Grapefruits have a sweet-tart flavor with a juicy nature that is well-suited for fresh and cooked applications. The fruits can be sliced in half and eaten with a spoon, scooping the flesh from the membranes, or the flesh can be cut and segmented, tossed into green salads, fruit bowls, and salsa. Grapefruits can also be blended into smoothies, juiced into cocktails, or used as a garnish for fruit punches and sparkling water. Beyond fresh applications, Grapefruits are often used to add acidity to roasted meats, and the flesh can be pressed, extracting the juice, used to flavor sauces, glazes, popsicles, sorbet, or baked goods, including bars, doughnuts, cakes, and shortbreads. The Grapefruit's peel can also be candied as a sweet, chewy snack, or the fruits can be simmered into marmalades, jellies, jams, and simple syrups. Grapefruits pair well with avocado, rose water, nuts such as pistachios, pine nuts, and almonds, herbs including tarragon, mint, rosemary, chamomile, and cilantro, meats such as poultry, beef, and fish, fruits such as strawberries, citrus, bananas, pomegranates, pineapples, and raspberries, cabbage, fennel, and vanilla. Whole, unopened Grapefruits will keep 5 to 7 days when stored at room temperature and up to 3 to 6 weeks when placed in a plastic bag and kept in the crisper drawer of the refrigerator.
Ethnic/Cultural Info
Grapefruits are considered one of the "Seven Wonders of Barbados," a list of important historical sites depicting plant species, architecture, and points of interest to educate and create memorable experiences on the tropical island. Legend has it that Grapefruits were discovered in the Welchman Hall Gully, a three-quarter-mile ravine formed from collapsed caves and water. This gully is one of the most visited sites in Barbados in the present-day and is said to give visitors a visual of what the island looked like over 300 years ago. In the gully, many citrus varieties were planted from Asia and were left to naturally cross-pollinate and develop new fruits, including Grapefruits. The Welchman Hall Gully is also home to over 150 different tropical plant species and exotic wildlife, including troops of monkeys.
Geography/History
Grapefruits are one of the only known citruses to have originated in the Americas, and the fruits were believed to have been developed from a natural cross between a pummelo and an orange. The large, clustered fruits were discovered growing on the island of Barbados in the West Indies in the 17th century, which was a time when European settlers would sporadically plant citrus originally from Asia across the islands. The planted citrus would mature and naturally cross-pollinate over time, creating new citrus types that primarily went undocumented and unrecorded. The original Grapefruits were white varieties, selected for their large size and tart, subtly sweet flavor. In 1823, Grapefruits were brought to the United States and were planted in Florida by a Frenchman named Odet Philippe. The fruits were later grown in Texas and California in 1910 to add diversity to the citrus market. Grapefruits were not widely accepted when they were initially introduced into the United States as they were considered too sour, but in Texas in 1929, a sweet, red-fleshed variety was discovered, changing to fruit's image and market appeal. Red-fleshed grapefruits quickly rose in popularity, and within five years of its discovery, the sweeter fruits were being shipped across the United States. Once red grapefruits were discovered, Texas stopped growing white grapefruits altogether in 1962, and the pale-fleshed fruits became localized to Florida and select regions of California. Today Grapefruits are cultivated in California, Texas, Arizona, and Florida for domestic sale, and the fruits in Florida are primarily exported to Japan. Grapefruits are also grown in Mexico, South America, Morocco, Spain, Turkey, Israel, India, and areas of the Caribbean.
Recipe Ideas
Recipes that include Grapefruit. One

is easiest, three is harder.
the other 73...
| | | |
| --- | --- | --- |
| The Daring Gourmet | | Pink Grapefruit Cream Pie |
| She Wears Many Hats | | Broiled Grapefruit with Honey and Bananas |
| Tangerine Zest | | Grapefruit Salad, Strawberries and Pistachios |
| Steele House Kitchen | | Candied Cardamom Grapefruit |
| Local Kitchen | | Grapefruit & Walnut Tart |
| Kitchen Sanctuary | | Grapefruit Breakfast Doughnuts |
| Wine and Glue | | Grapefruit Spread |
| Self Proclaimed Foodie | | Grapefruit Tequila Slammer |
| Sugar Hero | | Grapefruit Layer Cake |
| Kitchen Konfidence | | Grapefruit Infused Rum |
| Food & Wine | | Normandie Club Spritz |
| Drizzle & Dip | | Grapefruit and Campari Sorbet |
| Joy the Baker | | Grapefruit White Chocolate Brown Butter Cookies |
| Melanie Makes | | Honey Roasted Grapefruit Parfait Popsicles |
| Food & Wine | | Pink-Grapefruit-and-Avocado Salad |
| Cooking For Keeps | | Pan-Roasted Salmon with Garlicky Kale Citrus Vinagrette |
| Yup, It's Vegan | | Baked Jamaican Jerk Sweet Potato Samosas with Grapefruit Chutney |
| Whitney Bond | | Grapefruit Lime Sherbet Float Cocktail |
| Eating Well | | Grapefruit Margaritas |
| Sugar Hero | | Grapefruit Meringue Pie |
| The View from Great Island | | Homemade Fresh Grapefruit "Jello" |
| We are not Martha | | Grapefruit Pink Peppercorn Cookies |
| Running to the Kitchen | | Sparkling Grapefruit Jello |
| Fit Mitten Kitchen | | Goat Cheese Avocado Grapefruit Crostini |
| She Wears Many Hats | | Chocolate Covered Grapefruit |
| All Recipes | | Sweet and Spicy Salmon with Grapefruit Salsa |
| Dagmar's Kitchen | | Almond, Millet and Cheddar Scones with rosemary Citrus Compote |
| Spoon University | | How to Make a Grapefruit Dutch Baby |
| Pumpkin N Spice | | Caramelized Brown Sugar Grapefruit |
| Rachel Schultz | | Grapefruit & Pistachio Crusted Salmon |
| A Cozy Kitchen | | Grapefruit Yogurt and Thyme Pound Cake |
| The Wanderlust Kitchen | | Broiled Grapefruit with Toasted Coconut and Mint |
| Domesticate Me | | Pan-Seared Halibut with Citrus-Jalapeño Salsa |
| Garlic & Zest | | Sweet Heat Sunshine Salad |
| Wonky Wonderful | | Grapefruit and Honey Glazed Baked Cod |
| A Cozy Kitchen | | Grapefruit and Avocado Toast |
| Garlic & Zest | | Tropical Fruit Salad with Sweet 'n Spicy Dressing |
| A Family Feast | | Ruby Red Grapefruit and Cranberry Chicken |
| Brooklyn Homemaker | | Grapefruit Bars |
| Delish | | Grapefruit Buttermilk Doughnuts with Candied Zest |
| Yeah, Emma Eat That | | Roasted Grapefruit with Walnut and Granola |
| The Green Creator | | Green Grapefruit Smoothie |
| Sugar and Charm | | Greyhound Cocktail Popsicles |
| Food & Wine | | Scallops with Grapefruit-Onion Salad |
| Eating Well | | North African Spiced Turkey with Avocado-Grapefruit Relish |
| Wonky Wonderful | | Broiled Grapefruit Gelato |
| A Spicy Perspective | | Pink Grapefruit Margarita |
| Cookie Dough and Oven Mitt | | Grapefruit Curd |
| Sugar & Soul | | Grapefruit Olive Oil Cake |
| The Unlikely Baker | | Summery Grapefruit Tart |
| Light Orange Bean | | Creamy Citrus Pawpaw Smoothie (Vegan/GF) |
| Eating Well | | Grapefruit Chicken Satay Salad |
| Cannelle et Vanille | | Pistachio and Grapefruit Macarons |
| What Do You Crave | | Springtime Spicy Veggie Tacos with Citrus Salsa |
| The Blond Cook | | Grapefruit Sunrise Cocktail |
| My Domaine | | Grapefruit, Avocado, Radish, and Salmon Crudo |
| Culinary Hill | | Citrus Salad with Strawberries and Pomegranate |
| The Lemon Bowl | | Spicy Grapefruit Paloma |
| Smitten Kitchen | | Grapefruit Yogurt Cake |
| Kristine's Kitchen | | Grapefruit Ricotta Cake with Cream Cheese Frosting |
| Fit Mitten Kitchen | | Cardamom Grapefruit Greek Yogurt Cake |
| Sugar and Charm | | Grapefruit Strawberry Collins |
| Home & Plate | | Ruby Red Grapefruit Tart |
| Fit Mitten Kitchen | | Grapefruit Zucchini Noodle Kale Salad with Grapefruit Ginger Vinaigrette |
| Light Orange Bean | | Citrus Beet Coconut Overnight Oats |
| This Gal Cooks | | Grapefruit Upside Down Cake |
| The FeedFeed | | Grapefruit & Coconut Panna Cotta With Coconut Cashew Granola |
| Girl Versus Dough | | Glazed Grapefruit Poppy Seed Muffins |
| The View from Great Island | | Grapefruit Poppy Seed Cake |
| Athletic Avocado | | Easy Grapefruit, Corn, & Mint Salad |
| Inspired Home | | Winter Harvest Salad with Champagne, Lemon + Vanilla Vinaigrette |
| Floating Kitchen | | Grapefruit and Sage Champagne Cocktails |
| With Food and Love | | Broiled Grapefruit with Sea Salt and Vanilla Ginger Coconut Cream |