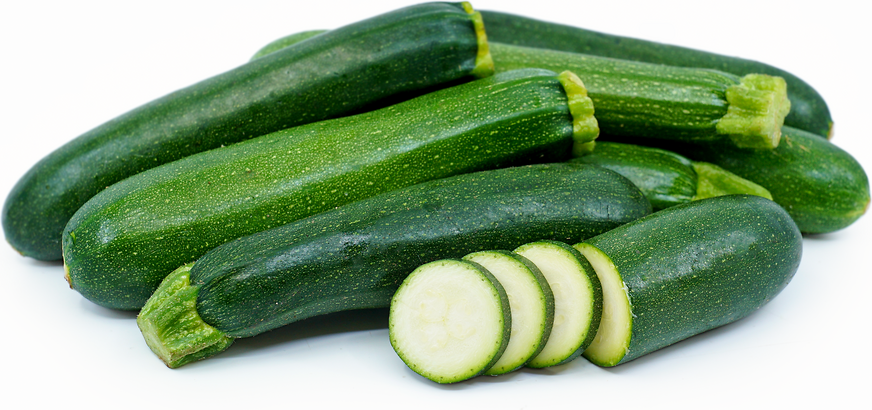 Green Zucchini Squash
Inventory, 18 lbs : 66.74
This item was last sold on : 12/04/23
Description/Taste
The Zucchini squash has a uniformly cylindrical shape with little to no taper from its stem to blossom end. It can be harvested when it is at its baby stage or when more mature at up to six to eight inches long. Many growers and chefs note that Zucchini will be at its peak flavor and texture when five to six inches in length. The exterior glossy skin of the Zucchini is vibrant to dark green in color and delicate enough to consume. Summer squash such as Zucchini are harvested when immature for best flavor, as a result their skin is delicate and prone to easily bruising and scratching. Its flesh is creamy white in color with a spongy yet firm texture and faint traces of edible seeds. It offers a sweet summer squash flavor with nuances of black peppercorn and nutty undertones. In addition to the fruit of the Zucchini plant the flower blossoms of Zucchini are also edible and offer a mild, squash like flavor.
Seasons/Availability
Originally grown as a summer vegetable, Zucchini squash is suitable to forced cultivation in temperate climates and is available for harvest year-round.
Current Facts
Zucchini is a classic summer squash and botanically a member of Cucurbita pepo. Today it is easily the most popularly grown and consumed of all summer squashes. There are numerous Zucchini varieties on the market today with independent names and characteristics. Zucchini can also be harvested at varying stages of maturity, when petite and at its baby stage of growth or when slightly more mature and medium sized. Fully mature Zucchini that are large with hardened skin have not developed much of a place in the commercial marketplace as their flavor and texture at this stage are not preferable for culinary applications. In the culinary context, Zucchini is treated as a vegetable. Botanically, however, the Zucchini is identified as the swollen fruit that stems from the female Zucchini flower.
Nutritional Value
Zucchini squash are a low caloric food and are nearly 94% water. Additionally they offer some vitamin A, vitamin C, calcium and iron.
Applications
Zucchini squash are mild in flavor, extremely versatile and can be prepared in sweet or savory recipes. Grate Zucchini and add squash to muffin or bread batter, or use to make vegetable pancakes and fritters. Thinly sliced Zucchini works well in salads or as part of a fresh (raw) appetizer such as vegetarian carpaccio. When sliced thinly lengthwise Zucchini squash can be an excellent substitute for conventional noodles in pasta preparations. Sliced Zucchini squash can be grilled, steamed, sautéed or battered and fried. Larger more mature squashes are perfectly sized for hollowing and baking when stuffed with meats, cheeses and grains. The Zucchini blossoms additionally can be stuffed with soft cheeses and herbs then battered and fried. The flavor and texture of Zucchini will complement a variety of ingredients such as tomatoes, garlic, corn, eggplant, fresh herbs such as parsley, basil and oregano, olive oil, pine nuts, eggs, citrus juice, sausage, roasted chicken and cheeses such as ricotta, mozzarella and parmesan. Zucchini squash will keep best when kept dry and refrigerated, for one to two weeks.
Ethnic/Cultural Info
The Zucchini squash may owe its parentage to Italy but its commercial success was one achieved in the United States, specifically Southern California's Los Angeles where it was featured on the menu of the famous 1920's restaurant Café Marcell and also made several appearances in food features of the Los Angeles Times.
Geography/History
While many summer squashes can trace their origins back to the early Americas Zucchini squash is believed to be native to Milan, Italy. Renowned squash historian Harry S. Paris notes the squash is a Milanese variety listed in an Italian seed pamphlet from 1901 for a squash named zucca quarantine vera nana. Zucchini would make its way to the United States via Italian immigrants around the time of World War I. Mention of the Zucchini can be found in American seed catalogs such as Los Angeles Germain Seed and Plant Co. where it was first listed as "Italian squash" in 1918 then renamed in 1919 as Zucchini. The Zucchini caught on so quickly as a favorite squash of American growers and chefs that by 1920 the same catalog devoted a whole page to the now sought after Zucchini squash. Like many summer squash types when grown in mild to warm climates with ample sun exposure the Zucchini will be a highly prolific fruiter. So prolific in fact that August 8th is known as national sneak some zucchini onto your neighbor's porch day, a nod to the overabundance of Zucchini many growers experience in the summer months.
Featured Restaurants
Restaurants currently purchasing this product as an ingredient for their menu.
| | | |
| --- | --- | --- |
| The Mission NP | San Diego CA | 619-220-8992 |
| Villa Capri Poway | Poway CA | 858-391-9400 |
| The Glen at Scripps Ranch | San Diego CA | 858-444-8500 |
| The Go Go Truck | San Diego CA | 401-837-1740 |
| Piatti | San Diego CA | 858-454-1589 |
| Palmys | San Diego CA | 858-886-7111 |
| Sea 180 Coastal Tavern | Imperial Beach CA | 619-631-4949 |
| Mavericks Beach Club | San Diego CA | 858-999-0348 |
| Books and Records | San Diego CA | 619-310-5298 |
| Sheraton Carlsbad (20/20) | Carlsbad CA | 760-827-2400 |
| Carte Hotel | San Diego CA | 619-365-1858 |
| The Spot 2021 | La Jolla CA | 958-459-0800 |
| Pitchers | San Diego CA | 8584721251 |
| Saint Mark Golf and Resort, LLC | San Marcos CA | 508-320-6644 |
| Sisters Pizza | San Diego CA | 858-228-6822 |
| Catalina Resources | San Diego CA | 619-297-9797 |
| Manhattan of La Jolla | La Jolla CA | 858-459-0700 |
| Lodge at Torrey Pines Main | San Diego CA | 858-453-4420 |
| The Bier Garden | Encinitas CA | 760-632-2437 |
| Miguel's 4S Ranch | San Diego CA | 858-924-9200 |
the other 226...
Recipe Ideas
Recipes that include Green Zucchini Squash. One

is easiest, three is harder.
the other 157...
| | | |
| --- | --- | --- |
| The Real Food Dietitians | | Spicy Asian Zucchini Noodles |
| The Pretty Bee | | White Bean Zucchini Dip |
| Lemon Tree Dwelling | | Roasted Vegetable Enchiladas |
| The Food Charlatan | | Vegan Tofu Ricotta Lasagna |
| The Healthy Maven | | Spiralized Zucchini Mac And Cheese |
| Give Recipe | | Skinny Zucchini Casserole |
| Frugal Farm Wife | | Gluten-Free Zucchini Pancakes |
| Salt and Lavender | | 15 Minute Garlic Lime Cashew Zoodles |
| The Healthy Maven | | Zucchini and Ricotta White Pizza |
| Pumpkin & Peanut Butter | | Polenta Veggie Burgers with Pesto & Veggies |
| The Dinner Mom | | Parmesan Cheese Crisps Laced with Zucchini & Carrots |
| Cooking Classy | | Chicken Enchilada Zucchini Boats |
| The Gracious Pantry | | Clean Eating Brown Rice Parmesan |
| Paleo Running Mama | | Almond Butter Sesame Zucchini Noodles |
| Recipe Tin Eats | | Greek Zucchini Tots |
| Damn Delicious | | Baked Zucchini Fries |
| Foodie Crush | | Zucchini and Fresh Corn Farmers Market Salad with Lemon-Basil vinaigrette |
| Kitchen Konfidence | | Zucchini Pizza |
| Taste of Home | | Zucchini Peach Jelly |
| Salt and Lavender | | Grilled Chili Lime Shrimp Zoodles |
| Domestically Blissful | | Zucchini Soup |
| Healing Tomato | | Garden Veggies with Basil and Ginger |
| The Clever Carrot | | Provencal White Bean Salad |
| Little Bits Of | | Cold Pesto Zucchini Pasta Salad |
| How Sweet Eats | | Crispy Zucchini Tacos with Cherry Pepper Crema |
| Healthy Little Foodies | | Vegetable Savory Muffins |
| The Clever Carrot | | Crispy Zucchini and Potato Pancakes with Marbled Applesauce Yogurt |
| Everyday Dishes | | Parmesan Zucchini Bites |
| The Lean Green Bean | | Zucchini Carrot Apple Muffins |
| Half Baked Harvest | | Grilled Zucchini Gyros with Sundried Tomato Tzatziki Sauce |
| Nancy Creative | | Apple-Zucchini Bread |
| Eat Yourself Skinny | | Baked Chicken Parmesan with Zucchini Noodles |
| Lil' Luna | | Glazed Lemon Zucchini Bread |
| The Endless Meal | | Grilled Zucchini Salad with Corn, Chickpeas, Sprouts in a Creamy Sunflower Dressing |
| Life Made Sweeter | | Barbecue Chicken Foil Packets |
| Wall Flower Kitchen | | Ratatouille Spaghetti |
| Recipe Runner | | Grilled Zucchini, White Bean, Tomato & Tortellini Pasta Salad |
| Six Sisters Stuff | | Teriyaki Chicken and Zoodles |
| Delish Knowledge | | Gnocchi Pesto Soup |
| Frugal Farm Wife | | Tuna Balls With Garlic Zoodles |
| Taste and See | | Chocolate Chip Zucchini Skillet Cake |
| The Pretty Bee | | Honey Mustard Quinoa Chickpea Salad |
| Life Made Sweeter | | Paleo Pumpkin Zucchini Bars with Chocolate Chunks |
| The Detoxinista | | Raw Chocolate Cheesecake |
| Gather For Bread | | Cheesy Garlic Zucchini Bread |
| Jamie Cooks It Up | | Coconut Lime Zucchini Bread |
| Mel's Kitchen | | Piled High Zucchini and Cheese Topped Pizza |
| Almost Turkish | | Zucchini Fritters (Mücver) |
| Fooduzzi | | Cheesy Vegan Zucchini Roll Ups |
| The Foodie Physician | | Greek Zucchini Fritters |
| The Comfort of Cooking | | Zucchini Pizza Bites |
| Fashionable Foods | | Crispy Zucchini Tacos with Roasted Corn Pico |
| Super Healthy Kids | | Fruit & Veggie Sheet Pan Pancakes |
| Paleo Bailey | | Shrimp Stir Fry |
| Skinnytaste | | Three Cheese Zucchini Stuffed Lasagna Rolls |
| The Pretty Bee | | Vegan Chocolate Chip Zucchini Bread |
| Life Made Sweeter | | Zucchini Breakfast Cookies |
| Empowered Sustenance | | Savory Coconut Flour Zucchini Bread |
| Kitchen Nostalgia | | Zucchini Rice Soup |
| My New Roots | | Grilled Vegetable Ratatouille |
| Jen Reviews | | Baked Zucchini Stuffed with Chourico and Cream Cheese |
| No Recipes | | Savory Zucchini Bread |
| Shugary Sweets | | Zucchini Banana Bars |
| Mommy Potamus | | Zucchini Pizza Crust |
| Thirty Handmade Days | | Healthy Zucchini Lasagna |
| She Likes Food | | Zucchini Tater Tots |
| Domesticate Me | | Grilled Vegetable Quesadillas with Goat Cheese and Pesto |
| Life Made Simple | | Lightened Up Zucchini Bread |
| My Kitchen Escapades | | Carrot and Zucchini Bars with Lemon Cream Cheese Frosting |
| The First Mess | | Grilled Potato, Lemon + Zucchini Salad with Romesco |
| Cookie and Kate | | Sun Dried Tomato Pesto Pasta with Roasted Vegetables |
| Good Life Eats | | Zucchini Tomato Basil Salad with Lemon Basil Vinaigrette |
| Salt and Lavender | | 15 Minute Sweet Chili Shrimp Zoodles |
| Intimate Weddings | | Blueberry Zucchini Bread |
| Feel Good Foodie | | Zucchini Enchiladas |
| Cooking with Curls | | Fried Zucchini |
| Damn Delicious | | Zucchini Rice |
| Salt and Lavender | | Garlic, Shrimp Zoodles |
| The Seaside Baker | | Spiralized Zucchini Breakfast Bake |
| Living Sweet Moments | | Chocolate Cherry Zoats |
| An Italian in My Kitchen | | Baked and Breaded Zucchini Roll-Ups |
| The Healthy Maven | | Grain Free Chocolate Zucchini Muffins |
| Life Made Sweeter | | One Pot Teriyaki Chicken Zoodles |
| Gimme Some Oven | | Hummus Crusted Chicken |
| Joy.Food.Sunshine | | Zucchini Banana Oatmeal Pancakes |
| Hickery Holler Farm | | Pineapple Zucchini |
| Little Spice Jar | | Corn and Zucchini Saute |
| Salt and Lavender | | Rainbow Noodle Salad |
| B. Britnell | | Creamy Zucchini Soup |
| I Am A Honey Bee | | Lemony Raspberry Zucchini Bread with a Lemony Glaze |
| No Recipes | | Poached Tomato with Zucchini "Soba" |
| A Family Feast | | Zucchini Parmesan |
| Just a Taste | | Skinny Shrimp Scampi with Zucchini Noodles |
| Garlic & Zest | | Fresh Smoked Salmon Chevre Pizza |
| Eat Good 4 LIfe | | Chunky Zucchini Fries |
| Running In A Skirt | | Pistachio Pesto Zoodles |
| Buns In My Oven | | Cheesy Zucchini Rice |
| Eat Within Your Means | | Vegetable Bolognase |
| Moms Dish | | Cheesy Zucchini Breadsticks |
| The Clever Carrot | | Ultimate Zucchini Slice |
| Oat and Sesame | | Zucchini Naan Pizza with Basil and Bruschetta |
| Eat Yourself Skinny | | Zucchini Cupcakes with Green Yogurt Frosting |
| Homemade Food Junkie | | Zucchini Pineapple Bread |
| White on Rice Couple | | Healthy Zucchini Soft Taco Shells |
| Sugar Apron | | Iced Lemon Zucchini Cookies |
| A Family Feast | | Orange Zucchini Cookies |
| Delightful E Made | | Taco Stuffed Zucchini Boats |
| The Greedy Vegan | | Grilled Zucchini Ribbons with Sriracha Ribbons |
| Damn Delicious | | Cheesy Garlic Zucchini Rice |
| Mama Plus One | | Harvest Succotash |
| Mom On Time Out | | Lemon Zucchini Cake |
| Five Heart Home | | Baked Parmesan Zucchini Rounds |
| Ambitious Kitchen | | Homemade Arrabbiata Sauce with Zucchini |
| Jo Cooks | | Baked Parmesan Zucchini Sticks |
| Fooduzzi | | Honey Mustard Lentil Vegetable Salad |
| A Dash of Sanity | | Chocolate Pumpkin Zucchini Cake |
| Pickled Plum | | Vegetable Ricotta Pie |
| Domestically Blissful | | Oven Roasted Zucchini |
| Little Dairy on the Prairie | | Zucchini Breakfast Cookie |
| Confessions of a Tart | | Zucchini & Summer Squash Gratin |
| Nutritionist Reviews | | Parmesan Tomato Zucchini Bake |
| Cooking Classy | | Roasted Garlic-Parmesan Zucchini, Squash and Tomatoes |
| Gimme Some Oven | | Healthy Zucchini Muffins |
| Fashionable Foods | | Creamy Lemon Zoodles |
| Paleo Newbie | | Paleo Lasagna |
| Crazy for Crust | | Zucchini Brownies |
| Yellow Bliss Road | | Whole Wheat Zucchini, Carrot, Oatmeal Mufins |
| Damn Delicious | | Zucchini Parmesan Foil Packets |
| Wine and Glue | | Chocolate Zucchini Scones |
| House of Yumm | | Zucchini Crumb Muffins with Lemon Cream Cheese Glaze |
| Salt and Lavender | | 15 Minute Teriyaki Chicken Zoodles |
| The Diary of a Real Housewife | | Beef and Cheese Zucchini Boats |
| Evolving Table | | Cilantro Lime Chicken Stuffed Zucchini |
| Life Made Sweeter | | Italian Pasta Salad |
| Grow A Good Life | | Zucchini Garlic Bites |
| The View from Great Island | | Caramel Frosted Zucchini Pecan Bars |
| Wine and Glue | | Slow Cooker Vegetable and Meatball Soup |
| Our Salty Kitchen | | Chicken Zoodle Soup |
| The Foodie Physician | | Summer Zucchini and Corn Frittata |
| Running with Spoons | | Zucchini Oat Greek Yogurt Muffins |
| Kristine's Kitchen | | Baked Zucchini "Meatballs" |
| Proud Italian Cook | | Hasselback Zucchini |
| Life After Wheat | | Blender Zucchini Bread |
| Pinch of Yum | | Sweet Corn and Zucchini Pie |
| Paleo Gluten Free Eats | | Sesame Ginger Zucchini Noodles |
| 40 Aprons | | Whole30 Cup Zoodles |
| Everyday Made Fresh | | Cheesy Zucchini Rice |
| My Persian Kitchen | | Mini Zucchini Kuku With Mint & Feta Cheese |
| Diary of a Mad Hausfrau | | Plumcot, Goat Cheese, Zucchini, Rosemary, Flammkuchen |
| The Recipe Critic | | Crispy Parmesan Garlic Chicken with Zucchini |
| Life in the Lofthouse | | Zucchini Cookies with Chocolate Cream Cheese Frosting |
| Sprinkles and Sprouts | | Chargrilled Vegetable Lasagne |
| The Fit Fork | | Balsamic Grilled Vegetable Salad |
| My Kids Cool Mom | | Surprise Strawberry Jam |
| Betsy Life | | Zucchini Nachos |
| Rebooted Mom | | Zucchini Pickles |
| Sweet As Honey | | Crustless Zucchini Quiche with Pesto & Parmesan |