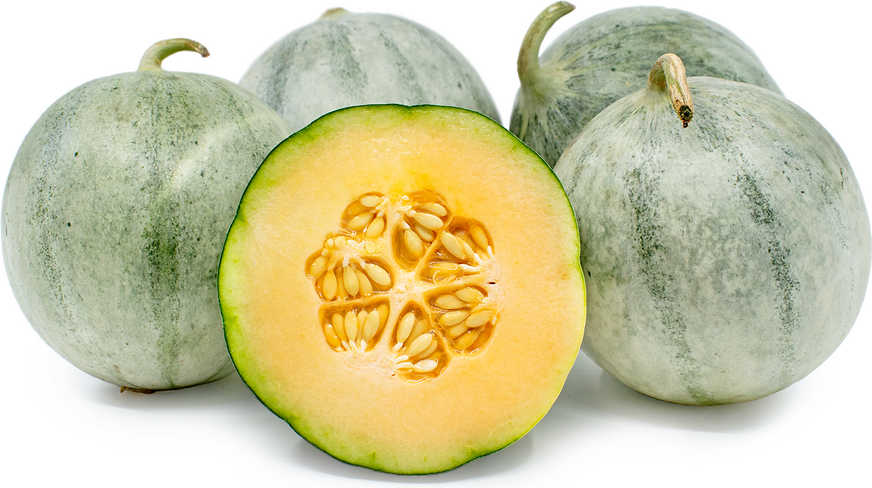 Charentais Melon
Inventory, 5 lbs : 0
Description/Taste
Charentais melons are a small varietal, averaging 7 to 10 centimeters in diameter and 2 to 3 pounds in weight, and have a round to oval shape. The melon's rind is thin, smooth, and hard, ranging in color from grey-green to pale green, showcasing mottled dark green striping that extends from the stem to the blossom end. As the melon matures, the coloring of the stripes will darken or stay the same, and the base grey-green coloring will sometimes develop a yellow hue. Some Charentais varieties will also exhibit lightly netted skin, depending on breeding habits and specific types. Underneath the surface, the pale orange flesh is dense, semi-aqueous, and succulent with a firm but tender consistency. The melon also encases a central cavity filled with oblong ivory seeds attached to small white fibers, suspended in a gelatinous liquid. Charentais melons are highly aromatic, emitting honeyed, fruity, and floral notes reminiscent of ambrosia. The melons should feel heavy for their size, and French folklore states that the best melons bear ten stripes each. Charentais melon's flesh contains a high sugar content mixed with mild acidity, creating a very sweet flavor followed by a pleasant, soft floral aftertaste.
Seasons/Availability
Charentais melons are available in the summer through early fall in the Northern Hemisphere. The melons are also produced on a smaller scale in the Southern Hemisphere, providing year-round availability in select commercial markets.
Current Facts
Charentais melons, botanically classified as Cucumis melo var. cantalupensis, are a French heirloom variety belonging to the Cucurbitaceae family. The small, firm-fleshed melons are an ancient cultivar historically beloved by popes, authors, and royalty. Charentais melons were also a favorite summer fruit of farmers and country residents, planted in fields in Southern France and harvested approximately 75 to 90 days after sowing. Over time, the melons spread in popularity worldwide, and there are several types of Charentais melons generally labeled in markets. Charentais melons are sometimes known as French cantaloupes and Cavaillon melons, and the aromatic fruits are valued by melon enthusiasts worldwide for their honeyed, floral, and fruity flavor. Charentais melons are a specialty variety that is only produced in small quantities due to their delicate nature. The melons are generally too sensitive to survive long-distance commercial shipping and are instead sold through fresh markets near the growing region. In the modern-day, Charentais melons are cultivated for fresh consumption and are also used by breeders to create new hybrid melon varieties with improved flavor, texture, and appearance.
Nutritional Value
Charentais melons are a good source of fiber to regulate the digestive tract and vitamin C to strengthen the immune system while reducing inflammation. The melons also provide vitamin A to maintain healthy organ functioning, B vitamins to convert food into energy, potassium to balance fluid levels within the body, and lower amounts of zinc, calcium, magnesium, copper, and iron.
Applications
Charentais melons have a sweet, delicate flavor and semi-firm flesh well suited for fresh preparations. The flesh can be removed from the rind and consumed straight, out of hand, sliced into salads, mixed into fruit bowls, stirred into parfaits, cereal, or oatmeal, or used as a fresh topping over crepes, waffles, and pancakes. Charentais melons can also be wrapped in cured meats as a fresh appetizer, served with salty cheeses on charcuterie boards, halved, hollowed, and topped with grains, cottage cheese, or ice cream, or blended into smoothies, cocktails, and fruit punches as a refreshing beverage. In France, Charentais melons are sometimes sliced or scooped into bite-sized pieces and served with a shot of sweet wine such as muscat de Beaumes de Venise or port as an afternoon beverage or evening dessert. Charentais melons can also be used to flavor granita, sorbet, or ice cream, and the melon's light flavoring complements both savory and sweet dishes, lending itself to roasted meats and grain bowls. Charentais melons pair well with cheeses such as feta and goat, nuts including almonds, pistachios, walnuts, and hazelnuts, herbs such as mint, basil, and rosemary, citrus, chocolate, and vanilla. Whole, unwashed Charentais melons should be stored at room temperature, away from direct sunlight, until ripe. Once the melons are fragrant and mature, they become highly perishable and keep 2 to 4 days when stored in the refrigerator.
Ethnic/Cultural Info
In Southeastern France, Charentais melons are annually celebrated at the world-famous Feria du Melon a Cavaillon, or the Melon Fair of Cavaillon. The small town is known as the melon's native growing region, and each summer in July, Charentais melons are harvested from the fields and placed in large piles around town in preparation for the celebration. Cavaillon is also home to the Confrerie des Chevaliers de l'Ordre du Melon de Cavaillon, a unique brotherhood established in 1988 that is dedicated to protecting the quality of the Charentais melon. During the festival, the brotherhood inspects the melons for their sugar content, flavor, appearance, and density to maintain the melon's esteemed reputation. As Charentais melons are piled in the streets, their robust aroma wafts through the town, evoking memories of summers steeped in a rich heritage. The melons are so highly regarded in Cavaillon that they even have a nine-ton sculpture of the melon at the entrance of the town. Visitors stroll through the streets of Cavaillon during the festival, stopping at local vendor stands that sell fresh melons and a variety of main dishes, snacks, desserts, and drinks infused with Charentais melons. There is also melon-themed art, live cooking demonstrations, music, a parade, and farm tours just outside of town. On the final day of the celebration, one hundred Camargue horses are traditionally run through the town's streets. Camargue horses are an ancient breed native to the Camargue Province of Southern France, nearby Cavaillon.
Geography/History
Charentais melons are native to Southeastern France, specifically the fields around the town of Cavaillon. The exact date of origin of the melons is unknown, as experts believe there could be two possible theories of introduction. The first theory notes that melon seeds were brought from Avignon to Cavaillon sometime during the 14th century. Avignon was home to the official residence of the popes, known melon purveyors, and within the town, the popes influenced the agricultural trends of the community. The second origin story points to the late 15th century, when Charles VIII brought melon seeds back from Cantelupo, Italy, and planted them near Cavaillon. Charentais melons were bred from selective cultivation of cantaloupe varieties. The melons remained localized to their native growing region until the mid-20th century, but with the establishment of railways to Paris, Charentais melons became famous throughout France for their sweet flavor. Today Charentais melons are still grown in France and are also produced in other regions of Europe, North Africa, the United States, and Mexico. The melons are traditionally sold through local markets, specialty distributors, and select grocers.
Recipe Ideas
Recipes that include Charentais Melon. One

is easiest, three is harder.