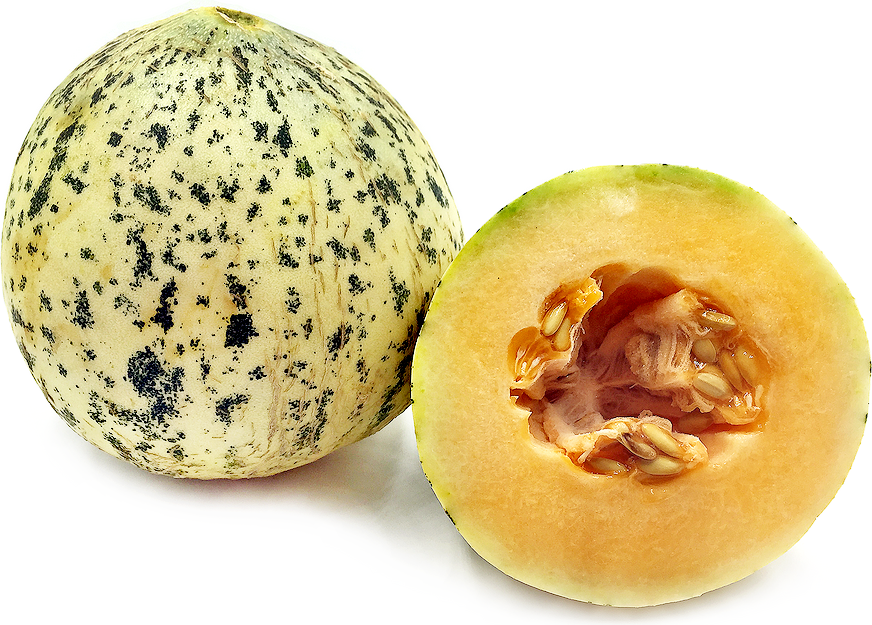 Crane Melons
Inventory, lb : 0
Description/Taste

Crane melons are a small to medium-sized varietal, averaging 4 to 7 pounds, and have a round to oval shape with slight tapering on one end, giving the melons a subtly pointed appearance. The rind is semi-thin, taut, and hard, covered in patches of textured, raised tan netting. The rind also showcases a light to pale green base enveloped in small dark green spots and speckling. As the melon ripens, the rind will develop yellow and orange hues. Underneath the surface, the orange flesh is dense, aqueous, firm, and succulent. The melons also encase a hollow central cavity filled with flat, tear-drop-shaped seeds suspended between fibers in a gelatinous coating. Crane melons are aromatic when ripe and have a sweet, floral, and fruity flavor with rose, honey, and orange blossom nuances.


Seasons/Availability

Crane melons are available for a short season in the late summer through fall. The season varies each year, depending on climatic conditions and rainfall.


Current Facts

Crane melons, botanically classified as Cucumis melo, are a specialty variety belonging to the Cucurbitaceae family. The melons were bred in Santa Rosa, California, in the early 20th century by the Crane family, and since its creation, the melons have been developed and selectively chosen over time for improved flavor. Crane melons are typically harvested around 85 days after sowing, and the melons are only available in limited quantities in its growing region in Northern California. Crane melons are vine-ripened and are only picked at peak maturity, and once ripe, the melons are delicate and are prone to breaking open if transported long distances. As a result, Crane melons have become localized melons valued for their rarity and flavor. According to the Crane family, Crane melons have a distinct taste due to their terroir, a term often used in winemaking to describe the climate, growing techniques, and soil quality. Crane melons are cultivated in adobe soil and are dry-farmed, meaning the vines are not irrigated during the growing season. The melon seedlings are watered when they are first planted, but as the vines mature to produce fruit, the vines are dependent on the heavy, moisture-filled adobe soil. The melons are also cultivated in an environment that bears hot, sunny days and cold nights, a combination that contributes to the variety's sweet, honeyed taste. Currently, Crane melons are still being grown by the Crane family in Santa Rosa, California, and consumers favor the melons as a fresh-eating cultivar.


Nutritional Value

Crane melons have not been studied for their nutritional properties. Like other melons, including the Crenshaw melon, which is in its parentage, the variety may be a source of fiber to regulate the digestive tract, potassium to balance fluid levels within the body, and vitamin C to strengthen the immune system. The melons also provide some beta-carotene which is converted into vitamin A in the body to maintain healthy organ functioning, calcium to build strong bones and teeth, and other nutrients, including iron, vitamin B6, and folate.


Applications

Crane melons have a sweet, honeyed, fruity, and floral flavor suited for fresh preparations. The melons are traditionally consumed straight out of hand, and the flesh can be sliced into pieces, scooped with a spoon, or cut into wedges as a snack. Crane melons can also be wrapped in cured meats and served as a sweet and savory appetizer. The melon's juicy flesh adds a refreshing touch to parfaits, smoothie bowls, and fruit medleys, and provides a sweet flavor to juices, shakes, and ice drinks. Try blending and freezing Crane melons into sorbet, popsicles, or ice cream. The melons can also be served on cheese plates, tossed into salads, or used as a topping over desserts. In addition to fresh preparations, the melons can occasionally be used to flavor fillings for cakes and other baked goods, added to puddings, or simmered into jellies and jams. Crane melons pair well with herbs such as mint, cilantro, and basil, fruits including citrus, berries, and grapes, vanilla, maple syrup, and brown sugar. Whole, unwashed Crane melons have a short shelf life and should be immediately consumed for the best quality and flavor. Once sliced, the melon pieces should be stored for a few days in the refrigerator.


Ethnic/Cultural Info

Crane melons are famously sold through a barn on the Crane family property in Santa Rosa, California. The barn is nicknamed the "Melon Barn," and Crane melons have been sold at this site for six generations. The Melon Barn was constructed in 1868 along Petaluma Hilla Road and was built from redwood, a wood known for its sturdiness and natural resistance to decay. Historically, the barn has served many purposes, from being home to livestock, storing hay, to transforming into a site for fresh produce sales, specifically Crane melons. The barn has also become a Sonoma County landmark, as it has withstood several earthquakes, inclement weather, and decay. Beyond the barn's fame, Crane melons have equally garnered a reputation for being one of the only melons to be listed on Slow Food's Ark of Taste, a list of foods that are deemed worthy of protection and recognition to prevent them from disappearing.


Geography/History

Crane melons were developed in Santa Rosa in the early 20th century by grower Oliver Crane. The Crane family initially resided in Missouri when news broke of gold being discovered in California. Richard Crane, Oliver Crane's father, moved the family to Northern California in 1849 and was a grocer near the gold-filled Sierra Foothills. After a few years, the Crane family eventually moved to Santa Rosa in the 1850s and began farming. Richard Crane's son, Oliver Crane, planted a Japanese melon on their land as it was rumored to thrive in clay soils and in an environment similar to the one they had in Santa Rosa. Oliver later crossed the variety with other cultivars to develop thicker skin on the melons, and these melons were known among local Santa Rosa farmers as Japanese melons in the early 20th century. Oliver Crane sold the melons beginning in the 1920s from the barn on his property, but when World War II began in 1939, the melon's name was changed to Crane melons for increased consumer appeal. Over time, the Crane family continued cultivating and selling Crane melons from their barn. Over six generations have cared for and seasonally retailed the variety, and the melons are only offered directly to consumers due to their short shelf life and harvest at peak ripeness. Today Crane melons are still sold through the Crane family's barn in Santa Rosa. There are also a few other growers that cultivate Crane melons on a small scale in Northern California.