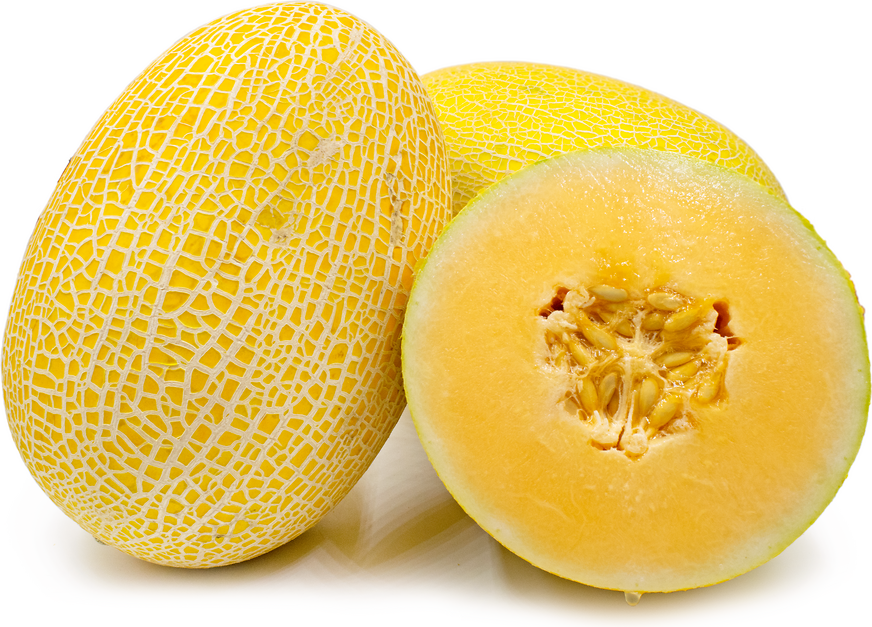 Honey Kiss Melon
Inventory, ea : 0
Description/Taste
Honey Kiss melons are medium to large in size, averaging 15 to 30 centimeters in length and 12 to 16 centimeters in diameter, and have an elongated, oval shape with a broad curved middle tapering to somewhat pointed ends. The melon's rind is semi-thick, hard, and dense, showcasing golden yellow hues when ripe. The rind is also enveloped in a raised, cream-colored to tan netting, giving the surface a textured, rough feel. It is important to note that Honey Kiss melons may exhibit small brown spots on the surface. These spots are created from a high sugar content and are a marking of sweet flesh, not decay. Many melon enthusiasts look for these spots to select a sweet melon. Underneath the surface, the pale orange flesh is firm, aqueous, and textured with a crisp and succulent consistency. The flesh also encases a central cavity filled with stringy orange fibers suspending tear-drop-shaped seeds covered in a gelatinous coating. Honey Kiss melons should feel heavy for their size and will emit a honeyed aroma when mature. The flesh ranges between 12 to 16 Brix, a unit of measurement for sugar, contributing a sweet, light, and honeyed taste with refreshing nuances.
Seasons/Availability
Honey Kiss melons are available in the late spring through fall.
Current Facts
Honey Kiss melons, botanically known as Cucumis melo, are a specialty melon belonging to the Cucurbitaceae family. The variety is a type of hybrid Hami melon and was selected for commercial cultivation as a part of a proprietary line of melons known as "Kiss melons" grown in Arizona and California. Honey Kiss melons are one of the first varieties to be released each season in the "Kiss line" and are known for their flavor. The melons are only grown for a limited season to ensure each melon is examined and harvested at peak ripeness. The melons are also not genetically modified and are hand-harvested from fields. Honey Kiss melons earned their sweet moniker from their high sugar content, and the flesh is also described as crisp, firm, and refreshing, a trait that is slowly being valued among melon enthusiasts in the Western world. Historically, firm-fleshed melons have been popular in Asia, but Western markets were once only accustomed to eating soft-fleshed melons. There was initially some confusion over crisp melons, as Western consumers thought the melons were picked before they were mature, but the market has expanded and is broadening to a global audience as more consumers are becoming aware of different varieties of melons with soft and firm flesh. In the present day, Honey Kiss melons are cultivated as a premium farm-to-table variety and are sought after by melon enthusiasts for their mild, sweet flavor. Honey Kiss melons are popularly consumed fresh and are a seasonal summertime delicacy.
Nutritional Value
Honey Kiss melons are a source of vitamin C to strengthen the immune system while reducing inflammation, vitamin A to maintain healthy organ functioning, and calcium to build strong bones and teeth. The melons also provide fiber to regulate the digestive tract, potassium to balance fluid levels within the body, copper to develop red blood cells, and other nutrients, including vitamin K, magnesium, B vitamins, and folate.
Applications
Honey Kiss melons have a sweet, refreshing nature suited for fresh preparations. The melons should be washed with soap and water before cutting open to remove any harmful bacteria on the surface, and once opened, the flesh can be sliced or scooped with a spoon. Honey Kiss melons are traditionally consumed raw as a sweet snack, or they can be added to green salads, fruit medleys, or cheese plates. Try wrapping prosciutto around the crisp melon flesh for a crunchy, sweet, and savory bite. The melons can also be used as a fresh topping in parfaits and ice cream or sprinkled with brown sugar, honey, chili powder, or lime juice for added flavoring. Honey Kiss melons have a firmer texture, allowing them to be chopped into salsas or used as a crisp addition to appetizers. The melons can also be blended into smoothies, used as an edible garnish in sangria, or added to cocktails. Honey Kiss melons pair well with fruits such as strawberries, blueberries, stone fruit, and citrus, ginger, herbs including tarragon, mint, and cilantro, vanilla, ginger, fennel, and olives. Honey Kiss melons will keep for 2 to 4 days at room temperature to ripen. Once mature, the variety should be immediately consumed for the best quality and flavor. Sliced melons will keep 2 to 4 days when stored in a sealed container in the refrigerator.
Ethnic/Cultural Info
Honey Kiss melons are part of a line of commercially grown "Kiss melons." There are several cultivars within the line, including Honey Kiss, Sugar Kiss, Snow Kiss, Golden Kiss, French Kiss, Kiss Limon, and Summer Kiss. Diana and Milas Russell sought to develop and distribute melons focusing on flavor and quality rather than quantity. Diana Russell oversees quality control for the melons and works with employees in the fields to ensure the melons are being harvested at peak ripeness. The Russells have decided to forgo growing the melons in other regions worldwide for year-round availability and only cultivate the melons where they can personally participate in the fruit's production. Milas Russell descended from a lineage of growers and grew up on a cotton farm in the Imperial Valley, Southern California. Russell lived next door to a neighbor who was in the cantaloupe business. Inspired by his experiences from his youth, Milas, with the help and knowledge of his wife Diana, became a melon grower. The Russells created the "Kiss melon" branding campaign, using slogans such as "There's a kiss for every desire," and began introducing other unique varieties into the line, sourcing the melons from breeders worldwide. Honey Kiss and Sugar Kiss melons were developed from Hami melons, a famous type of melon native to China.
Geography/History
Honey Kiss melons were released through Savor Fresh Farms, formerly known as Sandstone Melons, a family-owned and operated company based in Yuma, Arizona. Milas and Diana Russell spent years traveling the world searching for flavorful melon varieties as they understood consumers were tired of flavorless melons. Commercial melons were declining in the late 20th century due to a decline in flavor, and Milas Russell knew that he had to differentiate himself from other larger growers to survive. The Russells first discovered a melon in Chile that launched their "Kiss melon line" in 2006. They named the melon French Kiss, a cultivar derived from varieties found in the Charentais region in France. After the success of their first melon, the Russells later developed other melons within the "Kiss line." Honey Kiss is a descendant of Hami melons from China. Hami melons are native to the Hami Prefecture in Xinjiang, China, and were once known as the "King of Melons," a favorite variety of the Emperor. Honey Kiss melons are a hybrid Hami melon and were selected for their crisp flesh and sweet, honeyed taste. Honey Kiss melons are grown in Arizona and Central and Southern California. Today the Russell's son, Milas Russell III, has joined the family business and is currently president of their newly rebranded company Savor Fresh Farms, once known as Sandstone Melons. The company's name change was enacted to ignite a movement within melon cultivation to focus on flavor and memorable melon-eating experiences. Kiss melons are one of the family's most successful melon lines, and the varieties sold under the Kiss branding each have a different flavor to suit various consumer preferences. Honey Kiss melons are grown in the United States and are sold through select grocers, local farmers' markets, and health food stores.
Recipe Ideas
Recipes that include Honey Kiss Melon. One

is easiest, three is harder.