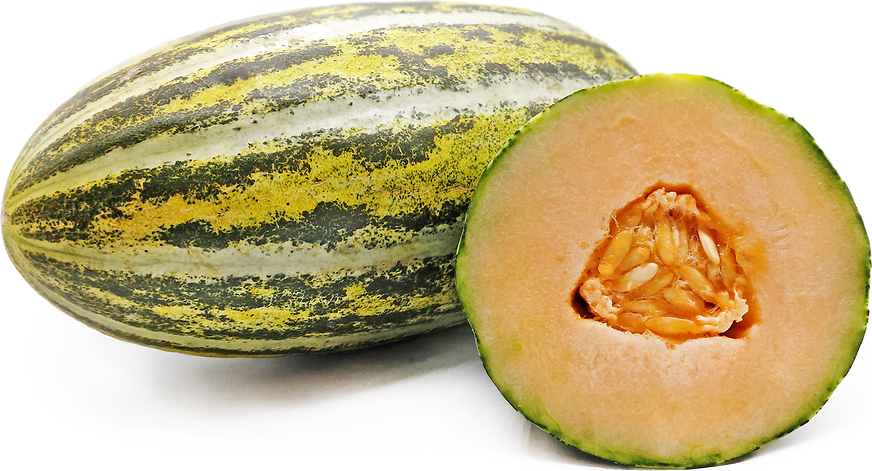 Kizil Kovun Melon
Inventory, 1 EA : 0
Description/Taste

Kizil Kovun melons are a medium to large varietal, averaging 3 to 4 kilograms in weight, and are oval to oblong in shape with tapered, somewhat pointed ends. The elongated melons have a hard and semi-tough rind with a smooth to textured surface, depending on cultivation methods. The rind showcases a mottled yellow and dark green base with pale green, longitudinal striping. Growers often refer to the melon's rind as having a tiger-striped appearance. Underneath the surface, the bright orange flesh is dense, aqueous, and firm with a crisp, crunchy consistency. The flesh also encases a narrow, central cavity filled with large, oval seeds suspended in a mixture of gelatinous liquid and stringy, pale orange fibers. Kizil Kovun melons release a distinct aroma when sliced, said to have a scent reminiscent of pineapples, pears, vanilla, and strawberries. The crisp flesh has a mild, sweet taste with delicate, fruity undertones.


Seasons/Availability

Kizil Kovun melons are available in the summer.


Current Facts

Kizil Kovun melons, botanically a part of the Cucumis genus, are a mid-season variety belonging to the Cucurbitaceae family. The melons are native to Uzbekistan and were selected for commercial production for their crunchy flesh, sweet taste, and distinct aroma. Kizil Kovun melons are also known as Krasnomyaska melons, and these names roughly mean "red meat" or "red flesh" melons. This moniker was given in honor of the melon's brightly colored flesh, and the variety is typically harvested 80 to 90 days after sowing. Kizil Kovun melons are a popular cultivar in Uzbekistan and are traditionally consumed fresh, out of hand. Outside of Uzbekistan, Kizil Kovun melons are exported to Russia and other regions of Central Asia, but they are still considered relatively rare.


Nutritional Value

Kizil Kovun melons are a source of vitamin C to strengthen the immune system while reducing inflammation, fiber to regulate the digestive tract, and folate to improve skin and hair. The melons also provide potassium to balance fluid levels within the body, iron to develop the protein hemoglobin for oxygen transport through the bloodstream, and vitamin A to maintain healthy organ functioning. In Uzbekistan, melons are considered a mild laxative and can help cleanse the body of unwanted toxins and harmful build-up. It is customary to serve slices of melons at the end of meals to help digest denser foods.


Applications

Kizil Kovun melons have a sweet taste suited for fresh preparations. The melons have a crunchy texture that can be enjoyed straight out of hand, or the flesh can be cut into pieces and added to fruit bowls, green salads, and cheese plates. Kizil Kovun melons can also be blended into fruit juices, sparkling beverages, and cocktails or pureed and frozen into popsicles and other frozen treats. When purchasing the variety, it is important to sample the melon as they may have varying degrees of sweetness, depending on cultivation methods. Some Kizil Kovun melons will be sweeter than others, but they will all have a firm, crunchy texture. Kizil Kovun melons can also be used to flavor fillings for cakes and pastries or incorporated into puddings, crisps, and other desserts. In Uzbekistan, melons are popularly dried into chewy strips and are consumed whole as a snack, chopped into oatmeal and granola, baked into cakes, or added to ice cream. Dried melon strips are also braided into pieces and filled with nuts, dried fruits, and spices as a breakfast dish or accompaniment to tea. Kizil Kovun melons pair well with chocolate, vanilla, cinnamon, cloves, mint, basil, and other fruits such as berries, citrus, and watermelon. Whole, unopened Kizil Kovun melons will keep for several weeks to a month when stored in a cool location. Once sliced, pieces of the melon should be stored in a sealed container in the refrigerator and consumed within 1 to 3 days. Kizil Kovun melons can also be sliced and frozen for three months.


Ethnic/Cultural Info

Uzbekistan is home to over 160 varieties of melons, and the practice of melon cultivation dates back thousands of years. Growing melons is traditionally a solitary career, only working with close friends and families on plots known as dehkan farms. Despite this professional independence, Uzbek farmers gather together each harvest season to attend a celebration known as kovun soili, roughly translating to "soil of the melon." Farmers are the foundation, or soil, of melon production, and during the gathering, growers from across the region share their knowledge, insight, and expertise. This collaboration allows farmers to find new varieties, learn new farming methods, and reignite their passion for melon production. Kovun soili also features traditional dancing, live music, and games, and it is customary for each grower to present their largest melon of the season to place in an artfully arranged display. Many slices of melon are served to attending family and friends, and the festivities usually take place in the summer or early fall. At the end of the celebration, the elders bless the farmers for a bountiful and lasting harvest, and the growers return to their land to continue their melon production.


Geography/History

Kizil Kovun melons are native to Uzbekistan. Much of the variety's history is unknown, but some experts believe the melon was selected for commercial growth due to its unusual aroma, flavor, and texture. The distinct characteristics of the melon are attributed to the climatic conditions of Uzbekistan, a hot, sunny climate with cool winters to create melons with high sugar content and juicy flesh. Uzbek melon varieties are mainly grown in Samarkand, Tashkent, Khorezm, the Southern Zones, Bukhara, and Fergana. Today Kizil Kovun melons are primarily sold domestically through local markets, and roadside stands in Uzbekistan. The melons are sometimes exported to markets in Kazakhstan, Russia, and other areas of Central Asia and Eastern Europe.