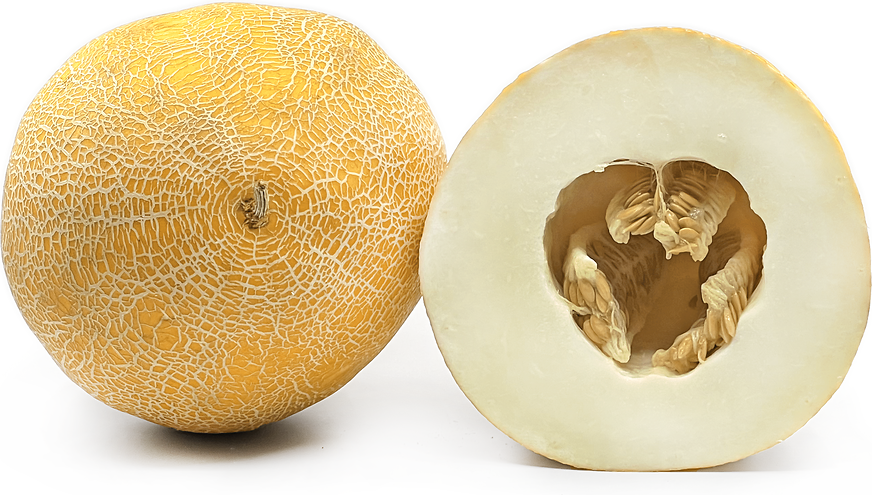 Titovka Melon
Inventory, ea : 0
Description/Taste

Titovka melons are medium to large in size, averaging 2 to 3.5 kilograms in weight, and have a round, oval, to oblong shape with curved, blunt ends. The melon's skin is thin, taut, and firm, ripening from green to golden yellow-orange. The surface is also enveloped in a raised, gray-to-tan netting, giving the skin a textured, rough feel. Underneath the surface, the white to ivory flesh is thick, dense, fibreless, and aqueous with a tender, succulent, and smooth consistency. The flesh also encases a large hollow cavity filled with light brown to beige tear-drop-shaped seeds suspended between stringy cream-colored fibers. Since Titovka melons are an early-ripening variety, the melon's flesh typically ripens before the seeds, leading to the seeds being slightly underdeveloped, thin, and tightly packed. Ripe Titovka melons emit a rich, fragrant, honeyed aroma, and the flesh has a mild, refreshing, and sugary-sweet taste.


Seasons/Availability

Titovka melons are harvested in the summer, with a peak season in July through August. The melons may also be sold in fresh markets into the early fall due to their extended storage capabilities.


Current Facts

Titovka melons, botanically classified as Cucumis melo, are sweet, juicy fruits belonging to the Cucurbitaceae family. The fragrant melons grow on climbing, spreading vines and are an ultra-early variety, ripening 55 to 70 days after sowing. Titovka melons are among the first varieties to appear in markets during the season, and consumers favor the cultivar for its thick, soft flesh, high juice content, and sweet, honeyed taste. Growers favor Titovka melons for their productive nature, uniform ripening, resistance to diseases and pests, and ability to grow more than one melon on each vine. The variety also has extended storage capabilities, allowing it to be shipped longer distances for export. Titovka melons are cultivated in open fields and greenhouses for commercial sale and grown in home gardens. The melons are primarily consumed fresh and are savored as a refreshing reprieve from sweltering summer days.


Nutritional Value

Titovka melons are a source of vitamin C to boost the immune system, vitamin E to protect the cells against the damage caused by free radicals, and potassium to balance fluid levels within the body. The melons also provide vitamin A to maintain healthy organ functioning, calcium to build strong bones and teeth, copper to develop connective tissues, and other nutrients, including phosphorus, iron, magnesium, B vitamins, and manganese. Melons are consumed in Central Asia to naturally cleanse the digestive tract. They are also believed to help combat heat exhaustion and provide hydration and nutrients.


Applications

Titovka melons have a sweet, sugary taste suited for fresh preparations. The melons are traditionally sliced and consumed straight out of hand as a refreshing snack, or they are served as a healthy dessert. Among melon growers in Uzbekistan, Titovka melons are a popular accompaniment to flatbread as a simple summer meal. Workers consume the melons to wash the flatbread down and boost hydration before returning to the warm, sunny fields. Titovka melons can also be served on appetizer platters, sliced for fruit medleys, or tossed into salads. The melons have a mild and sweet nature complementing savory and sweet recipes. In Central Asia, Titovka melons are traditionally served as a light side dish to heavier meat-centric meals. The melons can also be simmered into jams, syrups, and sauces or incorporated as flavoring for various desserts. Try serving Titovka melons as an edible garnish over breakfast dishes, raw plates, pastries, and ice cream. Titovka melons pair well with herbs such as mint, basil, cilantro, and parsley. Whole, unopened melons will keep for a few weeks to months when stored in a cool and dry place such as the refrigerator.


Ethnic/Cultural Info

In Uzbekistan, melons are annually celebrated at Qovun Sayli, or the Melon Festival in the city of Khiva in the Khorazm region of Uzbekistan. Khorazm is known for its melon production, and the festival was established to unite melon growers of Uzbekistan, celebrate important crops, and increase tourism to the region. During the festival, over forty types of melons are typically showcased to highlight the region's diversity, and on average, over 1,000 tons of melons are carried in for the celebration. The festival generally lasts for 1 to 2 days, and various melon varieties, including Titovka melons, are stacked in large piles. One of the most popular attractions during the festival is the sweetest melon contest. This competition is centered around the individual who can slice and dry melons into small pieces with the best flavor. Samples of the dried melons are tasted, and one winner is chosen based on the sweetness of the dried melon slice. The Khiva melon festival also allows growers to network, share fresh samples of their melon varieties, and sell whole melons to the public. The festival is a celebration of melons and is a summer tradition valued for its refreshing, cooling nature.


Geography/History

Titovka melons are native to Central Asia and Eastern Europe. There is some debate on the variety's exact origins. Some experts point to Uzbekistan, while others trace the variety to the Dnipropetrovsk Research Station at the Institute of Vegetable Growing of the Ukrainian Academy of Agrarian Sciences. Despite their murky origins, Titovka melons are present throughout Central Asia, mainly in Uzbekistan, and are exported to neighboring countries, including Kazakhstan. The variety is also widely found throughout Ukraine, Moldova, and Russia. Titovka melons were submitted as an official variety of the Ukrainian State Register of Plant Varieties in 1995 and were accepted as a recognized cultivar in 2000. Today Titovka melons are commercially produced for domestic sale and export and are also an in-demand variety for home gardening. The melon's coloring and taste will vary, depending on the country and climate it is grown in, and the melons are generally stacked into large piles and sold alongside roadways, in fresh markets, and in public plazas. The Titovka melons featured in the photograph above were sourced through a central food market in Almaty, Kazakhstan. The variety had been imported from Uzbekistan.