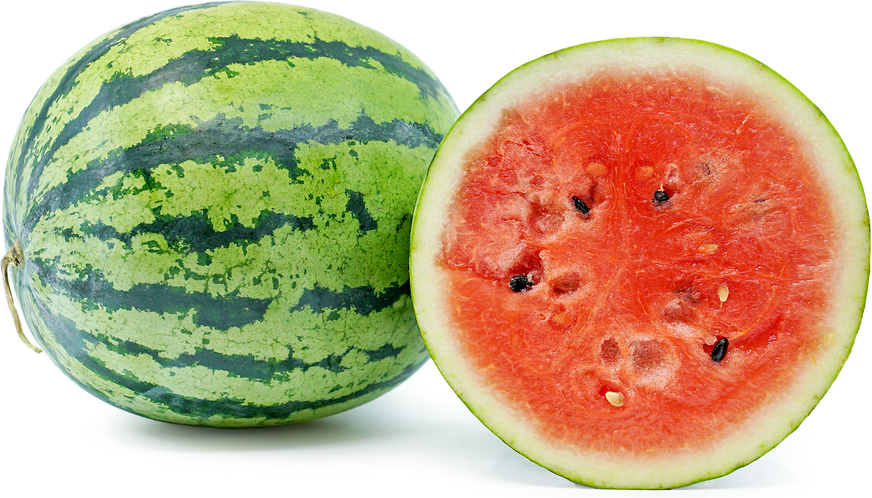 Watermelon
Inventory, lb : 0
Description/Taste
Watermelons vary in size, appearance, and flavor, depending on the specific variety, and generally have a small to large, oblong, oval, to round shape. The rind is thick, smooth, hard, and waxy, showcasing solid light to dark green hues or a base green coloring with darker green, broken, and mottled stripes. Underneath the surface, the flesh has a soft, granular, crisp, and aqueous consistency, encasing dark brown-black or white oval seeds. The flesh also ranges in color from pink, red, white, green, orange, to yellow. Watermelons are typically sweet with moderate sugar content, averaging from 9 to 12 Brix, a unit of measurement for sugar, contributing to the flesh's mild, sweet, and subtly fruity, earthy flavor. Ripe Watermelons should feel firm and heavy for their size and display a yellow spot on the rind where they sat in the field. While not always a reliable indicator, some consumers select Watermelons based on the sound they make when tapped. Ripe Watermelons are rumored to have a dull, hollow, and muffled sound.
Seasons/Availability
Watermelons are grown in the Southern and Northern Hemispheres, providing year-round availability, with a peak season in the summer.
Current Facts
Watermelons, botanically classified as Citrullus lanatus, are flowering and fruiting plants belonging to the Cucurbitaceae family. There are over 1200 varieties of Watermelon grown worldwide, divided into several general categories, including seeded, seedless, mini, and uniquely colored types such as orange and yellow. Watermelons have been extensively cultivated since ancient times, and despite "melon" being in its name, Watermelons are botanically a type of large berry also known as a pepo or false berry. The fruits grow on sprawling vines and generally ripen in 85 to 100 days, some varieties taking longer at 130 days, and the entire Watermelon is edible, including the rind, flesh, and seeds. In the modern-day, Watermelons are commercially cultivated and grown in home gardens. There are many different commercial cultivars sold through seed retailers, and each variety ranges in size, appearance, and flavor, with Crimson Sweet being one of the most popular. Watermelons are primarily consumed fresh, but the fruits are also utilized by chefs in a wide variety of savory and sweet, raw, and cooked preparations.
Nutritional Value
Watermelons are a source of potassium to balance fluid levels within the body, vitamin A to maintain healthy organ functioning, vitamin C to strengthen the immune system, and fiber to regulate the digestive tract. The fruits also contain vitamins B6, B1, and lycopene, a nutrient that naturally gives the flesh its red or pink hue. Lycopene provides antioxidants that protect the cells against free radical damage. Beyond vitamins and minerals, Watermelons are over 90% water and are consumed as a supplementary source of hydration on warm days. The seeds are also edible and contribute beneficial nutrients, including magnesium, zinc, iron, and healthy fats.
Applications
Watermelons have a sweet, juicy nature well suited for fresh and lightly cooked preparations. The entire fruit is edible, including the rind, flesh, and seeds, and the flesh can be cubed, balled, sliced into wedges, blended, or pureed. Watermelon flesh can be consumed fresh, out of hand, sprinkled with salt to enhance the flavor, displayed on appetizer plates, sliced into wedges and topped with other fruits and cheeses, or tossed into green salads and fruit bowls. The flesh can also be combined with herbs as a side dish to roasted meats, blended into smoothies and juices, or chopped and topped over toast as a variation of bruschetta. Watermelons can be pureed and frozen into popsicles, granitas, and sorbet, tossed into herbal pasta or blended into Italian ice. In addition to fresh preparations, Watermelons can be lightly grilled, marinated as a poke substitute, or smoked and prepared as a ham replacement. The rinds are also popularly pickled in China, the United States, and Russia, containing a flavor similar to cucumber. In China, the rinds are stir-fried and stewed as a vegetable, and the seeds are roasted as a snack food. Watermelon rinds can also be carved into edible bowls as a unique serving piece. Watermelons pair well with fruits such as pomegranate, kiwi, strawberry, and grapes, jicama, arugula, cucumber, herbs including mint, basil, and cilantro, and cheeses such as mozzarella, feta, and goat. Watermelons last approximately 3 to 4 weeks after harvest. It is important to keep Watermelons cold if they are chilled when purchased. If the fruits are bought at room temperature, they can be left on the counter. Once sliced, Watermelon pieces should be stored in the refrigerator in a sealed container, where they will keep for 2 to 3 days. Watermelons can also be frozen for extended storage, used in smoothies, or as ice cubes in beverages such as lemonade and tea.
Ethnic/Cultural Info
In Japan, Watermelons are famously grown into unique shapes as a novelty. The first curated Watermelon was developed in 1978 and was created by Tomoyuki Ono, a graphic designer and horticulturalist in Tokyo. Ono showcased square Watermelons at a gallery in Ginza and said his inspiration for the shape was to create a Watermelon that would not roll around in the fridge and was easier to cut. The practical Watermelons attracted international attention for their stacking ability, making them easier to ship, and Japanese consumers appreciated the square shape to fit into compact refrigerators. Uniquely shaped Watermelons are grown by placing a tempered glass form around the developing fruit, allowing the Watermelons to eventually develop into the shape of the mold. In the modern-day, breeders have created heart-shaped, pyramid-shaped to Watermelons that look like faces. These unique fruits are much more expensive than conventional Watermelons, ranging from $80 to $1000, and most of the crafted Watermelons are harvested before they are fully ripe. Unusually shaped Watermelons are primarily given as gifts to friends, family, and business partners and are used as centerpieces and for decorative purposes. Crafted-shaped Watermelons are also exported to other countries, including China, Hong Kong, and Russia, where the fruits are sold at even higher prices for their novelty. In addition to commercial companies, there are now do-it-yourself websites that educate home gardeners on how to grow square Watermelons, and gardeners worldwide are attempting to create their own masterpiece.
Geography/History
Watermelons are descendants of wild varieties native to the deserts and savannahs of Southern Africa, specifically the Kalahari, and have been growing wild since ancient times. The wild types had a less sweet, bitter flavor and were utilized as one of the few water sources, allowing indigenous peoples to travel long distances under the hot desert sun. Watermelons were spread in the Early Ages to North Africa, where they have been depicted in drawings in Egyptian tombs, dating back over 5,000 years. Experts also believe that Watermelons were placed in tombs of pharaohs as a source of nutrients for the deceased kings in the afterlife. The Ancient Egyptians were the first civilization to cultivate Watermelons for a sweeter flavor, and over time, the Watermelons were transported along trade routes into the Mediterranean. Watermelons were introduced to India in the 7th century and eventually arrived in China sometime during the 10th century. By the 17th century, Watermelons were common home garden crops in Europe, and explorers used the water-dense fruits as canteens on expeditions. Colonists and the slave trade brought Watermelons to the New World, where they were planted in the Southern United States and in Thomas Jefferson's Monticello Garden. Today Watermelons are grown worldwide in over 96 countries, with China being the top producer. The United States is the 7th highest producer, and most of the Watermelons are cultivated in California, Florida, Texas, and Georgia. Oklahoma also declared Watermelons to be their official state vegetable in 2007. Watermelons can readily be found in local markets, grocers, and distributors worldwide.
Recipe Ideas
Recipes that include Watermelon. One

is easiest, three is harder.