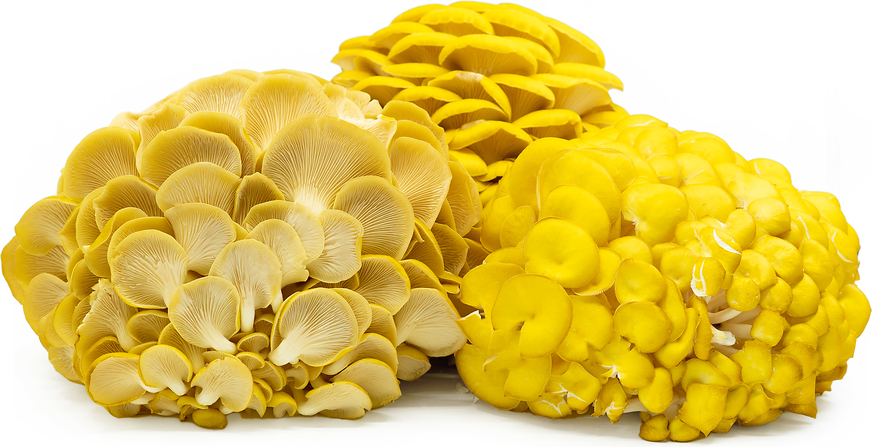 Golden Oyster Mushrooms
Inventory, lb : 2.17
This item was last sold on : 12/07/23
Description/Taste
Yellow oyster mushrooms grow in small to medium-sized clumps, sometimes referred to as bouquets, and are comprised of many layers of tightly packed mushrooms growing from a single base attached to a tree. The overlapping caps average 2 to 6 centimeters in diameter and change in appearance, depending on age. Young Yellow oyster mushrooms have a flat, plump, smooth, and taut cap with a small indentation in the center and curled edges. As the mushrooms age, they begin to uncurl and open, developing a funnel-like shape around the indentation. The caps have a curved, semi-circular nature with a velvety, dry, delicate, easily bruised surface. The caps also showcase a pale to saturated, golden-yellow hue, varying with temperature. Underneath the caps, cylindrical white stems range from 2 to 5 centimeters in length and are curved to bent due to their overlapping positioning in the mushroom bouquet. There are also white to ivory gills that extend slightly down the stem, and these gills are widely spaced and have a white spore print. Raw Yellow oyster mushrooms easily break apart due to their fragile nature, and the caps have a spongy texture and a bitter, unpalatable flavor. The mushrooms also have a light and fresh scent that some consumers say smells like watermelon. When cooked, Yellow oyster mushrooms develop a fleshy, tender, and pleasantly chewy consistency, release a fruity aroma reminiscent of aged red wine, and have a mild, nutty, and sweet taste with cashew-like nuances to citrus or cinnamon-like undertones, depending on the mushroom's growing environment.
Seasons/Availability
Wild Yellow oyster mushrooms are available in the spring through fall. Commercially cultivated Yellow oyster mushrooms are available year-round.
Current Facts
Yellow oyster mushrooms, botanically classified as Pleurotus citrinopileatus, are a rare species belonging to the Pleurotaceae family. The brightly colored mushrooms are native to Asia, where they were once considered a wild, elusive species harvested for culinary use. Yellow oyster mushrooms are also known as Golden oyster mushrooms, Lemon mushrooms, Il'mak in Russian, and Tamgitake, Tamogitake, Tamogi, and Koganeshimeji in Japanese. In the 20th century, the species was successfully cultivated and released as a commercial and home-grown cultivar on substrates such as sawdust or straw. Since their commercial introduction, Yellow oyster mushrooms have spread in cultivation to North America and are prized as a culinary and medicinal species. The mushrooms are easy-to-grow and produce dense, tightly layered bouquets, but the species generally produces smaller caps than other oyster species. The mushrooms also have a short shelf life and are fragile when raw, reserving the species as a premium mushroom only sold through select fresh markets, farmer's markets, and distributors. Yellow oyster mushrooms should be harvested in clusters or all at once to reduce handling, and the caps can be utilized in an array of culinary dishes.
Nutritional Value
Yellow oyster mushrooms contain copper to develop connective tissues, potassium to balance fluid levels within the body, and fiber to regulate the digestive tract. The mushrooms also contain B vitamins to help extract energy from carbohydrates, zinc to protect the immune system, iron to produce the protein hemoglobin for oxygen transport through the bloodstream, and other nutrients, including amino acids, folate, and carotenoids.
Applications
Yellow oyster mushrooms are preferred for cooked preparations as they develop a tender, chewy nature. When raw, the mushrooms have a bitter, unpleasant taste, but when cooked, the bitterness subsides and transitions into a mild, subtly nutty, and earthy flavor. Yellow oyster mushrooms should be gently cleaned with a brush or damp towel, and the stems may be quite bitter to some individuals, in which case they should be removed and discarded. Once prepped, Yellow oyster mushrooms are popularly added to stir-fries, sauteed with butter until crisp, or simmered into sauces. It is important to note that their yellow coloring generally disappears, depending on the preparation and cooking time, but when fried into tempura, the golden yellow hue is maintained. The mushrooms can also be cooked and served with braised meats, mixed into rice and noodle dishes, incorporated into frittatas, served on toast, or added as a pizza topping. In Japan, Yellow oyster mushrooms are traditionally added to dashi and soup stocks to build layers of umami to the liquid. Yellow oyster mushrooms also become crisp and can be crumbled over dishes as a substitute for bacon. Yellow oyster mushrooms pair well with meats such as poultry, steak, and pork, seafood, herbs including cilantro, thyme, parsley, rosemary, and tarragon, aromatics such as garlic, onion, and leeks, asparagus, bok choy, potatoes, citrus, and coconut milk. Whole, unwashed Yellow oyster mushrooms have a short shelf life and should be used immediately for the best quality and flavor. The mushrooms cannot withstand excessive handling and will only keep for a few days when stored in the refrigerator between paper towels in a paper bag.
Ethnic/Cultural Info
Yellow oyster mushrooms are nicknamed the Dashi mushroom as they are known for adding an umami flavor to broths and stocks. Umami is regarded as a distinct taste and is one of the five basic tastes, sometimes labeled as savory. The word umami is derived from the Japanese word "umai," meaning "delicious," and "mi," meaning "taste," and the term was developed in 1908 by Japanese scientist Kikunae Ikeda. The taste of umami in mushrooms is said to be naturally created from glutamic acid, and guanylic acid and inosinic acid are also said to add savory nuances to dishes. Despite their valued reputation as a broth enhancer in Asia, Yellow oyster mushrooms are debated among mycologists in North America on whether they are a harmful invasive species in midwestern and northeastern forests of the United States. The species was introduced to the United States in 2000, and by 2014, it was found naturalized in various hardwood forests. Foragers have noted that the species is becoming increasingly more prevalent on beech, oak, cherry, ash, and elm trees, and there is concern that the species may be out-competing other native fungi species. Additional research over time is needed to further examine this question, but overall, Yellow oyster mushrooms are classified as an invasive species since they are not native to North America, but the mushrooms have not been labeled as a harmful species.
Geography/History
Yellow oyster mushrooms are native to Japan, eastern Russia, and northern China and have been growing wild since ancient times. Historically, the species was nicknamed Phantom mushroom as it was challenging to find, harvest, and store. In its native regions, Yellow oyster mushrooms thrive in hardwood forests and are commonly found on the fallen wood, stumps, or trunks of beech, oak, elm, maple, and ash trees. The species never grows on the ground and resides in subtropical to warm, temperate climates. For centuries, Yellow oyster mushrooms were only consumed in their native habitats, but in the 20th century, the species was heavily promoted for its nutritional value. This increase in recognition led mushroom producers to attempt to cultivate the variety, and by the 1970s and 1980s, a few companies had successfully grown Yellow oyster mushrooms in controlled environments. Yellow oyster mushrooms widely spread in popularity across Japan after commercial production began, and the species became a favored culinary and medicinal ingredient. In 2000, Yellow oyster mushrooms were introduced to North America as an easy-to-grow species for home cultivation. Specialty growers and mushroom enthusiasts readily accepted the new species in the United States and began cultivating bouquets for sale at farmer's markets. It was also noticed that sometime around 2012 to 2014, Yellow oyster mushrooms had escaped controlled cultivation and naturalized in forests of the midwestern United States. Today Yellow oyster mushrooms grow wild in China, Russia, and Japan and have naturalized throughout the Midwest and Northeastern United States. In Japan, Yellow oyster mushrooms are commercially cultivated primarily in Hokkaido and Tohoku Prefectures and are grown on a smaller scale in Nagano, Fukuoka, and Niigata Prefectures.
Featured Restaurants
Restaurants currently purchasing this product as an ingredient for their menu.
Recipe Ideas
Recipes that include Golden Oyster Mushrooms. One

is easiest, three is harder.
Podcast