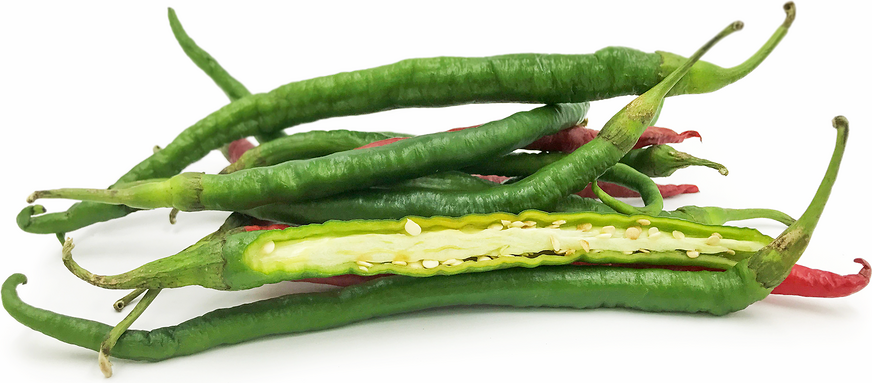 Sichuan Peppers
Inventory, lb : 0
Description/Taste
Sichuan chile peppers are elongated, slender pods, averaging 12 to 15 centimeters in length, and have a narrow, cylindrical shape with a slight curve towards the non-stem end. The skin is wrinkled, shiny, and firm, ripening from green to bright red when mature and is connected to a cap-like, fibrous green stem. Underneath the surface, the flesh is crisp and pale green or red, depending on maturity, encasing a central cavity filled with membranes and small, round, and flat, cream-colored seeds. Sichuan chile peppers are highly fragrant with a grassy, earthy, and slightly fruity flavor followed by a moderate to hot level of spice.
Seasons/Availability
Sichuan chile peppers are available in the summer through fall.
Current Facts
Sichuan chile peppers, botanically classified as Capsicum annuum, are hot Chinese peppers that belong to the Solanaceae or nightshade family. There are five hot pepper varieties that are predominately utilized in the cuisine of Sichuan, which is a region in China, with the leading and most popular pepper being known by many names, including Er Jing Tiao, Tien Tsin pepper, Chinese Red pepper, or the Hunan pepper. Sichuan chile peppers are spicy peppers, averaging 50,000-75,000 SHU on the Scoville scale, and can sometimes feel hotter if they are used whole in culinary dishes with their seeds and membranes intact. Many Sichuan dishes also include multiple peppers with the Sichuan peppercorn, which adds to the cuisine's fiery nature. Sichuan chile peppers are used fresh and dried in both their young, green stage and fully mature, red stage, and are used as flavoring and heat in Sichuan-style stir-fries, soups, sauces, pastes, and chile oil.
Nutritional Value
Sichuan chile peppers are an excellent source of vitamins A and C, which are antioxidants that can help rebuild collagen within the body, protect the immune system, and improve vision. The peppers also contain vitamins B6 and K, folate, potassium, fiber, amino acids, manganese, and capsaicin, which is a chemical compound that triggers the brain to feel the sensation of heat or spice. Capsaicin provides anti-bacterial and anti-inflammatory properties.
Applications
Sichuan chile peppers can be consumed raw, sprinkled with salt or soy sauce, and eaten as a snack, but they are more popularly utilized in cooked applications such as frying, boiling, sautéing, and stir-frying. Fresh Sichuan peppers can be used to make chile pastes, oils, or sauces and are added to cooked meats, vegetables, rice, and noodle dishes. Known as doubanjiang, which is a broad bean paste made from fresh Sichuan chile peppers fermented with dried fava beans, wheat, soy flours, and rice, this paste is one of the integral flavorings in Sichuan cuisine. The chile bean paste can be used fresh or aged and is the primary seasoning in the Sichuan dishes mapo doufu, which is spiced tofu served with white rice and twice-cooked pork. The peppers can also be used whole, fresh or dried, in soups, hot pot, stir-fries, and the well-known dish gong bao ji ding, also known as kung pao chicken. In addition to chile pastes, when dried, Sichuan chile peppers can be ground into flakes or powders and used in marinades and spice rubs. When pickled, Sichuan chile peppers will develop a sour-spicy flavor that is often paired with fish or seafood. Sichuan chile peppers pair well with meats such as pork, beef, poultry, and duck, seafood, tofu, shallots, garlic, ginger, carrots, mushrooms, sprouts, green beans, and cabbage. The fresh peppers will keep up to one week when stored whole and unwashed in a paper bag in the crisper drawer of the refrigerator.
Ethnic/Cultural Info
Sichuan, or Szechuan, cuisine is well known around the world for its spicy flavors, but the food of the Sichuan region was not always spicy. Located in southwestern China, the Sichuan region has historically been a fertile agricultural center of China, and the Sichuan people have always favored strong, aromatic flavors. As political unrest and rebellions took over the region in the 17th century, causing population decline and higher rates of immigration flooding into Sichuan, the spicy pepper was also making its journey to the region through trade routes from the east and west. The pepper was met with favor in the transitioning Sichuan as many locals attributed the spicy flavor to the newfound personality of the region- hot-tempered, fiery, and strong. The peppers were also easy-to-grow in the Sichuan climate, providing an inexpensive ingredient to add flavor with beneficial nutritional properties into the diets of the working class. As the Sichuan region grew into its new identity of soldiers, farmers, and immigrants, the hot peppers were quickly embedded into the culture, and many new varieties of spicy peppers were created to provide aromatic flavors and heat to signature dishes. In the modern-day, Sichuan cuisine is enjoyed around the world and is widely used as a warming food in traditional Chinese medicine. The spice provides heat to the body and is believed to help counteract humidity, cold, and dampness.
Geography/History
Sichuan chile peppers are named for the southwestern Chinese province of Sichuan, which is the main growing region for the peppers. Original hot pepper varieties arrived in the region via trade routes sometime between the 17th and 18th centuries, and once established, these peppers were highly cultivated and selectively bred to create the Sichuan varieties that are used in cooking today. In Sichuan, the capital, Chengdu, is well-known for its chile production and mouth-numbing cuisine, and many of the peppers are also grown in the Guizhou Province as the agricultural lands are believed to be less polluted. Today Sichuan chile peppers are sold fresh in China and are also dried or processed into a powder for export all over the world. Though Sichuan chile peppers are rarely found fresh outside of their native region, there are a few specialty farms in British Columbia and in Seattle, Washington, in the United States that cultivate and sell the peppers.
Recipe Ideas
Recipes that include Sichuan Peppers. One

is easiest, three is harder.