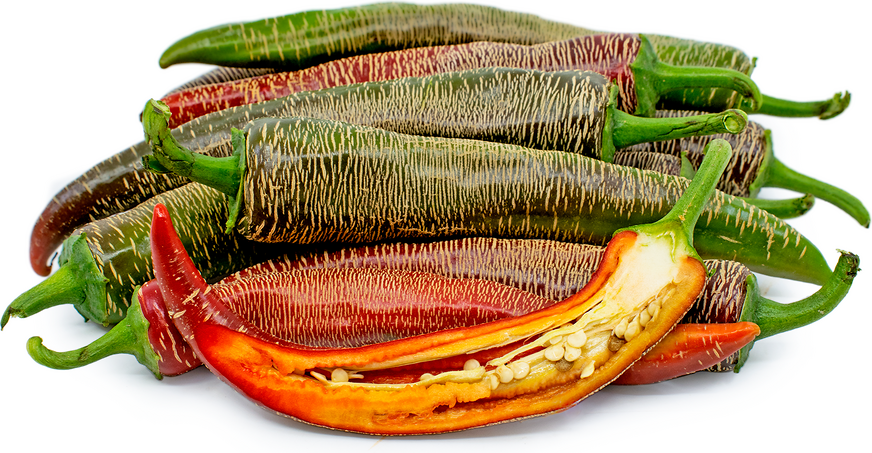 Vezena Piperka Chile Peppers
Inventory, lb : 0
Description/Taste

Vezena Piperka chile peppers are elongated, straight to curved pods, averaging 15 to 30 centimeters in length, and have a cylindrical shape tapering to a point on the non-stem end. The pod is covered in rough and leathery, horizontal tan lines known as corking, and may also display a few creases and indentations along the surface. The skin is thin and slightly chewy, ripening from green to dark red when mature. Underneath the surface, the flesh is thin, crisp, aqueous, and pale green to red depending on maturity, encasing a central cavity filled with membranes and a few round and flat, cream-colored seeds. Vezena Piperka chile peppers are aromatic and have a sweet, earthy, and nutty flavor mixed with a mild to moderate heat.


Seasons/Availability

Vezena Piperka chile peppers are available year-round in their native markets in Eastern Europe, with a peak season in the summer through early fall.


Current Facts

Vezena Piperka chile peppers, botanically classified as Capsicum annuum, are a rare heirloom variety native to Eastern Europe that belongs to the Solanaceae or nightshade family. Also known as the Rezha Macedonian pepper, Vezeni Piperki, and the Embroidered pepper, the name Vezena Piperka translates to mean "engraved" or "embroidered," which is a descriptor used to identify the pepper's unique corked skin. Vezena Piperka chile peppers vary considerably in heat from mild to moderately spicy, averaging 1,200-5,000 SHU on the Scoville scale, with some peppers displaying heat similar to jalapenos. Vezena Piperka chile peppers have been cultivated for over one hundred years in Macedonia and are favored as an ornamental and culinary variety. Though the peppers are valued for their striated skin, due to the corking's leathery texture, Vezena Piperka chile peppers are primarily cooked rather than used fresh and are also dried and ground for use in spices such as paprika.


Nutritional Value

Vezena Piperka chile peppers are a good source of vitamins A and C, which are antioxidants that can help rebuild collagen, boost the immune system, and protect against vision loss. The peppers also contain some vitamins B6 and K, potassium, manganese, iron, magnesium, copper, and fiber, which can help regulate the digestive tract.


Applications

Vezena Piperka chile peppers are best suited for cooked applications such as grilling and roasting, as the tough texture of the corked skin is considered unpleasant when raw and will soften with heat. The peppers can be roasted to develop a smoky flavor and chopped into salsas, salads, blended into sauces, or cooked into marmalades and spreads. They can also be sautéed into omelets, roasted with vegetables as a savory side dish, tossed into soups, goulash, and stews, or served with grilled meats. In addition to cooked preparations, Vezena Piperka chile peppers are pickled for extended use as a condiment or are dried and ground into a powder as a seasoning. Vezena Piperka chile peppers pair well with potatoes, rice, meats such as poultry, beef, pork, and fish, sour cream, yogurt, legumes, cabbage, leeks, carrots, eggplant, tomatoes, okra, and spinach. The fresh peppers will keep up to one week when stored whole and unwashed in a paper or plastic bag in the crisper drawer of the refrigerator. Vezena Piperka chile peppers have extremely thin skin and will dehydrate quickly if left in a dry, warm environment.


Ethnic/Cultural Info

In Macedonia, Vezena Piperka chile peppers are deeply embedded into the culture as the peppers have been grown for hundreds of years and are seen as a specialty commodity. Vezena Piperka chile peppers are highly favored for their striated skin, and Macedonian farmers seek and collect the seeds for the fruits with the most corking to continue cultivating the unusual trait. Corking is a visually appealing feature of this pepper that distinguishes it from other varieties and is a sought-after characteristic. In the late summer and fall, Macedonians often hang the elongated peppers in bunches to naturally dry in the sun. The bunches are displayed as an edible decoration, providing rich colors and textures to the home, and when needed, the dried pods are ground into spices and powders for culinary applications. It is also common to see the peppers growing in home gardens in Macedonia for use in everyday cooking and seasonings.


Geography/History

Vezena Piperka chile peppers are native to Eastern Europe, specifically to Macedonia. The exact origins are unknown, but these peppers are believed to have been cultivated for hundreds of years and are also found in local markets in Albania, Yugoslavia, and other select areas in the Balkan region. Outside of Eastern Europe, Vezena Piperka peppers can be found through online seed catalogs for home garden use and specialty growers at local markets in other regions of Europe and the United States.