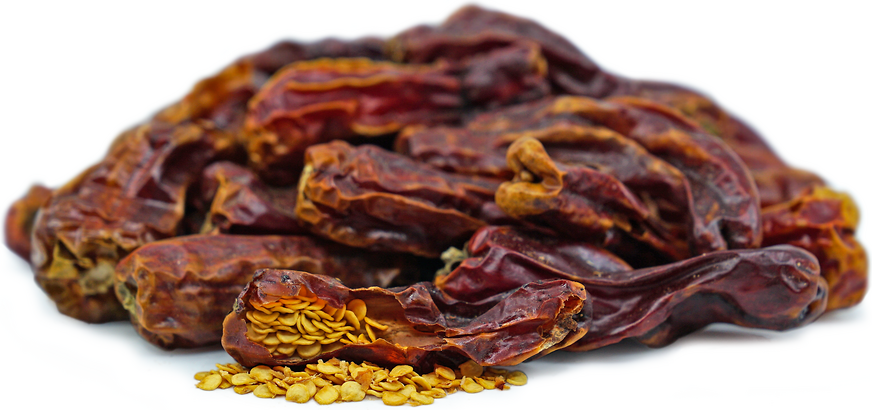 Dried Shishito Chile Pepper
Inventory, lb : 0
Description/Taste

Dried Shishito peppers are slender, wrinkled, slightly curved pods and have a cylindrical shape with an inward folded tip on the non-stem end. The skin is compacted, bearing variegated hues of dark red and orange, and is covered in deep folds and creases. Underneath the delicate skin, the flesh is thin, brittle, and pale red, encasing a central cavity filled with small, round, shriveled, and flat, yellow seeds. Dried Shishito peppers have a sweet, piquant, and peppery flavor. The peppers also contain a mild heat, with the occasional pod having hotter attributes, and when cooked, they develop savory, smoky nuances.


Seasons/Availability

Dried Shishito peppers are available year-round.


Current Facts

Dried Shishito peppers, botanically classified as Capsicum annuum, are dehydrated versions of a relatively mild, Japanese pepper belonging to the Solanaceae or nightshade family. The dark red pods are left on the plant to develop in flavor, color, and spice, and once mature, the peppers are harvested and dried for extended use. Shishito peppers are classified as a sweet variety, averaging 100-1,000 SHU on the Scoville scale, but that does not guarantee that all Shishito peppers will be mild. Approximately one in ten peppers will contain a spicy kick, and there is no definitive way to distinguish the spicy pods from mild ones except for tasting the pepper. Shishito peppers are primarily consumed fresh and are challenging to find dried in commercial markets. The dried peppers are mainly sold online or through specialty vendors at farmer's markets. In recent years, the peppers have also become a common variety grown in home gardens, and the peppers are dried for year-round use.


Nutritional Value

Fresh Shishito peppers are an excellent source of fiber, which can help stimulate digestion, and are a good source of vitamins A and C, antioxidants that can reduce inflammation, boost the immune system, and increase collagen production within the skin. The peppers also contain potassium, folate, copper, and vitamin B6. When the peppers are dried, some of these nutrients are reduced, but the peppers will mostly retain their original nutritional content.


Applications

Dried Shishito peppers can be utilized whole, ground, or infused into a wide variety of culinary applications. When dried and ground into a powder, the peppers add a subtly sweet, earthy taste, and the powder can be used as a dry rub over roasted meats, sprinkled onto cooked vegetables, stirred into sauces and soups, or combined with other spices to make a seasoning blend. Dried Shishito peppers can also be soaked and infused into oils to add depth of flavor. Beyond using the peppers as a powder, Dried Shishito peppers can be reconstituted and incorporated into chilis, stews, and rice-based dishes. To rehydrate, the dried peppers should be soaked in warm water and deseeded after they grow in size. The ends of the stems may also need to be sliced to remove tough pieces. Some chefs also lightly roast the peppers to deepen their smoky flavor before utilizing them in culinary dishes. Reconstituted Shishito peppers can be blended into hot sauces, chile pastes, ketchup, salsas, and broths. Dried Shishito peppers pair well with cheeses such as goat, parmesan, and jack, balsamic vinegar, sesame oil, miso, mushrooms, daikon radish, carrots, bell peppers, and meats such as sausage, turkey, poultry, beef, and fish. Dried Shishito peppers will keep up to one year when stored in an airtight container in a cool, dry, and dark location, but it is recommended to use the peppers within 3 to 6 months for the best quality and flavor.


Ethnic/Cultural Info

Fusion cooking has been globally practiced for centuries, but in the United States, chefs intentionally combining ingredients and flavors from multiple cuisines became widely popular in the late 1980s. During this time, Shishito peppers expanded beyond Japanese bar food, served as bite-sized tapas, blended into savory gumbos, and roasted as a light appetizer. The peppers continued to increase in popularity, and in 2020, home chefs began developing fusion dishes at home utilizing ingredients grown in home gardens. Shishito peppers are frequently used in combination with Mexican cuisine, creating fajitas with Asian flavors, and they are also roasted and coated in huancaina sauce, a Peruvian spicy cheese sauce traditionally used for potatoes. While Shishito peppers are typically consumed fresh, home gardeners do dry extra peppers from their garden harvest for extended use. Dried Shishito peppers can be used year-round, and chefs can reconstitute the peppers for use in salsas, sauces, and stews.


Geography/History

Shishito peppers are native to Japan and have been cultivated since the 16th century. The variety is believed to have been developed from padron peppers, which were first introduced to Japan through Portuguese explorers in the 16th century. Once introduced, padron peppers became widely cultivated across Japan, and over time, they were selectively bred for specific flavor characteristics, developing Shishito peppers. Drying Shishito peppers has been practiced since the pepper's creation, but among pepper enthusiasts, the variety is more popularly consumed fresh. Today Dried Shishito peppers are sold through online retailers and are dried in home kitchens in Japan, Europe, and the United States. The dried peppers are also found through select growers at farmer's markets and specialty grocers.