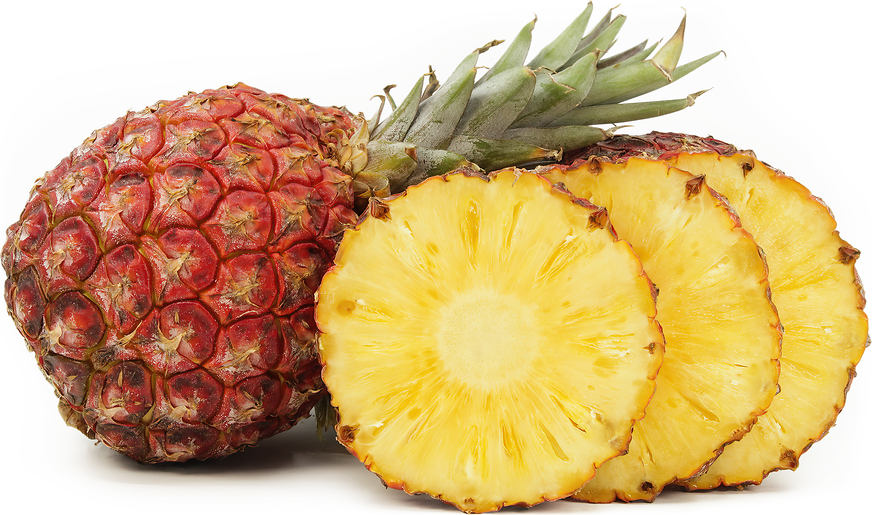 Manzana Pineapples
Inventory, lb : 0
Description/Taste

Manzana pineapples are a smaller variety, averaging 13 to 15 centimeters in diameter, and have an oblong to cylindrical shape with a pointed crown of thornless leaves. The rind is firm, waxy, thin, and semi-smooth, comprised of spineless, hexagonal sections with shallow eyes. When ripe, the rind of the fruit develops a signature, deep red hue. Underneath the surface, the pulp or flesh ranges in color from golden yellow to pale pink and is aqueous and soft, encasing a central fibrous core. Manzana pineapples are aromatic and have a mild, tropical, and subtly sweet flavor with low acidity.


Seasons/Availability

Manzana pineapples are available year-round in warm, tropical climates.


Current Facts

Manzana pineapples, botanically classified as Ananas comosus, are a Colombian commercial variety belonging to the Bromeliaceae family. Pineapple cultivation is practiced year-round in Colombia, providing a steady source of income for rural, agricultural communities. The fruits are also sprayed with a legal hormone known as etrel to encourage the plants to bloom, creating a controlled and timely harvest. There are approximately sixteen varieties of pineapple cultivated in Colombia, and Manzana pineapples are one of the top three cultivars grown for consumer markets. Manzana pineapples are a mutation of the perolera variety, and the name Manzana translates to mean "apple," a descriptor chosen for the fruit's red-hued skin. Despite their popularity as a commercial variety, Manzana pineapples can be easily damaged and cannot be shipped long distances due to their delicate nature.


Nutritional Value

Manzana pineapples are an excellent source of vitamin C, an antioxidant that can help strengthen the immune system and reduce inflammation within the body and are a good source of fiber to stimulate the digestive tract. The fruits also contain manganese, copper, vitamin B6, and potassium, and provide some iron, phosphorus, and magnesium.


Applications

Manzana pineapples are best suited for raw applications as their sweet, juicy flesh is showcased when consumed fresh, out-of-hand. The flesh can be carefully cut from the skin and sliced into chunks for use in fruit salads, salsas, and dips. Manzana pineapples can also be blended into smoothies, juiced, or stirred into cocktails and fruit juices. In addition to fresh preparations, the pineapples can be lightly grilled and served with roasted meats, used as a topping over ice cream, baked into muffins and pies, cooked into curries, or stir-fried with rice and vegetables. It can also be simmered into jams, sauces, and preserves. Manzana pineapples pair well with other fruits such as bananas, mangoes, strawberries, oranges, and coconut, cinnamon, caramel, herbs such as rosemary and basil, meats such as pork, poultry, beef, and duck, seafood, tofu, tomatoes, bell peppers, and zucchini. It is important to note that Manzana pineapples are a delicate variety and can easily be damaged. Whole pineapples can be stored for 4 to 5 days in the refrigerator or 2 to 3 days at room temperature. When sliced, the pieces should be stored in a sealed container for up to three days in the refrigerator.


Ethnic/Cultural Info

In Colombia, pineapple festivals are held in cities throughout the year to celebrate the economically significant fruit. The largest festival is held in Barbosa, Colombia, and was first established in 1961. Barbosa is a town in the department of Santander, the Manzana pineapple's native region, and the week-long festival celebrates the sixteen varieties of pineapple cultivated in Colombia. During the celebration, city-wide events include large concerts, parades, games and competitions, and dancing. Many local vendors also sell traditional foods, drinks, and home goods, often featuring pineapple as a signature flavor.


Geography/History

Manzana pineapples were discovered as a spontaneous mutation of perolera pineapples as early as 1957. The red pineapple was first found growing naturally in a field on a farm in the region of Santander, Colombia. Since its discovery, Manzana pineapples have been cultivated commercially and distributed throughout the country as a new variety. Today Manzana pineapples continue to grow in warm, tropical regions of Colombia, especially in the departments of Risaralda, Valle del Cauca, Caldas, and Santander. They are also grown in Venezuela, Hawaii, and along the Ivory Coast of Africa.