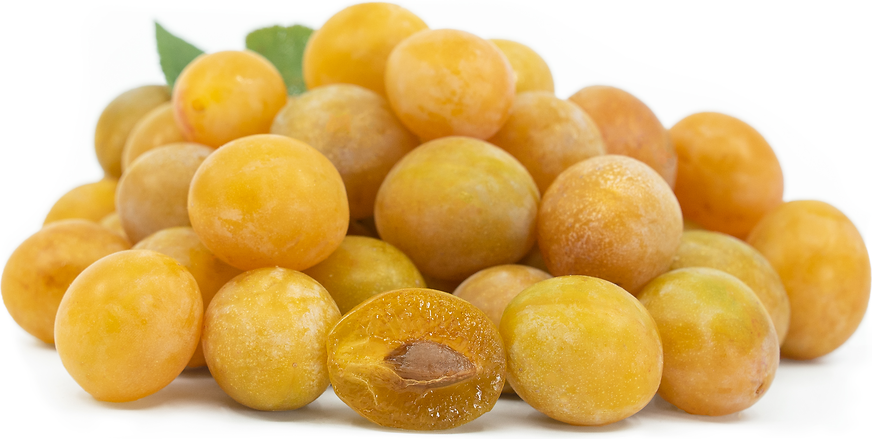 White Damson Plums
Inventory, lb : 0
Description/Taste
White Damson plums are a small varietal, averaging 2 to 3 centimeters in diameter, and have an oval to round appearance, slightly tapering at one end. The plum's skin is thick, somewhat chewy, smooth, and taut, showcasing golden yellow hues with faint, pale green accents and red speckling. The skin is also covered in a light bloom that can be easily removed, and the whole fruit will be firm with some give when squeezed. Underneath the surface, the translucent yellow flesh is soft, aqueous, and pulpy with a succulent, tender consistency. Each White Damson plum will contain a central, flattened brown stone around 1.5 to 2 centimeters in length. The flesh is typically adhered tightly to the stone, making it difficult to separate. White Damson plums have a mild, semi-sweet, acidic, fruity, and floral taste with lingering astringent nuances. The plum's flavor will vary when newly ripe versus remaining on the tree for extended periods. White Damson plums are edible when raw, but most consumers choose to cook the fruits to develop a richer, sweeter flavor.
Seasons/Availability
White Damson plums are available in the late summer through fall.
Current Facts
White Damson plums, botanically classified as Prunus insititia, are a rare species belonging to the Rosaceae family. The small, oval, and slightly pointed fruits grow on trees that can reach 3 to 4 meters in height and are an heirloom species cultivated as a culinary fruit. White Damson plums are more challenging to find than their blue counterparts, and little research has been done to distinguish their differences. It is unknown how many White Damson plum varieties are found worldwide, and the species is sometimes labeled as Yellow Damson plums in local markets. In the National Fruit Collection in England, there are only two listed White Damson varieties, White Damson (Taylor) and White Damson (Sergeant). Despite their rarity in the modern day, White Damson plums were at one time a widely popular species during the Victorian Era. While the plums were found throughout Europe, England was known by experts to be the center of Damson cultivation, especially as consumer demand shifted towards sweet dishes in the 19th century. White Damson plums were favored for their sweet, slightly astringent taste and were cultivated for pastes, sauces, beverages, and jam-making. The hardy, prolific trees were also used as a windbreak and natural protection method alongside roads and fields to shelter other, more sensitive trees and crops. This can still be seen on properties in Kent, Westmorland, Norfolk, and Malvern Hills in England.
Nutritional Value
White Damson plums are a source of vitamin C to strengthen the immune system while reducing inflammation, vitamin A to maintain healthy organ functioning, and vitamin K to assist in faster wound healing. The plums also provide fiber to regulate the digestive tract, potassium to balance fluid levels within the body, antioxidants to protect the cells against free radical damage, and other nutrients, including magnesium, calcium, copper, phosphorus, and manganese.
Applications
White Damson plums have a sweet-tart flavor generally suited for cooked preparations. When the plums are ripe, they can be consumed straight out of hand, but most consumers deem them too tart to be enjoyable as a fresh-eating fruit. White Damson plums are often cooked with sweeteners and added to fillings for tarts, crumbles, cakes, and other baked goods. They can also be simmered into a thick paste and served as an accompaniment to cheese during afternoon tea, cooked into a syrup for drizzling over ice cream or infused into sauces for roasted meats. In addition to desserts, Damson plums were notably used in European commercial jam-making in the 19th century. The fruits were generally cooked whole to avoid removing the tightly adhered pits, and the stones were fished out of the mixture before it was cooled. Damson plums were highly favored for their sweet-tart flavor and natural pectin content, creating a smooth and spreadable jam. Damson plum jam was one of the most popular preserves in England and was traditionally spread over toast, served with fresh cheeses, or used as a filling in baked goods. Beyond culinary preparations, Damson plums can be infused into wine, gin, and brandy, or they can be dried or canned for extended use. White Damson plums pair well with honey, herbs such as rosemary, thyme, and mint, vanilla, maple syrup, sugar, and nuts, including pecans, hazelnuts, and walnuts. Unwashed White Damson plums should be ripened at room temperature away from direct sunlight. Once soft, the plums can be stored for 3 to 4 days when kept in the refrigerator.
Ethnic/Cultural Info
White Damson plums were extensively grown in Worcestershire, Buckinghamshire, Shropshire, Cheshire, Westmorland, and Cumbria in England during the Victorian Era. In Cumbria, the fruits were commercially grown for jam production and were annually sold in Kendal, a market town in the South Lakeland District. Each year the town would host a Damson Saturday, promoting their locally grown plums during the peak of their harvest season. Most Damson plums sold at this market were purchased by jam factories in Yorkshire and Lancashire. The plums were also purchased by members of the middle class to make their own preserves. In the 19th century, the reduction in the price of sugar led the sweetener to become an ingredient affordable to both the upper and middle classes. This new era of availability created new expectations among middle-class families, and jams quickly became a staple symbol of status. Damson jam was also a noted favorite preserve of the famous author Beatrix Potter. It was rumored Potter had Damson plum trees in her hilltop garden in the Lakeland District specifically to make her own Damson jam.
Geography/History
White Damson plums are descendants of varieties native to modern-day Syria and have been cultivated since ancient times. Experts believe the fruits were specifically found in Damascus, the capital city of Syria. The name Damson is derived from "damas cene," a derivation of Damascus. Several theories explain the spread of Damson plums, with the most common reasoning being traced back to the Romans. The Roman Empire established roads, trade routes, and a network of channels to transport material goods, food, and other supplies throughout Europe. During their rule, Damson plums were planted along their roads and in established camps, and evidence of Damson plum trees can be found at a few sites in England where the Romans were known to have settled. Some experts also believe crusaders may have brought Damson stones back from Syria and planted the seeds in England sometime around 1220 CE. Over time, Damson plums were grown in home gardens as a culinary variety and as hedge protection for other orchard plants. The plums were mainly cultivated during the 18th and 19th centuries, especially in the United Kingdom, and were introduced to American colonies with settlers before the American Revolution. It is important to note that White Damsons have not been documented as extensively as Blue Damson plums. White varieties were first recorded sometime around 1629, but the varieties are likely to be much older, paralleling the history of Blue Damsons. Today White Damsons are rare and not commercially cultivated. The varieties are only found through select preservation orchards, and home gardens in Europe and are a seasonal delicacy typically offered through local markets, specialty distributors, or direct from the grower. The White Damson plums featured in the photograph above were sourced from Brogdale Farm in Faversham, Kent, England.
Recipe Ideas
Recipes that include White Damson Plums. One

is easiest, three is harder.
Podcasts