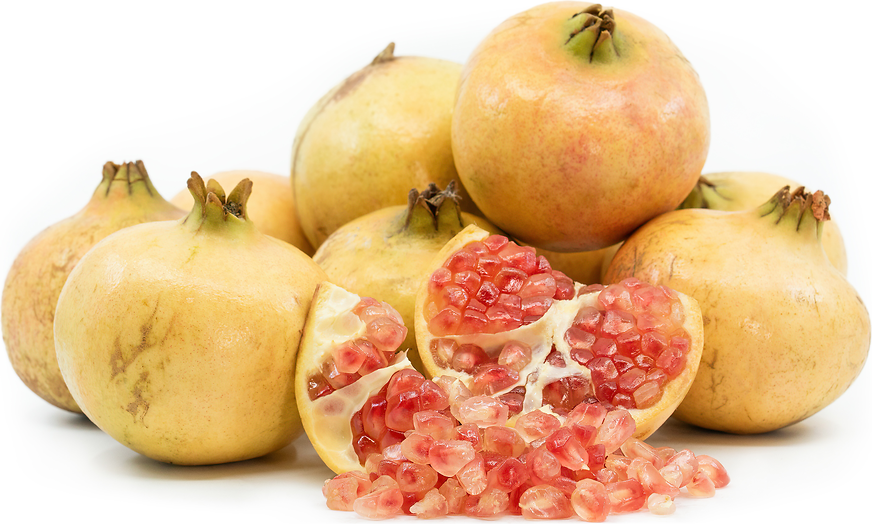 White Pomegranates
Inventory, lb : 0
Description/Taste
White pomegranates are medium to large fruits, averaging 7 to 13 centimeters in diameter, and have a round appearance with faintly squared shoulders and a multi-pointed calyx at the top of the fruit. The skin, also known as the exocarp, is firm, leathery, tough, and glossy, ranging in color from white, yellow, to ivory-orange, sometimes blushed with patches of pink. Underneath the surface, there are thick, spongy, and fibrous white membranes, known as the mesocarp, encasing multiple chambers filled with small arils. Each fruit can contain anywhere from 200 to 1,400 arils, and the arils generally have an oval, angular shape with a fleshy, tender, and soft consistency. Inside the aril, a tiny, edible seed contributes a crunchy texture to the aril. The translucent aril is lightly pigmented with a white or pale pink hue, depending on the variety, and contains flavorful juice. White pomegranates should feel heavy for their size, and the surface can be easily scratched when ripe. The seeds and arils are the only portions of the fruit consumed, contributing a sweet, subtly tangy taste with fruity, earthy, and wine-like nuances.
Seasons/Availability
White pomegranates are available in the early fall through winter.
Current Facts
White pomegranates, botanically classified as Punica granatum, are a rare variation of red pomegranates belonging to the Lythraceae family. The sweet, tangy fruits grow on bushy trees averaging 5 to 8 meters in height, and it takes approximately seven months for the fruits to be ready for harvest after flowering. White pomegranates are a natural mutation of red pomegranates, mostly lacking anthocyanins, which are pigments in the arils and skin that give fruits their red coloring. Once the pale-hued fruits were discovered, they were intentionally bred by farmers over time to contain a sweeter flesh and lighter coloring. There are several varieties of White pomegranates found worldwide, including cultivars such as Paper Shell, Babylonian White pomegranate, Spanish Sweet pomegranate, White Anar Yazd, and Muscat White pomegranate. The fruits are rare compared to red pomegranates, especially red wonder, a variety that is approximately 90 to 95% of the commercially produced pomegranates offered in the United States. Despite their rarity, White pomegranates are sought after by chefs and home cooks for their sweet flavor, and the fruits ripen early in the season before wonderful red and other commercial varieties. Home gardeners also favor White pomegranates as an ornamental tree in landscapes as the trees are soil, drought, and salt-tolerant, have a self-fertile nature, and long lifespan.
Nutritional Value
White pomegranates are a source of antioxidants to protect the cells against free radical damage, fiber to regulate the digestive tract, and potassium to balance fluid levels within the body. The pomegranates also provide vitamin C to strengthen the immune system, vitamin E to reduce inflammation, vitamin K to assist in faster wound healing, and other amounts of manganese, folate, and B vitamins.
Applications
White pomegranates have a sweet, subtly tangy flavor well suited for fresh and cooked preparations. The rare fruits can be used similarly to red pomegranates, and the transparent nature of the arils reduces the chance of staining cutting boards and clothing. The surface of the pomegranate should be scored and then broken open along the cut lines. Once opened, the arils can be removed by hand or submerged in water as the arils will sink to the bottom while the membranes will rise to the surface to be easily removed. White pomegranate arils are entirely edible and can be consumed straight, out of hand, tossed in a salad, mixed into fruit bowls, or served in a decorative dish on fruit platters and charcuterie boards. The arils can also be incorporated into salsa, used as a fresh topping over yogurt, roasted meats, or cooked vegetable side dishes, or mixed into chia seed pudding. In addition to fresh preparations, White pomegranates can be simmered into sauces and marinades, combined into relishes, baked into bread, cookies, and muffins, or sprinkled over cakes, pies, tarts, or parfaits. The light pink to white arils also contain a sweet juice that can be incorporated into smoothies, cocktails, juice blends, and sparkling beverages. Beyond fresh and cooked preparations, White pomegranate arils can be dehydrated for extended use and consumed as a chewy snack or utilized as a topping over granola, grain bowls, salads, and desserts. White Pomegranates pair well with spices such as cinnamon, cardamom, ginger, and clove, other fruits including coconuts, lemons, grapefruits, oranges, apples, and pears, honey, dark chocolate, nuts such as almonds, hazelnuts, and pine, and meats including lamb, poultry, and pork. Whole, unopened White pomegranates will keep for several days at room temperature or a few weeks when stored in a plastic bag in the refrigerator. In professional cold storage, the fruits will keep up to seven months. Once opened, the arils should be kept in a sealed container in the refrigerator for a couple of days. The arils can also be frozen for extended use.
Ethnic/Cultural Info
In Iran, White pomegranates are popularly pressed into juices. The fruits are valued for their sweeter, less acidic nature and are viewed as a specialty beverage containing beneficial nutrients. In the modern-day, White pomegranates are typically pressed using machinery to create commercial juices, but there are several other more unique, traditional methods that are still practiced throughout the country. One method of drinking the juice involves squishing the whole fruit without breaking the skin and rolling it under gentle pressure to loosen the arils. As the arils are crushed, they will pop, releasing juice into the center of the fruit. A small hole can be poked into the fruit to extract the juice, and the sweet liquid can be consumed straight from the fruit like a natural juice box. This method is a favorite way for children to drink the juice. The juice can also be squeezed into a glass to combine with other ingredients. Another process of extracting the juice involves the fruits being placed into a bin and using special shoes to stomp the juice from the flesh. This practice is similar to the stomping of wine grapes and is a seasonal social gathering for families and friends.
Geography/History
Pomegranates are believed by experts to be native to a region extending across present-day Iran into Northern India and have been in existence since around 4000 BCE. The fruits were brought to the Mediterranean, Northern Africa, and China in ancient times through trade routes, where they were cultivated for commercial and culinary use. Pomegranates were also widely consumed and recorded in Ancient Greek and Roman texts. The fruits were later brought to Indonesia in the early 15th century and were introduced into the New World in the 17th and 18th centuries through Spanish explorers. In 1769, settlers carried pomegranate seeds to California, and the seeds were planted at the Spanish missions along the coast. White pomegranates are a natural mutation of the common red pomegranate and have been discovered in Iran, India, and China throughout history. The white to pale pink varieties were developed from a spontaneous mutation that caused a lack of anthocyanin within a few pomegranate trees, and those fruits were selected for further breeding and cultivation, establishing a new type of pomegranate with a sweeter flavor and less acidic flesh. Today White pomegranates are cultivated on a small-scale worldwide in temperate to tropical climates, with concentrated production in the Middle East, the Caucasus regions, Central Asia, the Mediterranean, and Northern Africa. White pomegranates are also cultivated in the United States, the Bahamas, Central and South America, and Australia. When in season, the fruits can be found through local markets and specialty distributors.
Featured Restaurants
Restaurants currently purchasing this product as an ingredient for their menu.
| | | |
| --- | --- | --- |
| Culinary Concepts | San Diego CA | 619-865-1918 |
| Georges at the Cove | San Diego CA | 858-454-4244 |
| Avant | San Diego CA | 858-675-8505 |
| Convention Center Shell | San Diego CA | 619-954-3063 |
| Pali Wine Company | San Diego CA | 310-893-0038 |
| SIE Culinary Management | San Diego CA | 858-964-8677 |