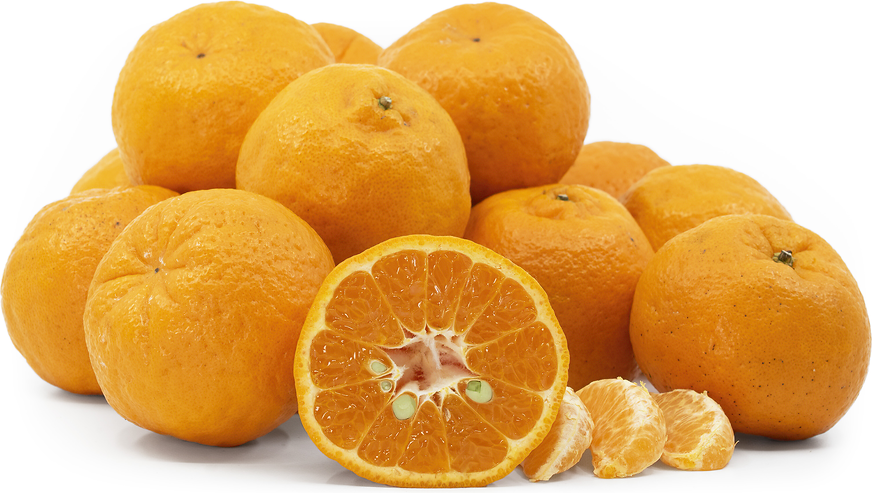 Ponkan Mandarins
Inventory, lb : 0
Description/Taste

Ponkan mandarins are a large variety, averaging 7 to 8 centimeters in diameter, and have a round to oblate shape with a flattened base and a short, protruding, and furrowed neck. The semi-thick rind ranges in shades of pale to bright orange and has a smooth to pebbled, bumpy surface covered in tiny but prominent oil glands. The rind is loosely attached to the flesh, sometimes developing a puffy nature, and is easily peeled by hand. Underneath the surface, there is little to no white pith, enveloping saturated orange flesh divided into 9 to 12 segments by thin white membranes. The flesh is seedless or contains a few ivory seeds and has a tender, aqueous, and succulent consistency with a hollow center. Ponkan mandarins release a fragrant aroma when peeled and have high sugar mixed with low acidity, creating a mild, sweet, and subtly tangy flavor.


Seasons/Availability

Ponkan mandarins are available in the late fall through mid-winter.


Current Facts

Ponkan mandarins, botanically classified as Citrus reticulata, are an ancient category of mandarins belonging to the Rutaceae family. The early to mid-season fruits grow on evergreen trees reaching 2 to 7 meters in height, depending on the tree's rootstock, and are a tropical type of mandarin, found in warmer, more humid climates than other mandarin types. There are many different varieties of Ponkan mandarins grown worldwide and Ponkans, in general, are one of the most commercially cultivated mandarins. Ponkan mandarins are also known as Nagpur Suntara in India, Batangas mandarin in the Philippines, Chinese Honey orange, Ponkan tangerines, and Honey tangerines. Growers favor the variety for the tree's vigorous growth, self-pollinating nature, and high yields, but it does have an alternate bearing tendency, producing large, branch-breaking crops every other year. Ponkan mandarins are favored for their sweet, subtly tangy flavor and are traditionally consumed fresh or incorporated as flavoring into cooked preparations.


Nutritional Value

Ponkan mandarins are a source of vitamin A to maintain healthy organ functioning, vitamin C to strengthen the immune system while reducing inflammation, and potassium to balance fluid levels within the body. The mandarins also provide calcium to build strong bones and teeth, folate to develop RNA and DNA, magnesium to control optimal nerve functioning, and other nutrients, including vitamin E, iron, copper, flavonoids, and the carotenoids lutein and zeaxanthin. In Traditional Chinese Medicine, Ponkan mandarins are a cooling food consumed to relieve symptoms associated with indigestion, constipation, and dehydration.


Applications

Ponkan mandarins have a sweet, subtly tangy taste suited for fresh or cooked preparations. The variety is popularly consumed straight out of hand or peeled and segmented for salads, grain bowls, and fruit medleys. Ponkan mandarins can be used as an unusual topping over pizza, a fresh addition to ceviche or stir-fries, or chopped and added to salsas and relishes. The fruits can also be layered into parfaits, stirred into pancake batter, diced and placed on crostini with prosciutto, or dipped whole in chocolate and sprinkled with crushed pistachios. In addition to fresh preparations, Ponkan mandarins can be blended and frozen into popsicles and sorbet, baked into muffins, scones, cakes, and bread, or simmered into syrups, marinades, or sauces. Try adding Ponkan mandarins to a glaze for roasted meats, infusing them into salad dressings, or whipping them into frosting as a bright addition. The juice and zest can be used to make marmalades, jellies, and other preserves, or the rind can be dried and candied as a sweet treat. The rind can also be dried and ground into a spice, and mandarins, in general, can be used in sweet or savory dishes calling for oranges. Beyond culinary dishes, Ponkan mandarins can be mixed into smoothies or added to cocktails. Ponkan mandarins pair well with fruits such as bananas, coconut, blueberries, kiwis, strawberries, and raspberries, vegetables including broccoli, bell peppers, bok choy, and snow peas, leafy greens, and herbs such as cilantro, mint, parsley, and chives. Whole, unpeeled Ponkan mandarins can be kept at room temperature for a few days or 1 to 2 weeks when stored in the refrigerator.


Ethnic/Cultural Info

In 20th-century Florida, Ponkan mandarins were popularized by Robert G. Pitman Jr, often known as just Bob. Pitman spent his early career as a coach for baseball and football at the University of Florida, but in 1946, he returned home to Apopka, Florida, to join his father in business. Pitman's father had been cultivating Ponkan mandarins, a newly introduced variety at the time in the United States. Pitman worked with his father to obtain a patent on the citrus, and the duo eventually established the Florida Ponkan Corporation, one of the largest citrus nurseries in the state of Florida, in the mid-20th century. The Florida Ponkan Corporation lasted well into the late 20th century and was one of the primary suppliers of Ponkan mandarins in the United States for most of the century. Beyond cultivation and distribution of Ponkan mandarin trees, Pitman was also known for forming the Florida Citrus Nurseryman's Association in 1958 to encourage Florida growers to connect and develop a budwood registration program. Pitman was nicknamed the "The Voice of Agriculture" and was later inducted into the Florida Agriculture Hall of Fame in 1982 for his contributions to improving the lives of citrus growers in Florida.


Geography/History

Mandarins are thought to be native to India and have been found growing in separate, distinct regions throughout the country, including Sikkim, the Coorg district, Assam, and in Nepal. Over time, mandarins were spread across trade routes into East Asia and were cultivated on a large scale in China and Japan by the 16th century. From China, mandarins were also carried into Taiwan, where the small fruits have been grown for several hundred years. In the early 19th century, mandarins arrived in Europe and were widely grown in the Mediterranean by mid-century. The exact origins of Ponkan mandarins are unknown, but the variety is a descendant of citrus cultivars that traveled from India to China. Experts hypothesize that the variety may be a hybrid between a mandarin and a pomelo, and it was later spread across Southeast Asia and into Australia, South Africa, and South America. Ponkan mandarins were introduced to the United States, sent from China in the late 19th century, and were initially planted in Florida for commercial production. The variety was also used in breeding programs to create other citrus varieties, including Dekopon oranges. Today Ponkan mandarins thrive in tropical to semi-tropical climates and are grown in Asia, Southeast Asia, Australia, South Africa, Europe, the United States, and in South America, specifically Brazil. When in season, the mandarins can be found through distributors, select grocers, and farmer's markets.