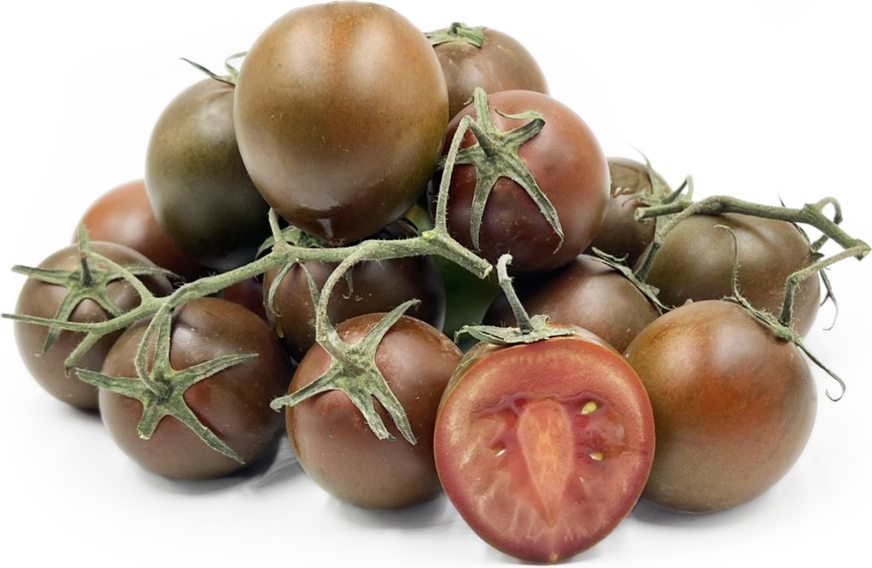 Chocolate Roma Tomatoes
Inventory, lb : 0
Description/Taste

Chocolate Roma tomatoes are a small to medium-sized varietal, averaging 5 to 8 centimeters in length, and have an oblong to elongated, oval shape. The tomatoes can be found individually or in clusters still attached to the velvety, fibrous, and green vines. The tomatoes are fairly uniform in appearance, showcasing semi-thin, smooth, and taut skin. The matte surface also displays variegated dark green and red hues, creating a blended brown tone. It is important to note that the tomato's coloring is primarily dependent on the variety and growing conditions and will change with varying factors. Underneath the surface, the dark red flesh is sometimes flushed with green and has a firm, dense, and succulent consistency. The flesh also encloses a small chamber filled with a few tiny seeds suspended in a gelatinous liquid. Chocolate Roma tomatoes have a rich, complex flavoring comprised of high sugar and acidity, creating a sweet, tangy, earthy, and savory taste.


Seasons/Availability

Chocolate Roma tomatoes are available in the summer through fall.


Current Facts

Chocolate Roma tomatoes, botanically classified as Solanum lycopersicum, are small, pigmented fruits belonging to the Solanaceae or nightshade family. The name Chocolate Roma is a general descriptor used for several varieties of roma or plum tomatoes that showcase a unique mixture of red and green pigments in the skin and flesh. Chocolate Roma tomatoes are harvested 70 to 80 days after sowing and are open-pollinated cultivars that grow in compact clusters. The tomatoes can be sold still attached to the vine or offered individually in packages and may be known as Black Plum, Brown plum, Chocolate Plum, Black Roma, and Brown Roma tomatoes in markets worldwide. Despite their candy-sweet moniker, Chocolate Roma tomatoes do not have a chocolate flavor. The term chocolate is used to describe the tomato's mixture of green and red pigments. As the fruits mature, they accumulate the red carotenoid pigment, lycopene, the flavonoid anthocyanin, and retain green pigments known as chlorophyll. This combination of pigment is what gives the tomato a "brown" or "black" hue, often marketed as "chocolate" to attract buyers. Consumers value chocolate Roma tomatoes for their distinct coloring, sweet and tangy, complex flavoring, and versatility, utilized in fresh and cooked preparations.


Nutritional Value

Chocolate Roma tomatoes are a source of vitamin A to maintain healthy organ functioning, vitamin C to strengthen the immune system and reduce inflammation, and potassium to balance fluid levels within the body. The tomatoes also provide some fiber to regulate the digestive tract, iron to develop the protein hemoglobin for oxygen transport through the bloodstream, and other nutrients such as B vitamins and vitamin K. In addition to vitamins and minerals, Chocolate Roma tomatoes contain lycopene and anthocyanins, naturally occurring pigments that give tomatoes their red-purple coloring and act as an antioxidant to protect the cells against free radical damage.


Applications

Chocolate Roma tomatoes have a rich, complex flavoring suited for raw and cooked preparations. The tomatoes can be sliced and consumed straight out of hand, or they can be served with fresh cheeses and herbs as an appetizer. Chocolate Roma tomatoes can also be tossed into salads, chopped into salsa, mixed into pasta, or sliced and used as a topping over pizza. The tomatoes have a meaty texture, allowing them to provide thickness in sauces, and their drier flesh cooks down into pastes as a foundational flavoring. In addition to sauces, Chocolate Roma tomatoes can be incorporated into soups, slow-roasted as a side dish, baked in casseroles, or cooked into an omelet. They can also be canned or used in any recipe calling for roma or plum tomatoes. In Spain, Chocolate Roma tomatoes are served on toasted bread or incorporated into gazpacho. Chocolate Roma tomatoes pair well with cheeses such as burrata, chevre, parmesan, and pecorino, herbs including cilantro, basil, parsley, and oregano, meats such as poultry, pork, and beef, seafood, and aromatics including garlic, onions, shallots, and ginger. Whole, unwashed Chocolate Roma tomatoes will keep for a few days when stored at room temperature stem-side down in a single layer, away from direct sunlight.


Ethnic/Cultural Info

Spain is the fourth largest tomato producer globally, falling just behind the United States, China, and Italy. In 2021, the country produced over 4.74 million tons of tomatoes, an increase over the year 2020, which developed 4.32 million tons, and the fresh fruits are sold domestically, used for processing, or sent to export markets. Tomatoes are considered among the Spanish as one of the country's most consumed produce items, and the fruits are exported to other European countries, accounting for around 35% of the tomatoes found in Europe. Chocolate Roma tomatoes are grown by several large corporations in Spain and are exported as a specialty item. Chocolate tomatoes have also been recently promoted through the Global Tomato Congress, which has helped increase the number of chocolate tomatoes shipped throughout Europe. The Global Tomato Congress is an annual event held in August to market and present innovations in the tomato industry. During the congress, there are speakers, networking events, and promotional activities to inspire members of organizations focused on growing, branding, and selling tomatoes.


Geography/History

Chocolate Roma tomatoes are descendants of black tomato varieties native to the Crimean Peninsula. Black tomatoes were spread throughout Russia in the mid-19th century after the Crimean War. Soldiers carried seeds from the tomatoes to their hometowns, planting the distinct varieties in their home gardens. Over time, black tomatoes were extensively cultivated in Russia and eastern Europe, developing 50 to 60 new types of black tomatoes, and these cultivars were eventually introduced to other tomato-growing regions worldwide. Chocolate Roma tomatoes are primarily grown in home gardens, but they are also produced through select farms in Europe for commercial sale. The tomatoes are widely grown in Italy and Spain, two of the top tomato-producing countries, and in Spain, the pigmented varieties can be found mainly in the autonomous communities of Andalusia and Extremadura. Today Chocolate Roma tomatoes are found worldwide but are primarily sold throughout Europe. The Chocolate Roma tomatoes featured in the photograph above were exported from Spain and were sold in Berlin, Germany.