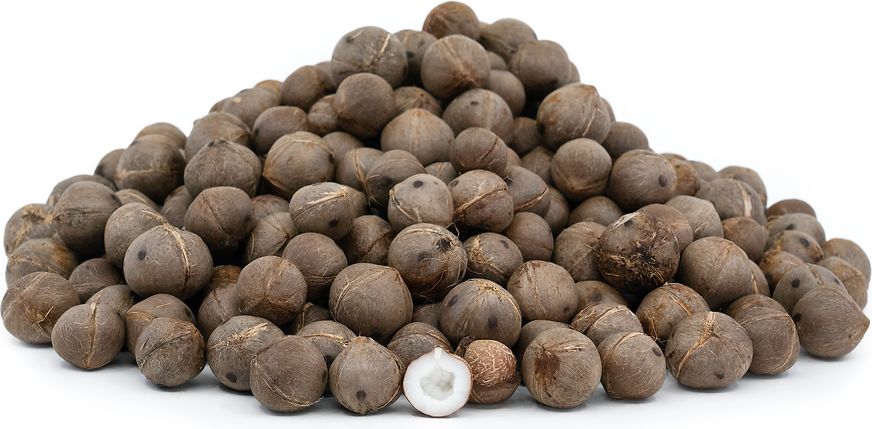 Conquito Nuts
Inventory, 12 ct : 0
Description/Taste

Coquito nuts are small and hard, averaging 1 to 2 centimeters in diameter, and have a round to oval, slightly lumpy shape. The nuts are enveloped in a layer of yellow flesh when harvested directly from the tree, and the yellow pulp is often discarded due to its unpleasant flavor, leaving a brown shell. The nuts are most commonly sold with their dark brown, rough, woody, and fibrous exterior that resembles the outer husk of a coconut. The hard exterior can be cracked open to reveal a textured, lighter brown nut. Underneath the surface, the flesh is white, generally ranging from 3 to 4 millimeters in thickness, and has a dry, subtly waxy, and crunchy consistency encasing a hollow center. Coquito nuts can be consumed raw or cooked and have a sweet, nutty, and rich, coconut-like aroma and flavor with almond nuances.


Seasons/Availability

Coquito nuts are available year-round.


Current Facts

Coquito nuts, botanically classified as Jubaea chilensis, grow on large palm trees native to Chile. The palm is known as a Chilean Wine palm and can reach 15 to 24 meters in height, growing slowly, sometimes not producing fruit for 50 years, and living for over 100 years. Chilean Wine palms develop small fruits containing hard, crunchy nuts, and the nuts, known as Coquito in South America, have been consumed as a crunchy snack or sweet element in dishes for centuries. Coquito nuts are also known as Baby coconuts, Miniature coconuts, Cockernuts, Dwarf coconuts, Pygmy coconuts, and Monkey's coconuts, and though unrelated botanically to coconuts, the nuts are favored for their similarity in appearance and flavor to coconuts. In the present day, Chilean Wine palms and Coquito nuts have been naturalized worldwide, and the nuts are growing in popularity as a novel snack or garnish in specialty markets.


Nutritional Value

Coquito nuts are a source of fiber to regulate the digestive tract, vitamin K to assist in faster wound healing, and vitamin C to strengthen the immune system while reducing inflammation. The nuts also provide some potassium to balance fluid levels within the body, phosphorus to protect bones and teeth, and other amounts of magnesium, zinc, vitamin A, and selenium.


Applications

Coquito nuts have a sweet, nutty flavor and a dry, crunchy consistency well suited for raw and cooked preparations. The nuts can be consumed straight, out of hand, discarding the rough exterior, and the nuts are so small they can be eaten in one bite. Coquito nuts can also be crushed and sprinkled over salads and fruit bowls, used as a fresh topping over ice cream, custard, and yogurt, or dipped whole in chocolate as a sweet snack. The nuts can be shredded into cake or brownie batters, folded into cookies, simmered into jams and jellies, or incorporated into any recipe calling for coconuts. In Peru, Coquito nuts are baked into a type of bread pudding known as ranfañote, a warm, rich dessert dish famous in Lima. Coquito nuts pair well with other tropical fruits, including mango, pineapple, strawberries, and blueberries, vanilla, chocolate, and spices such as cinnamon, nutmeg, and allspice. Whole, fresh Coquito nuts can be stored for up to three months at room temperature in a cool and dry place. If the nuts develop a dry texture, they can be soaked in water to soften. Coquito nuts can also be frozen for extended use.


Ethnic/Cultural Info

Coquito nuts are a popular raw snack consumed in Chile, foraged from wild trees, or purchased through street vendors in local markets. The nuts have been a part of Chilean culture for thousands of years, but recently, the palm trees that the nuts grow on have become somewhat in danger of disappearing in the wild. Jubaea chilensis palm trees were once tapped for their sweet and sticky palm sap, an ingredient utilized for wine and honey. The large palms had very thick trunks and were able to produce over 90 gallons of sap, but the process of extracting the sap eventually killed the tree. Scientists estimate that only two percent of the wild trees are still found in the species' natural habitat, and the Chilean government is taking measures to protect and prohibit the trees from being destroyed for their sap. Instead, the government is focused on promoting that nuts that grow from Jubaea chilensis palm trees as sustainable food and a source of income for local families.


Geography/History

Coquito nuts grow on the Jubaea chilensis palm and are native to the central coastal valleys of Chile. The nuts have been harvested as a food source since ancient times, and the trees grow slowly, wild in the regions of Valparaíso, O'Higgins, Coquimbo, Santiago, and Northern Maule in Chile. The palm trees were first documented in the book, Pinax, written by European botanist Caspar Bauhin in 1623, and in 1834, they were also mentioned in the writings of Charles Darwin. Jubaea chilensis palm trees were introduced to England after 1843 and were planted in the Royal Botanic Gardens in Kew. The trees were also planted in Paris around the same time and were later brought to the Netherlands in 1857. In 1849, the palm trees were planted in North America, especially in California, where the trees were sown along the entire coastline. There is a Jubaea chilensis palm growing on the campus of the University of California at Berkley that is still alive and was planted in 1877. Today Jubaea chilensis palm trees are found worldwide in temperate to Mediterranean climates, especially in North, South, and Central America, South Africa, Australia, and Europe. Coquito nuts are harvested from wild trees in Chile, commonly found in local markets, but outside of South America, the nuts are a specialty crop found through farmer's markets and distributors.