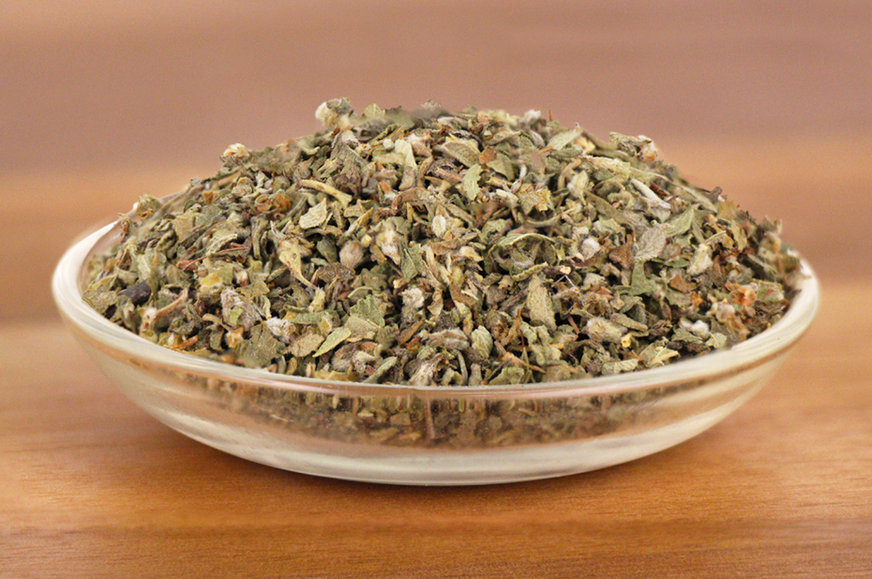 Whole Mexican Oregano
Inventory, 6 oz : 17.00
This item was last sold on : 11/27/23
Description/Taste
Dried Mexican Oregano is comprised of roughly chopped leaves and tiny flower buds ranging in color from dark sage green to tan. The leaves have a very brittle and crunchy texture, quickly breaking down and dissolving when ingested. The dried herb has a pungent, peppery, and grassy scent with citrus, tobacco, and sage notes. Mexican oregano has an intensely grassy flavor with a rich earthiness, notes of citrus, and a slightly smoky finish.
Seasons/Availability
Dried Mexican Oregano is available year-round.
Current Facts
Dried Mexican Oregano is made by dehydrating and grinding the leaves and buds of the Lippia graveolens plant, a perennial herb related to lemon verbena. Although the herb does share its name and some flavor qualities with Mediterranean oregano, Mexican Oregano comes from a different plant species and has notes of coriander, citrus, and tobacco that are not present in the Mediterranean varieties. This Mexico native grows throughout the Americas and is also known as Puerto Rican oregano, Mexican marjoram, or Mexican wild sage. Mexican Oregano has been enjoyed throughout Mexico for thousands of years but was a secret to the rest of the world until Carl Sigismund Kunth, a German Botanist, identified and classified the herb in his seven-volume resource identifying New World native plants sometime between 1815 and 1825. The perennial plant is drought-tolerant and requires at least six hours of sunlight a day to flourish. It is also highly resilient, can grow in various soil types, and does not require a lot of fertilizer.
Nutritional Value
Dried Mexican Oregano is high in vitamins C, E, and K, as well as several B vitamins. The herb also contains high concentrations of calcium, iron, magnesium, and various antioxidants and bioflavonoids. One such bioflavonoid, naringenin, has been shown to help prevent cardiovascular disease, certain cancers, and Alzheimer's disease. Cirsimaritin, another flavonoid present in Mexican Oregano, has been shown to help prevent the storage of fat, which can aid in weight loss when combined with a healthy diet and exercise. Mexican Oregano has also been shown to have antifungal and anti-inflammatory properties due to volatile oils thymol and eucalyptol.
Applications
Dried Mexican Oregano has a peppery and intensely grassy taste that compliments the flavor profile of Latin cuisine and Tex-Mex dishes. The herb can be used fresh, but it is most often dried because drying enhances its flavor. The strong herbaceous qualities of Mexican Oregano adds an earthy dimension to chile con carne, mole, beans, salsas, soups, and many other traditional Mexican and Latin dishes. The herb also holds up well in rich and spicy meat dishes. The dried spice pairs well with legumes, tomatoes, sweet and hot peppers, and corn, compliments other hearty spices like thyme and rosemary and can be used as a substitute for epazote. Mexican Oregano is not often substituted for Mediterranean oregano because the intense grassy and earthy flavors of the herb can overpower the more subtle flavors of Mediterranean cuisine, however, Mediterranean oregano can be substituted for Mexican Oregano. Toasting, grinding, or rubbing the herb between the fingers can help to release a richer flavor by activating oils locked within the leaves. Dried Mexican Oregano should be stored in a cool, dry place in an air-tight container and used within six months for the best flavor.
Ethnic/Cultural Info
Mexican Oregano has been used for centuries by Shamans and medical practitioners to treat a variety of ailments. These curanderos, or healers, would use Mexican Oregano in special infusions, oils, and ceremonial incense. The herb was also brewed in an herbal tea and used to treat respiratory complaints and gastrointestinal ailments by Native people in Mexico and Central America. The use of the herb as a medicine has mostly died out with the introduction of western medicine and pharmaceuticals. The herb is now primarily used as a culinary ingredient.
Geography/History
Mexican Oregano is native to the Yucatan Peninsula of Mexico, Central America, and the southwest United States, including California, New Mexico, and Texas. The plant is drought tolerant and thrives in the dry arid climates of these regions. The herb was used extensively by indigenous tribes throughout these regions for thousands of years but was unknown to the rest of the world until the early 1800s when German botanist, Carl Sigismund Kunth, identified and classified the herb. Mexican Oregano remained popular only in Mexico, Central, and South America until the 1970s and 1980s when Tex-Mex dishes, a fusion of Mexican flavors and Texas-style cooking, became popular in the United States. It can still be challenging to find true Mexican Oregano in supermarkets in the United States and Europe, so Mediterranean oregano is often substituted in recipes. However, stores specializing in Mexican, Central American, and other Latin cuisines will carry authentic Mexican Oregano.
Featured Restaurants
Restaurants currently purchasing this product as an ingredient for their menu.
| | | |
| --- | --- | --- |
| Nomad Donuts | San Diego CA | 619-431-5000 |
| Kona Kai Resort and Marina | San Diego CA | 619-221-8000 |
| Harvest Kitchen (Corp Lunch) | San Marcos CA | 619-709-0938 |
| Izakaya Maize/Rabih Sus | La Mesa CA | 619-395-6383 |
| Copper Kings | San Marcos CA | 323-810-1662 |
| Royal Polaris Sportfishing | San Diego CA | 619-226-8030 |
| Two Ducks | San Diego CA | 760-235-3120 |
| Fish Guts | San Diego CA | 619-888-0081 |
| SB Kitchen | Solana Beach CA | 610-717-7217 |
| Chef Drew Mc Partlin | San Diego CA | 619-990-9201 |
| Wolf In the Woods | San Diego CA | 619-851-7275 |
| Lafayette Hotel - Beginners Diner | San Diego CA | 619-296-2101 |
| Luce | San Diego CA | 619-275-2094 |
| Venissimo Cheese Del Mar | Del Mar CA | 858-847-9616 |
| Bread & Cie Café | San Diego CA | 619-683-9322 |
| C 2 C | San Diego CA | 619-972-9345 |
| The Islander | Coronado CA | 619-522-6890 |
| Sago | Encinitas CA | 858-382-4047 |